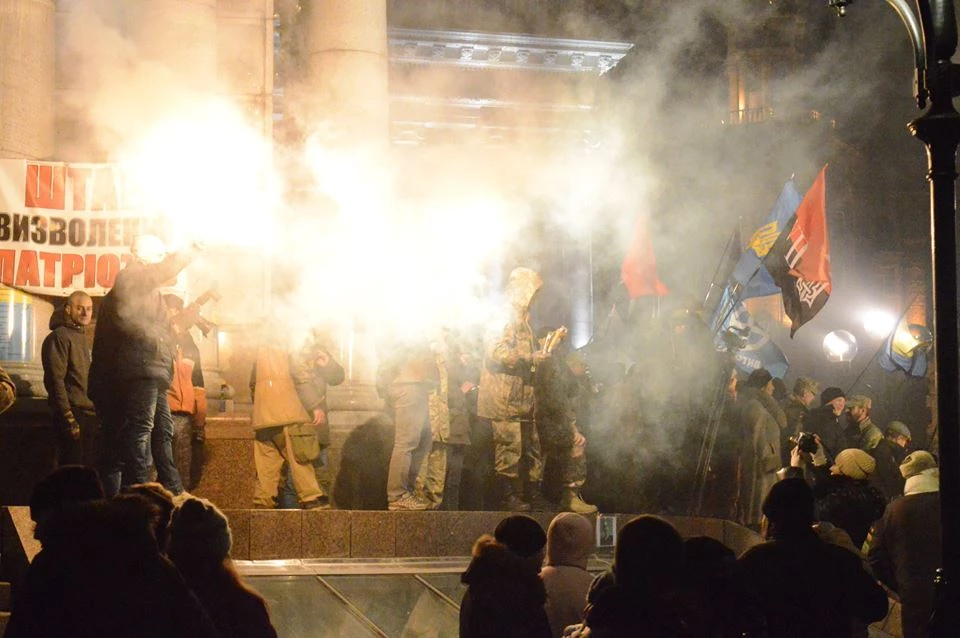 Clashes between protesters and police were reported on the third anniversary of the Euromaidan revolution in Kyiv, 21 November 2017. Photo: Euromaidan Press 
A wave of small protests has swept across Kyiv, and some fear they could grow into a Third Maidan. On November 15 and 16, a few thousand people, mainly defrauded customers, protested outside the national bank and the parliament over their losses from insolvent banks and the fallen hryvnia. Other aggrieved citizens demonstrated against high utility tariffs.
Other planned protests were rescheduled by unions for December to avoid possible violence. Some clashes between protestors and the police were reported on November 21 during the third anniversary of the Euromaidan revolution. On November 27, Mikheil Saakashvili, former governor of Odesa, led a thousand protestors to seek early parliamentary elections [currently scheduled for 2019]. He promised millions more will rally in the coming weeks.
The main controversy has been whether the protests were orchestrated by the Kremlin or were an attempt by the Ukrainian opposition to discredit the presidential administration and position themselves to grab power.
The Ukrainian security services warned that the protests were part of the Kremlin's plan to discredit the government. Although the security agencies reported some links to Russia, no specific evidence of the Kremlin's involvement in the protests was given. The Kremlin, of course, denied the allegations.
The "Plan of priority actions to destabilize the social and political situation in Ukraine" (codename Shatun) was found among recently published megabytes of data known as the Surkov leaks. It reveals the Kremlin's frustration with Kyiv's deferment to reintegrate the Donbas into Ukraine on Moscow's terms. A plan for mass protests or "Tariff Maidan" is scheduled to take place between November 2016 and March 2017, focusing on declining living standards, rising utility tariffs, and unemployment. The goal is to trigger early Parliamentary and Presidential elections in Ukraine, which could potentially bring more managed pro-Russian forces to power to help reverse the country's Euro integration course.
However, it is dubious that Russia, as claimed in the document, would be able to coordinate with the Ukrainian opposition leaders to orchestrate "Tariff Maidan," discredit Poroshenko's corrupt regime, and cause an upsurge in violent crimes.
Except for the Opposition Bloc with its ties to Victor Yanukovych's Party of Regions, Oleh Lyashko's Radical Party and Yulia Tymoshenko's Batkivshchyna are outspoken critics of Russian aggression in Ukraine.
Read also: Ukrainian hackers publish Surkov's plans to destabilize Ukraine in coming months
While it is no longer a secret that Moscow is destabilizing Ukraine by raising the temperature in the Donbas through intensified shelling, provocations, and active reconnaissance of Ukrainian defense positions, the plan reveals that Russia also seeks to either install pro-Russian forces or split the country by wreaking havoc from within.
Although the plan's authenticity was confirmed by Ukraine's Security Service, some members of the opposition said that it was an invention by PR experts to discredit the protests organized by the opposition. A few activists even expressed fear that they could be called "Kremlin's agents" for opposing high tariffs. Some believe that the administration has exaggerated the threat and is trying to blame the Kremlin for Ukraine's failures to deliver reforms and fight corruption.
Some Ukrainian politicians were quick to point fingers at the presidential administration for developing Shatun to possibly cover up personal enrichment within its ranks. Others called Shatun a fake designed to create a pretext to "tighten screws" in the country and expose enemies of the state. Former governor of Odesa Mikheil Saakashvili even said that Igor Gryniv, an MP of the Petro Poroshenko Bloc in the Parliament, made up the plan himself to suppress dissent. Saakashvili later complained that Kyiv was trying to upset his own rally on November 27 due to predictions of possible provocations.
Some experts believe Yulia Tymoshenko's Batkivshchyna party was the biggest player in these protests given that Tymoshenko encouraged people to protest. She also said that there was no Shatun, and the protestors were only trying to recover their last pennies from fraudulent banks. But it is now believed that some protestors were offered 70 to 125 hryvnias a day by organizers while others failed to give a proper explanation as to why they came. Also, hooligans notorious for disrupting peaceful gatherings were spotted at the protest, according to a law enforcement source. These facts suggest the protests could have been at least partially faked.
Despite harsh criticism against him, President Poroshenko responded by signing the law to help refund depositors through the Individuals' Deposit Guarantee Fund.
Experts argued that the opposition seems to be using popular discontent to test protest moods in an attempt to prompt snap elections. Yet, as Irina Bekeshina, director of Democratic Initiatives Foundation noted, although the protest moods are high in the country, they are not ripe for mobilization.
The Ukrainian political opposition may be stirring things up without realizing the consequences. The political squabbling only benefits the Kremlin and its grand strategy to make Ukraine a failed state. The rise of populism in Europe that installed pro-Russian leaders in Bulgaria and Moldova could encourage Moscow to pursue a similar course in Ukraine.
Although the events seem to align with Shatun, so far, the attempts to unleash another Maidan have failed. Nonetheless, Moscow is getting an opportunity to see if the government can control the situation.
Certainly, Ukrainians are suffering economic hardship, and are outraged with the "e-declared" fortunes of government officials, and are tired of war, but the two previous Maidans were never about economics. They were popular uprisings tied to the loss of trust in politicians and against a public insult of human dignity—be that electoral fraud or violent suppression of peaceful protesters. Svyatoslav Zozulya, a political scientist, believes that "as a political idea, 'Tariff Maidan' is no longer relevant, and it doesn't invoke trust among the majority."
Read also: Ukraine's elite-exposing e-declarations, explained | #UAreforms
However, given the plan's striking similarity to recent events and the race for power going on within the opposition, more destabilizing developments may still be expected.