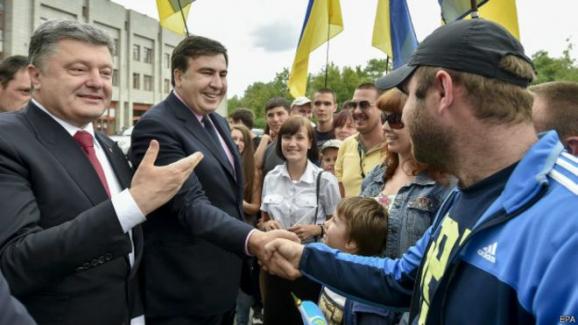 Saakashvili faced the awful reality with the sorrowful eyes of a deceived child. Billionaires had used him both in Tbilisi and in Kyiv.
Mikheil Saakashvili's resignation from the post of governor of the Odesa Oblast Administration is sensational only for those who deliberately placed themselves inside a world of private illusions, far from the true reality of Ukrainian politics.
In fact, Mikheil Saakashvili stopped being the head of the Odesa Oblast Administration as early as April 14, 2016, when Arseniy Yatseniuk — President Poroshenko's main rival for the exercise of power — was dismissed from the post of prime minister of Ukraine. However, rival may be an exaggeration because Yatseniuk from the very beginning was not prepared to confront Poroshenko.
But the president is not one of those politicians who are interested in balance. Similarly, he is not one of those who resort to open combat with rivals. Petro Poroshenko knows how to wait and how to use instruments.
Unfriendly Odesa
Mikheil Saakashvili became one of these instruments. Naturally, the former Georgian president did not consider himself an instrument. He cannot even imagine that someone could see him that way. But it is not difficult to manipulate these features of his personality, especially for someone who has known Saakashvili since childhood, since their student years.
It is possible that Saakashvili had been promised various privileges, including the post of prime minister, in the event of the successful torpedoing of Yatseniuk's government. In any case, the main lobbyist for his appointment to this position was the Russian oligarch Konstantin Grigorishin, who remains on good terms with Poroshenko and with Saakashvili. (Grigorishin is a Ukrainian-born tycoon and until recently a Russian citizen with extensive assets in Ukraine and close business ties to Poroshenko. He reportedly ws granted Ukrainian citizenship this year — Ed.)
Perhaps Saakashvili imagined himself a "Ukrainian kingmaker." In any case, there is a story about how he personally offered the post of prime minister to Arsen Avakov. Perhaps Saakashvili thought that Yatseniuk's dismissal would lead to early elections and the success of his own political project, a "duplicate" of the Petro Poroshenko Bloc.
I don't know what Saakashvili was counting on, but after Yatseniuk's dismissal he was as professional as a guided missile. His anti-corruption forums, which were extensively highlighted in the media, were forums where the role of the head of state was carefully avoided. Where he personally accused Yatseniuk and his colleagues of corruption. Where, along with his brilliantly created Georgian image as unappreciated reformer, everything served to undermine the prime minister's authority and facilitated the president's task.
But when the smoke cleared after battle, it turned out that in the end Saakashvili received practically nothing for Poroshenko's success. The president calmly reached an agreement on forming a new coalition with the National Front. At the time there could be no discussion about early elections — either for Poroshenko or Yatseniuk.
And the new prime minister could only be someone who was equally acceptable both to the Petro Poroshenko Bloc and to the National Front. Saakashvili clearly was not that person.
Thus, after the formation of the government of Volodymyr Groisman, the former Georgian president was transformed from a anti-corruption fighter of national caliber into an ordinary regional official — a role that simply could not satisfy Saakashvili.
And this was also because from the very beginning he had little room to maneuver in Odesa. And because he was never able to gain real control over the region and even over his regional center. Additionally, in the case of the city, this was because his eternal self-confidence led him to nominate for mayor of Odesa an unknown, completely uncharismatic person (Sasha Borovik, Ukrainian-born German lawyer who previously had served as adviser at Ukraine's Ministry for Economic Development and Trade — Ed.) who became a convenient instrument for the reelection of Gennadiy Trukhanov. However, I do not rule out that this had been done on purpose.
And because, by definition, radical transformation is impossible in a single region taken separately– something that Saakashvili acknowledged in his last appearance as head of administration. One wonders if he really did not suspect this  on the day of his appointment?
Why did he not resign then, when it became clear even to him that he had been used? For one simple reason that is not related to Ukraine. The reason was the parliamentary elections in Georgia.
Georgian dream
Saakashvili sincerely believed in the victory of his political party in the parliamentary elections in Georgia. I have already written of his paradoxical ability to live in his own world and not notice reality. As happens frequently on the American continent, he sent his own wife to run for parliament.  He campaigned. He promised to return the day after the elections and appoint Khatia Dekanoidze (former Georgian official and currently Chief of Ukrainian National Police — Ed.) as interior minister. He was completely absorbed by these election and by his boyish faith in revenge. And, of course, he did not want to return to Georgia — or to visit victorious colleagues — in the role of a former governor. He wanted to arrive in Tbilisi as the head of the Odesa Oblast Administration.
He wanted to come as a reformer from a large county who greets the reformers of a small one and is ready to help them and even to govern them. This was supposed to suggest the return of Napoleon.  He was already clutching the imperial cocked hat.
But God did not grant him even 100 days. Saakashvili's party lost the parliamentary elections in Georgia completely. Even the former president's wife failed to get into parliament in the majority districts.  Saakashvili's enemy, the billionaire Bidzina Ivanishvili, triumphed. His party managed to assemble a constitutional majority.
Moreover, Saakashvili's colleagues refused to listen to him when he told them not to participate in the second round. Now the party of the former president is on the verge of breaking up.
Saakashvili faced the awful reality with the sorrowful eyes of a deceived child. Billionaires had taken advantage of him both in Tbilisi and in Kyiv. From that moment, his resignation from the post of the Odesa Oblast Administration became a matter of days. In Kyiv nobody needed to keep Saakashvili in his post either. The only thing that remained was to give him an excuse to announce his resignation.
What's next
There is still one question — what's next? Next, there is nothing new. If Saakashvili really wants to go on a crusade against his friend from their student days, he will become an instrument again — only no longer Poroshenko's instrument but an instrument used against Poroshenko. However, the question  is who would want to use this instrument. Because Saakashvili's chances – unlike the time when he attacked Yatseniuk — will be significantly limited.
He can use the services only of those oligarch who would want to torpedo the president and who are ready to provide a television podium to a dismissed official, but these oligarchs are not yet visible.
The "promising young politicians" that he had counted on had been crushed  by his authoritarianism and also had significant delusions of grandeur themselves. Furthermore, the "promising youth" fully felt their vulnerability.
Saakashvili himself may feel this vulnerability. Let us not forget that there will be a new head of administration in Odesa within days. And also a new head of the local security forces. There is quite a bit they could reveal. But who said they would make it public immediately?
Why wouldn't Petro Poroshenko preserve the bright image of Mikheil Saakashvili? Especially since Mikheil Saakashvili is already being sought in Georgia. Charges against him will suffice. He is a reformer and not a fugitive.
But the choice between being a reformer or a fugitive may become a choice between being an instrument or a memoirist.
Tags: Saakashvili