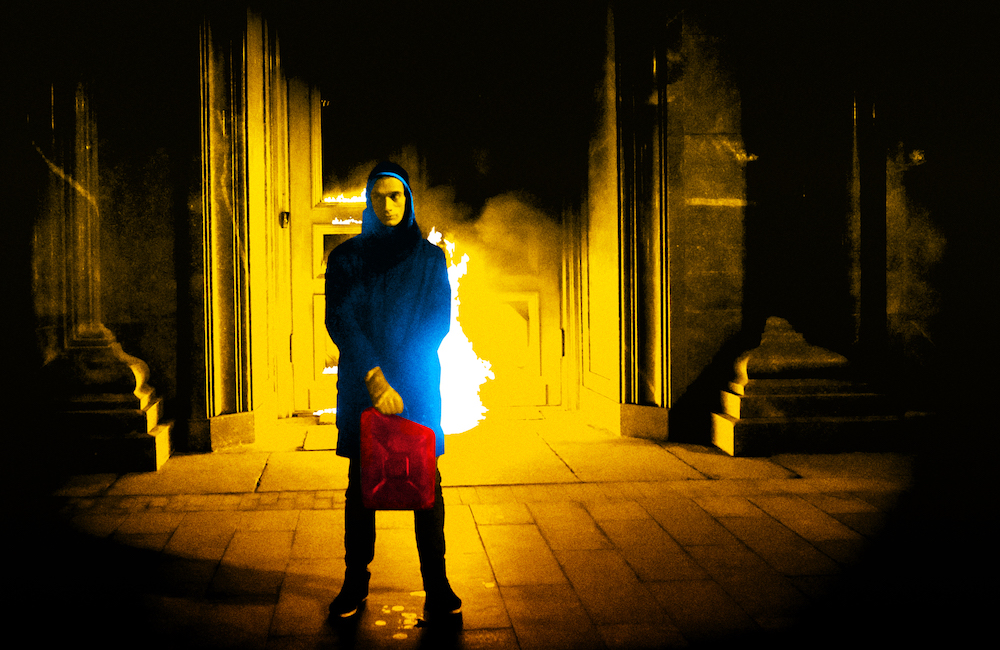 Russian performance artist Petr Pavlensky stands before the door of the FSB building he set on fire protesting 
The Belarus Free Theater, the only theater in Europe banned by its government on political grounds, will be giving a worldwide free livestream of its "Burning Doors" performance on October 12.
Watch the livestream on 12 October at 8PM (BST) here
Burning Doors, a performance featuring stories of persecuted artists living under dictatorship, draws upon the real-life stories of iconoclastic Russian performance artist Petr Pavlensky, incarcerated Ukrainian filmmaker Oleg Sentsov and Pussy Riot's Maria Alyokhina, who makes her stage debut.
The performance, assessed as a "scorching piece of theater: uncompromising, urgent and angry" by the Financial Times, is heading to UK's Manchester, Portsmouth, Italy's Modena, and Australia's Melbourne in the next month. But on October 12, they are giving a worldwide free livestream to make their message heard.
The performance's poster features a photo of Petr Pavlensky's performance "The Threat," where the artist set fire to the Moscow FSB building's entrance. Upon being detained for vandalism, Pavlensky asked that his misdemeanor is reclassified to "Terrorism" – in solidarity with Oleg Sentsov and other Ukrainian political prisoners sentenced to up to 20 years in jail for the same offense – arson.
This isn't the first time the Russian artist has made performances in support of Ukrainians – and Ukraine – being under attack by Russia. His fourth performance was dedicated to the Euromaidan protests, and his fifth, in which he cut off his earlobe – to Ukrainian pilot Nadiya Savchenko's forced examination in a psychiatric hospital.
Read more: Pavlensky's six performances. Getting more dangerous each time
But back in 2012, in his first performance, Pavlensky sewed up his lips standing next to the Kazan cathedral in Russia to support the punk-rock group Pussy Riot, who were arrested for singing "Mother of God, drive Putin away" inside Russia's main church. After spending over a year in prison, Pussy Riot member Maria Alyokhina together with the Belarus Free Theater attempts to give an answer to the questions:
What happens when you are declared an enemy of the state simply for making art? Where do you belong when your government suppresses your basic right to expression? And how do you survive in one of the most brutal prison systems in the world?


Belarus Free Theater supports #LetMyPeopleGo
As part of its campaign "I'm with the banned," the Belarus Free Theater invites people to send postcards to Ukrainian hostages of the Kremlin, 14 of whom are held bars in Russia and 15 in Russian-occupied Crimea, serving sentences of up to 22.5 years.
We demand to #FreeUmerov from Russian jail & all Kremlin Hostages https://t.co/HdzfXwMCjv #StopKillingIlmiUmerov pic.twitter.com/0r1ikDrsO9

— Belarus Free Theatre (@BFreeTheatre) September 3, 2016
#LetMyPeopleGo is a campaign launched by Euromaidan SOS to release Ukrainian citizens detained for political reasons in Russia and occupied Crimea. There are at least 29 Ukrainians in the LetMyPeopleGo list who also need our help. Please help raise awareness about their fates. Follow LetMyPeopleGo on twitter (
English
,
Ukrainian
) and facebook (
English
,
Ukrainian
).
Tags: #LetMyPeopleGo, Belarus, Human rights, News, Pavlensky, Political prisoners, Pussy Riot