The famous case of the Zaslavskiy brothers is now eight years old. In 2008-2009, Russia accused Ilya Zaslavskiy, an employee of the company TNK-BP, and his brother Oleksandr, of transferring confidential industry information to British and Ukrainian special services. Ilya Zaslavskiy stated that he was only doing his job by gathering open source information on oil and gas issues in the country. Partially that information indeed ended up with the western managers of the company for the simple fact that Anglo-American British Petroleum owned 50% of the shares in TNK-BP since 2003, and thus was a lawful co-owner of the entity.
"I worked in the gas stream of TNK-BP and formally Victor Vekselberg was my boss, at the same time being one of the Russian shareholders of the company. In practice, Vekselberg's British deputies ran the main projects in the gas stream. Initially I was accused of state treason, then the FSB downplayed the accusation to a very rare criminal article on industrial espionage," Zaslavskiy clarified in an interview to RFE/RL's Crimea department.
Ilya himself is confident that Russia's FSB was acting on behalf of Russian oligarchs to drive the British partners out of the business. Before TNK-BP was consumed by Rosneft managed by Putin's old KGB friend Igor Sechin in 2013, it was Russia's third-largest oil producer and among the ten largest private oil companies in the world.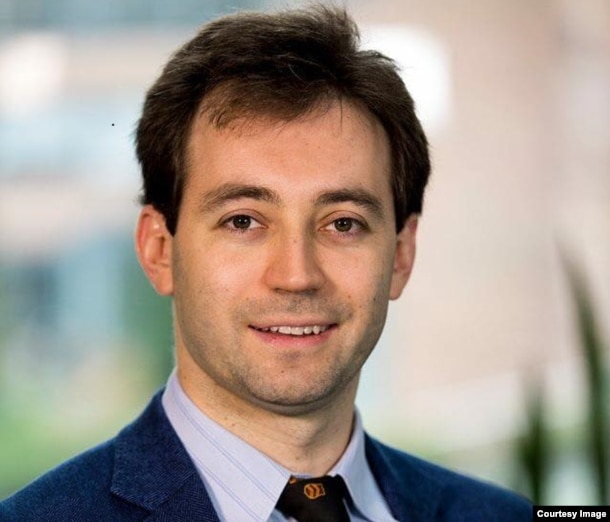 "Already in 2005, German Khan, one of the shareholders, an executive director of the company, started a war with the British side. He and his security guys  were much indignant that the Brits are allowed access to what they called strategic maps of [Russian] oil and gas reserves. However, that scandal subsided. Accusations against me were absurd and poorly fabricated, as there was no injured party, no motive, or master-mind in the case. On top of that, despite its claims in the press-release at the start of the case in March 2008, not a single foreign secret service was cited by FSB at any stage of the subsequent investigation. Formally, investigators claimed that I tried to get documents from Gazprom but the monopoly was then not a party to the investigation and show trial and did not claim any damages at any point. In the end, the FSB downplayed the accusation to a failed attempt of espionage as if we planned to do it but never actually did. At the same time, as an employee of the gas stream I was a member of an inter-ministerial commission at the Ministry of Economic Development and Trade on gas taxation and had a legal right to have access to Gazprom's long term strategies," Zaslavskiy explains.
Ilya confirms that despite FSB allegations that he failed to get access to documents, he actually had and still has them in full. The documents were never a commercial secret – major newspapers published main excerpts from them in 2007, long before the alleged crime in 2008.
"Effectively, it was a pretext for the FSB to come search the TNK-BP offices – an action that aimed to intimidate the British side. But what's more interesting is that under the pretext of my case, the FSB carried out massive searches and found out that seven months before my alleged crime, in mid-2007 Ministry of Industry and Energy formally passed the General Scheme for the Development of Gas Industry, Gazprom's key strategy document, to TNK-BP offices. It came with an accompanying official letter, even though the original strategy in Gazprom had a stamp of a commercial secret on it. After finding this, the FSB concluded that it has to open a separate criminal investigation against the Ministry and its addressees in TNK-BP, namely – Vekselberg, who disseminated a copy of the strategy to the other employees after he informally got it from the Ministry. Nevertheless, no proceedings were opened. The media only discussed accusations against me and my brother, while the real transgressions by Vekselberg and the Ministry never saw any legal consequences. This fact clearly shows close cooperation between Russian security services and oligarchs," says Ilya Zaslavskiy.
This wasn't the only issue that surprised Zaslavskiy and his lawyers. In early 2009, the FSB finished the investigation and passed the case to the court while at the same time it started to return personal belongings and pieces of unimportant evidence to employees of TNK-BP. Together with this stuff, the secret service passed copies of all protocols of searches of TNK-BP offices to security personnel of the company, who in their turn sent the unsorted documents to the gas stream. This is how Zaslavskiy got the copies with the full list of documents taken out of TNK-BP offices under the pretext of his case.
"We were shocked at what the FSB did under the pretext of my 'spying.' Firstly, these protocols of searches show that a whole array of documents was taken under the framework of my case, thus from a legal standpoint, the FSB was supposed to familiarize me with them. But these protocols were missing from the criminal case passed to the court, and they have never surfaced publicly, meaning that our legal rights were violated. Secondly, we know from the list of documents that the Russian special services interrogated one top manager of TNK-BP Jonathan Muir, who was already close to Russian oligarchs then, and received some sort of materials about the British from him. Thirdly, a lot of documents related to TNK-BP's activity in Ukraine were taken under the pretext of my case without informing us about this. These even included a Statute of a veterans' organization in Ukraine. Why did they collect a whole array of Ukraine-related documents is totally unclear," Zaslavskiy says with astonishment (you can view the copies of the protocols at krymr.org).
Ilya Zaslavskiy adds that TNK-BP had many assets in Ukraine. It was this connection that allowed Russian propaganda to call the Zaslavskiy brothers were spying not only for Britain but also for Ukraine, suggesting that "a whole ring of over ten Ukrainian spies are operating in Russia, collecting industrial and other sensitive information on energy issues." According to Ilya, the documents taken through secret searches have nothing to do with his work or the alleged crime.
"It's clear for me that the FSB was searching for materials compromising the British and the Ukrainians. How they used the procured data is unclear," Zaslavskiy added.
We can add that Yakov Osmolovsky, a Soviet dissident who used to reside in Ukraine, previously suggested that the FSB had been gathering compromising materials against Ukrainian politicians and secret service employees. This has allowed Russian FSB to build an unprecedented network of agents in Ukraine.
"Many of the documents that they secretly took are confidential or even secret, and it's possible that the FSB did not have legal access to a part of them. These included government and parliament correspondence, regional and federal draft laws on subsoil use, documents on Rosneft and Gazprom templates, and an internal exchange between Nikolay Patrushev, then head of FSB, and Viktor Zubkov, then Prime Minister," lists Ilya.
Ilya Zaslavskiy emphasizes that the whole story with his fabricated spy case is clear evidence of a close partnership between the FSB and Alfa-Access-Renova (AAR) oligarchs, owners of the 50% stake in TNK-BP at the time. Both parties made aggressive public statements against the presence of Brits and other westerners in the company, and the former MVD general Sergei Novosyolov, responsible for economic security in TNK-BP, directly cooperated with FSB.
"He is well known now for his activity in 2001, when he personally shielded Putin from a criminal investigation. In my case, Novosyolov made libelous statements about my work at the court hearings. Given that all security issues in TNK-BP were under direct control of oligarchs, there is no way that Novosyolov could act independently from them. Novosyolov's department was under direct subordination of German Khan," says Ilya.
As a result of the show trial in 2009, Ilya Zaslavskiy and his brother were sentenced to two years of probation service and travel restrictions for the alleged "failed attempt of industrial espionage." Now Zaslavskiy is in the US and recently he decided to publicize copies of protocols that accidentally got access to. A few days ago, Ilya passed these protocols to the International Spy Museum in Washington D.C. Those who are interested in the history of secret services will be able to assess how significant this documental proof of the controversial activities of the Russian secret services, and whether these illegally collected documents are dangerous to the United Kingdom and Ukraine.
---
Related: