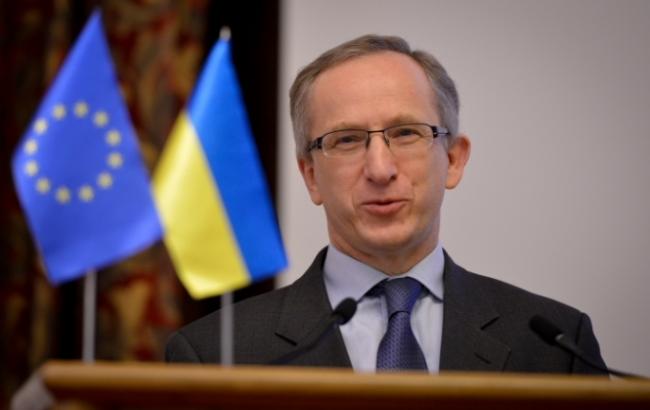 Jan Tombinski, photo: rbc.ua 
European Union Ambassador to Ukraine Jan Tombinski has served during one of the most difficult periods in Ukraine's modern history: from 2012 to 2016. At a meeting with Ukrainian journalists on 25 August, Tombinski shared his opinions on the most important issues in the Ukraine-EU relationship, as he is leaving the post.
Ukrainian citizens taken hostage by a small group of people
I'm very sad liberalization of the visa regime hasn't been implemented before my departure from Ukraine. But this is also one more lesson for Ukraine: do things in time, don't delay, don't imitate policies. The gap between declarations and reality was paramount in the process of Ukraine getting a visa-free regime [with the EU- Ed]. We've lost so much time while creating the National Agency of Prevention of Corruption; the second belated issue were the e-declarations.
The European Commission did everything needed – submitted the proposal to the member states to ensure the possibility of granting Ukraine a visa-free regime. The issue is now in the European Parliament, at the beginning of September there will be a report from the European Parliament about progress done by Ukraine. And once again, these e-declarations is something that will be also reflected in the report. Then the plenary of the European Parliament should discuss the issue in October and then European Council will confirm the decision.
I am leaving Ukraine with a feeling that this country is in good hands of its own citizens.
I see now all the elements as delivered, with the exception of this system of checking declarations. I will not speculate on the dates of the visa liberalization launch, but Ukraine and Ukrainian leadership is now in charge of delivering the last element that is needed to give a positive assessment on progress and commitment by Ukraine.
This is something that makes me also very sad. If you look at visa liberalization process, it is quite clear that a relatively small group of people has taken Ukrainian citizens as hostages. A small group of people to be subject to the process of transparency took millions of Ukrainian holders of biometric passports as hostages.
Read more: How Ukrainian officials sabotaged launch of crucial e-declaration system | #UAreforms
People ask for more reforms than the leadership can deliver
Ukraine is perhaps a unique country in Europe where people ask and call for more reforms than the leadership is able to deliver. In European countries, the situation is usually the opposite.
For me, it's fantastic proof of the Ukrainian citizens' understanding of what the country needs and how much Ukraine needs to catch up with other countries. Ukraine is now like a big construction site with a large resistance of the so-called deep state structures. Those are the structures who managed the country to the profit of small groups for 20 or more years.
The Revolution of Dignity had shown the gap between people's expectations and the reality of the work of institutions. Ukraine has been defended by its citizens over this period. Now Ukraine's state should convey to its own citizens the feeling that state is able to defend the people.
I am leaving Ukraine with the feeling that this country is in good hands of its own citizens.
Ukraine's most crucial reforms, according to Tombinski
Consolidating and cleaning up the banking system, and in result – the cleaning of the financial system is a huge success
Changes in public finance management (ProZorro system in particular) shows that things could be improved
Completing decentralization will help change bad habits of vertical power structures and empower people
Justice system reform is yet to begin, and the European Union will assist with it
Energy sector reform is painful for the people but will bring the sector to an economically viable condition
Deregulation will help activate the economy by creating a regular framework for small and medium-size businesses
Anti-corruption – it's not only about withdrawal of assets but is also a disregard to people: it means you may buy them
Changes in the political and electoral system should be carried out to ensure the accountability of political parties
Ukraine's elites need to invest in their own credibility
Four years ago, there were very few contacts between European officials and Ukrainian authorities (beyond routine meetings). My task was to reinvigorate this dialogue and open up perspectives.
Now the Ukrainian leadership is trusted: it's a partner of all European capitals. Such a large number of visits to and from Ukraine show that the leadership is trusted, it represents the society, and is a partner for implementing all sorts of international projects.
However, Ukraine should invest much more in gaining credibility. It is a non-monetary value, but of huge importance in international relationships.
If they commit to something, they should do it. Loss of trust in a partner impacts also all other aspects of political engagement. As human beings, we prefer to deal with people who we trust and who are able to deliver on promises.
Russian aggression will not be accepted
No one expected that the implementation of European policy in Ukraine will happen under such circumstances, that Russia will react to it by open aggression against Ukraine. I can hardly recall a case where a decision to sign an open agreement of a regulatory nature, without any closed or security-related clauses, would trigger an aggression against the country.
The European Union will be following the sovereign decisions of Ukraine.
The annexation of Crimea and aggression of Russia against Ukraine's territorial integrity were reasons for the EU's sanction policies. Crimea will never be recognized as Russian, as you read it from the yesterday's statement from the European Union to welcome the 25th anniversary of Ukraine's independence.  It's a confirmation for non-recognition. Everything that is a violation of the international order is something that will not be accepted in Europe, so the European position is not to be changed.
We will be following the sovereign decisions of Ukraine on these matters. As a Pole, I would only say that Ukrainians should never give up the idea of territorial integration. Poland has been divided for over 120 years and never gave up on integrating Poland.
Tomorrow the trilateral contact group will meet in Minsk and we should do everything in order to use this tool of communication, we don't have too many other tools to ensure the fragile stalemate, to make sure that there is no more open conflict. This is the first value of the Minsk format. Among the EU and Western partners of Ukraine, there is a conviction that a bad peace is better than a good war. All the instruments of political pressure, dialogue should be used in order to ensure the territorial integrity of Ukraine.
With sanctions policies, we have to focus on decisions. The discussion about whether sanctions are effective or not, what should be done with them – this is something normal for a democratic society that we also have in the European Union. We look at how effectively our policies impact Russia's policy. The sanctions were introduced in order to impact Russia's policy towards Ukraine. We have to look at them, and I do not see for the time being a change in the basic situation compared to when the sanctions were introduced. Nothing moved in a positive sense. The annexation of Crimea, violation of the territorial integrity of Ukraine, they are still in the same situation. So let our heads of states discuss it but we should not only listen to arguments that are publically voiced, we should look at the decisions.
Tags: #UAreforms, European Union, Politics, Ukraine, visa liberalization