Fifteen years ago, more than a hundred people lived in Desyatyny, Zhytomyr Oblast. Today, this rural community counts only 30 inhabitants. The village would have completely disappeared if not for one brave and enterprising man, Olesandr Kononov.
Until very recently, Oleksandr was held captive and tortured in a dark cellar in the so-called "LNR", but the terrorists failed to break his spirit. Once liberated, Oleksandr acquired one of the many abandoned homes in Desyatyny, moved his beloved goats and sheep across the country, and started re-building not only his own life, but also the future of the local community.
IN THE MIDDLE OF NOWHERE
A herd of goats wanders around the remnants of crumbling brick walls. Skeleton constructions of abandoned farms, lost in the remote forests of Zhytomyr region, recall the life and energy that used to vibrate in the surrounding partisan forests [during the WW2, these thick forests used to provide cover for Soviet "partisans," resistance fighters against the German occupation — Ed.].
"Bela-bela, bala-bala!" the shepherd calls out to his flock in the ruins of a barn.
His strange calls echoe among the graves of the local cemetery and disappear into the dark thickets.
"Be-e-eee, m-e-eee!" answer the goats, scampering towards him.
His name is Oleksandr Kononov, once a stranger to this region. He arrived in December last year from Sievierodonetsk, Luhansk Oblast when a volunteer friend invited him to visit the region. They wanted to organize a goat farm and build up local cheese production.
Oleksandr leans heavily on a long stick; he has no right arm and no left leg. He lost his limbs eleven years ago in a serious accident at a metal factory. However, Oleksandr didn't fall into despair, and refused to bury himself alive.
 "I didn't want to get stuck in a sort of "Bermuda Triangle"… you know, kitchen, bathroom and bed. That's not for me. And you know what? The war has made me stronger!"
Until a few years ago Oleksandr had no idea that he'd become a farmer. But the war, which came to his native Luhansk region, drove him out and forced him to seek a new life 900 kilometres from his hometown.
Oleksandr was followed by another family from Luhansk Oblast. The Donbas diaspora in Desyatyny grew to five people. At first, locals looked at these newcomers suspiciously – people living in remote areas tend to be quite conservative. But, Oleksandr gradually gained their trust and started discussing politics and the war with them. Oleksandr laughs loudly:
"At first, they saw me as a "separatist" who had come to establish his own "DNR" – Desyatyny People's Republic – in the area. Half of the people here are for Putin…Would you believe it? A neighbor told me: Russia flew into space! So, I answer: No, not Russia, it was the Soviet Union. Second, my dear friend, do you really know the history of your region? This is Zhytomyr Oblast, right? And where was Academician Serhiy Korolyov born? Don't you know? Well, I'll tell you… in Zhytomyr!"
[Serhiy Korolyov (1907 – 1966) was the top manager and chief designer for the Soviet rocket engineer and spacecraft program during the Space Race between the United States and the Soviet Union in the 1950s and 1960s. He is considered by many as the father of practical astronautics –Ed.]
HOSTAGE
The one-legged one-armed shepherd sits on a grassy hill. The sun glistens on his metal prosthesis. Oleksandr smiles and turns his face to the sun. He doesn't seem at all helpless. Even his dogs sense his love of life – wagging their tail, they scamper around his legs. He strokes his black German shepherd :
"This is my Aidarivna… her surname is Boyova (fighter). Her mother served as a military working dog in the Aidar Battalion."
Before the war, Oleksandr was a civil activist, a member of a local organization. When fighting began around Sievierodonetsk, he became a volunteer and regularly helped the Aidar Battalion, transporting water, food, medicine, and detergents to soldiers stationed in Polovinkine, Shchastya, and Starobilsk.
Unfortunately, one of the trips ended tragically…the volunteer bus got lost and drove into a separatist checkpoint in Yuvileyne.
Oleksandr spent 98 days in captivity.
He lifts up his shirt and shows me a deep scar on his shoulder. He looks down and in a quiet voice tells me about his imprisonment:
"A "comrade" arrived at the checkpoint. His name was Serhiy Anatoliyovych Lytvyn; he later became "Minister of Food and Agriculture" of the "LNR". He put me under interrogation. Suddenly, he pulls out a gun, puts it against my forehead and presses the trigger – nothing. Then he inserts the charger, presses the gun again to my head, then suddenly moves his hand away and fires. He did it several times. One of the bullets grazed my shoulder."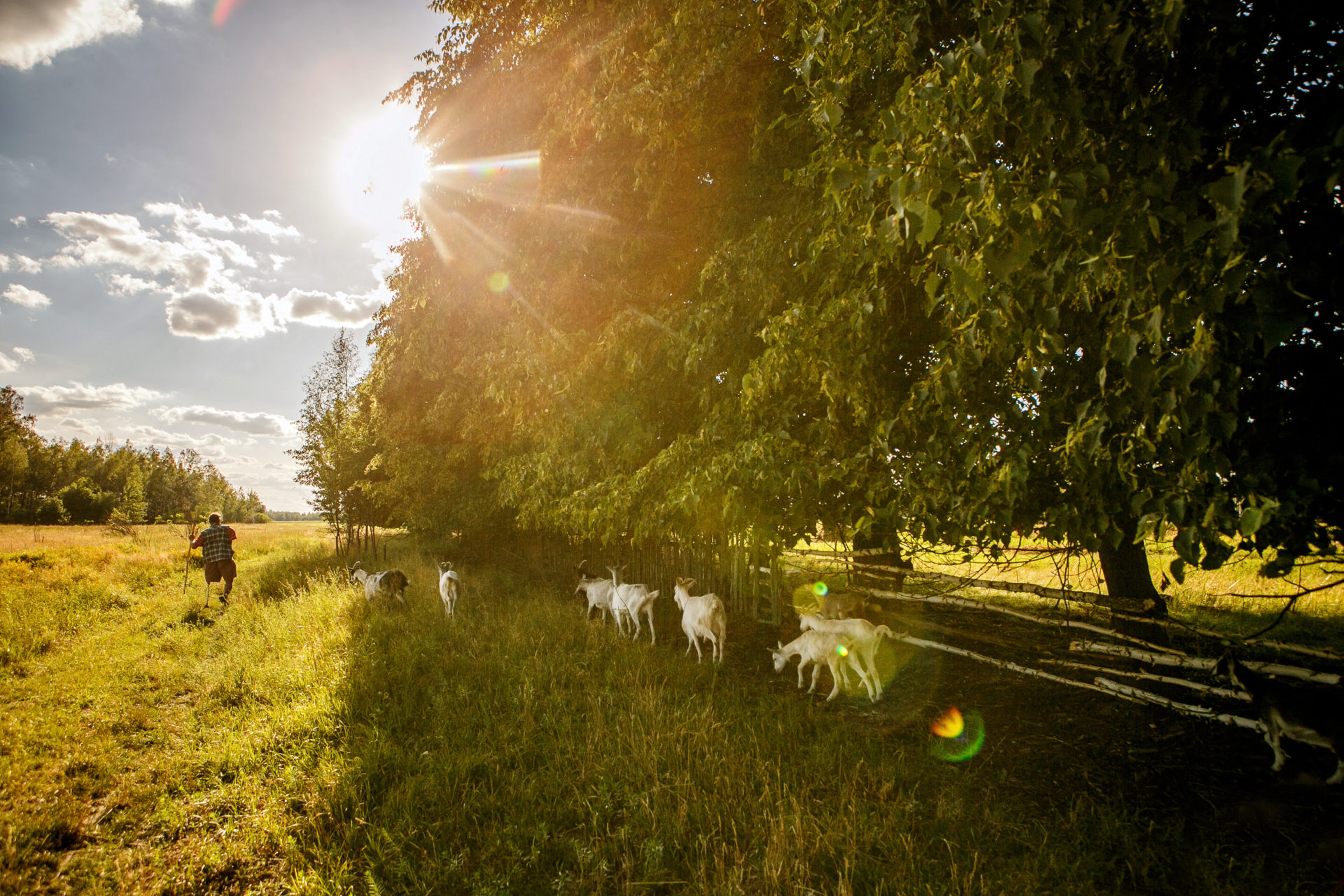 Oleksandr was considered "particularly dangerous" and was held in solitary in a temporary detention facility in Luhansk, then in the cellar of the regional administration building, and finally, in the building of the new "headquarters". About 40 prisoners – both men and women – were crowded into a tiny cell without any ventilation. Oleksandr got to know all sorts of people – mine directors, art gallery curators, criminals, brokers … Many had simply been denounced by their neighbours.
 "They beat me all over to get information. But what did I know? I had no secrets. So what could they get out of me? But, as they hadn't killed me immediately, I knew I'd be released sooner or later."
After nearly a hundred days in captivity it, Oleksandr was freed along with seven soldiers and three civilians, all released as part of a prisoner exchange.
He travelled back home to Sievierodonetsk that had recently been liberated by Ukrainian troops. However, Oleksandr had no desire to remain in his hometown. He gathered his nine goats, five sheep and two lambs, and set out for the Zhytomyr forests.
"How to explain it? Little had changed in my native Sievierodonetsk. Most were still for Putin Kh**lo!  Well, not really… actually, they'd waver between the two options… going back and forth, depending on which flag was hanging on the buildings. They're like sheep, obediently doing what they're told. I can't live like that! My friends helped me load my belongings into a minibus and off we went, onward… towards a new life and a new dream!" 
A NEW LIFE
The most expensive house in Desyatyny is worth no more than a thousand dollars. Oleksandr paid even less – 13,000 hryvnias (about $520). It's made of wood, has a dirt floor, an ancient stove, smells musty and old. It has electricity, but there's no running water, so Oleksandr has to use the neighbour's well. The house was abandoned seven years ago, so there's lots of work to be done. There's little compensation except for the few old rare objects that were left behind.
 "Do you know what makes Ukrainian women so strong and free? Let me show you an awesome object. Let's say a husband comes home drunk, and she greets him and pats him on the back with this!"
He chuckles and pulls an ancient wooden laundry bat out of a pile of junk. Then he turns to a heap of old handmade linen.
"And look at this! Isn't it beautiful? We collect all sorts of old things in the neighbourhood – mortars, chests, bast shoes, looms, shuttles, etc. We'd like to turn two abandoned houses into ethno guest cabins, start something like an ecovillage, with pastures, cows, goats and cheese production."
Oleksandr is a self-taught cheese maker. Every day he studies and develops his equipment. He does everything with his left hand on the tiny electric stove. But, if there's too much produce, he moves into the yard where he has installed a larger field stove and a water bath.
A head of cheese weighing five kilograms [about 11 lb.] emerges from 30-40 litres [about 8-11 gallons] of  milk. The amount of milk drawn in one milking session produces about two heads of cheese. Oleksandr's cheese is sold in several shops in Kyiv (sellers buy it for 230 Ukrainian hryvnias per kilogram [approximately $9/kg or $4/lb.]). Oleksandr dreams of larger orders and deliveries…
"The technique is very simple. I heat the raw milk to 40 degrees Celsius and add a fermenting agent. The milk coagulates, I press it and keep it in brine for two days. Then the cheese ripens in a refrigerator for several months. Each head of cheese is special…an exclusive product, with different shades of taste, smell, and texture. You get one batch of milk, and in the end you come up with a special bouquet of flavor. Besides, I love to experiment, so I add cumin, anise, mushrooms …"
"We've even got names for our cheeses!  "Fantasy" for cheese with mushroom, "Mother-in-law Favourite" for a sharper cheese,  "Flying High" for cheese with hemp!"
The shimmering rays of the evening sun break through the forest thicket, filling the yard with pinkish yellow hues. The large pot bubbles joyfully. Oleksandr stirs the milk with a long wooden spoon and muses about the future. His head is full of grandiose plans.
At present, Oleksandr has 45 dairy goats, 70 goatlings and 15 sheep. He needs at least three hundred heads to run a profitable business. He plans to build up such a herd together with his friends over the next two to three years. Their main objective will be to sell certified organic products.
 "I believe that you can make a very good living from agriculture. But, you have to invest and expand. Ukrainians have forgotten  about goats and goat-raising. In our country, the total amount of goat's milk produced is 1.2%. In Europe it's 35%, and in Asia and North Africa – 55-60%."
If Oleksandr's dreams and plans come true, Desyatyny will enter into a true period of renaissance.
 "We've already set up five jobs. We're preserving and enhancing the Ukrainian village, so to speak. We want to turn the former collective farm into a goat farm. We did some estimates, and we need about one million euros to restore the entire complex, along with equipment and livestock. That's unreal…"
"We need to start small. We've started putting in new roofs. We use inexpensive materials, but even so, we need about 300,000 hryvnias. So far, we've decided to cover half of the building. We're looking for investors…"
THE DREAMER
It seems that Oleksandr has an answer for each question. Doubts and fear are not part of his life.
"There are two ways to achieve your goal – first, you wait for a fairy, a president, a government, or social services to come and do everything for you, make you feel comfortable and happy. Second, you get your ass off the sofa and start working. 90% of people don't want to dream, so they just sit around waiting."
"I've got a Category I disability certificate. That means someone should cook for me, spoon feed me, do my laundry, and clean my house. Listen, do I resemble someone like that? I don't want to just sit around and wait for help. Yes, I'm a dreamer…"
A dark pensive night covers silent Desyatyny. Goats and sheep doze in the enclosure. Clear stars shine brightly among the entangled crowns of the trees. The moon drifts across the sky… like a piece of cheese. It's well past midnight and time to sleep. In four hours, Oleksandr will be on his feet again. He'll drink a cup of strong tea and take his beloved animals out to pasture. Will he find happiness in the Zhytomyr forests? His carefree wide smile and the gleam in his eyes tell us that he already has.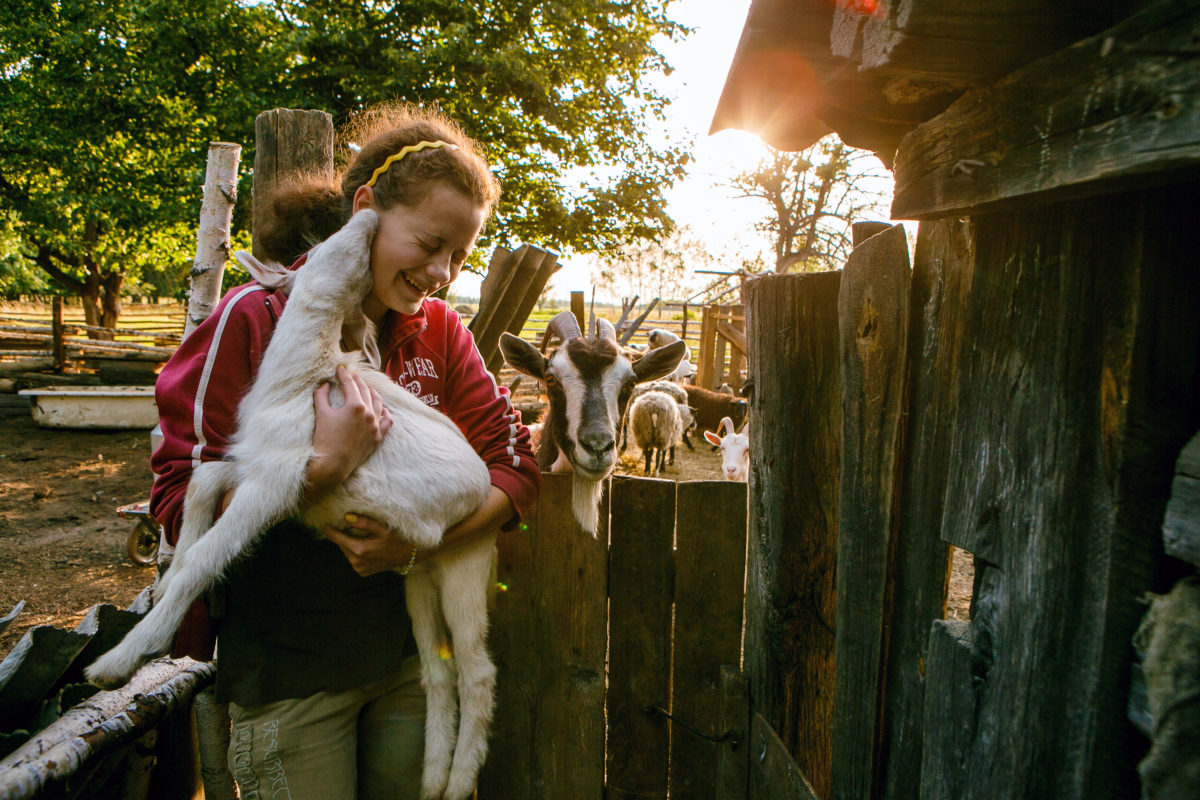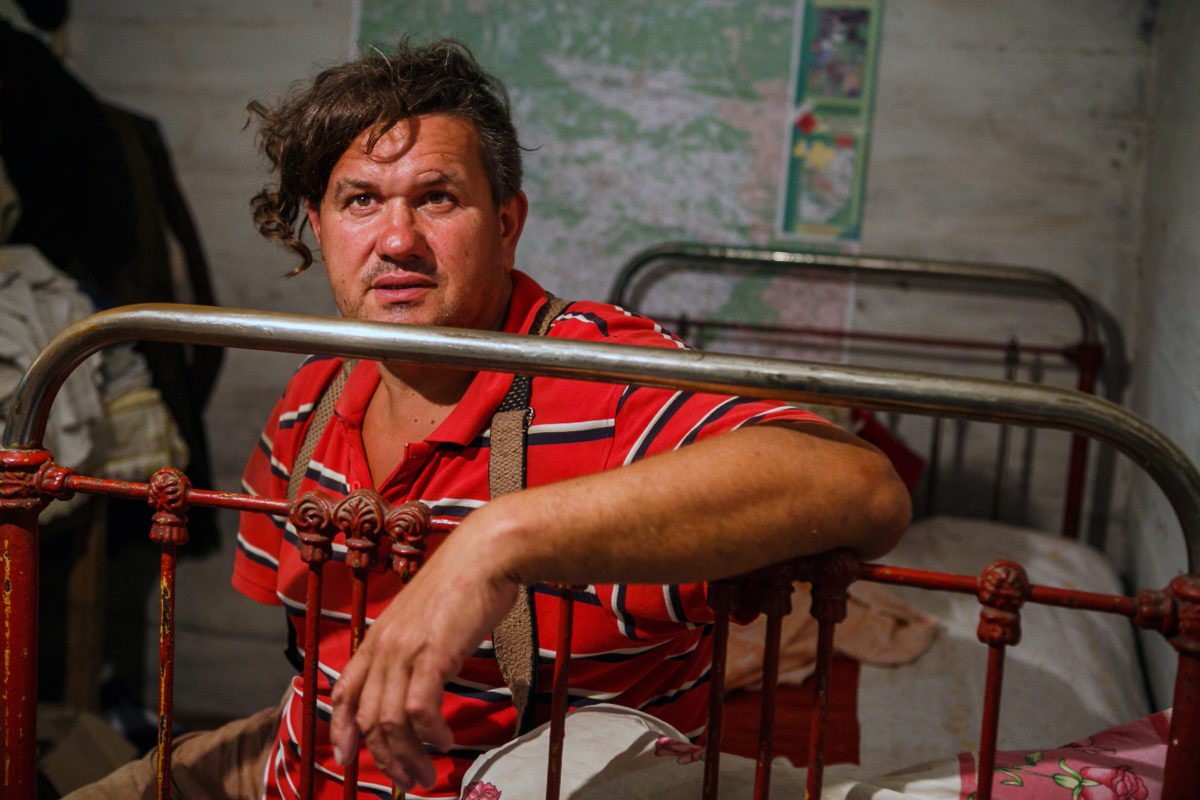 According to official data of the Ministry of Social Policy, there are about 72,000 persons with disabilities among internally displaced Ukrainians. IDMC (internal Displacement Monitoring Centre) estimates that there are 1.4 million IDPs in Ukraine as of August 2015. IDPs in Ukraine have fled Crimea and eastern Ukraine.  The IDMC estimate of 1,476,226 internally displaced persons is a composite of two figures: IDPs in Ukrainian government-controlled areas and IDPs within Crimea.
---
Related:
Tags: disability, Donbas war (2014-present), farming, Featured, hostage, Torture, Ukraine, Ukrainian agriculture, Ukrainian IDPs, Ukrainian village, Volunteers