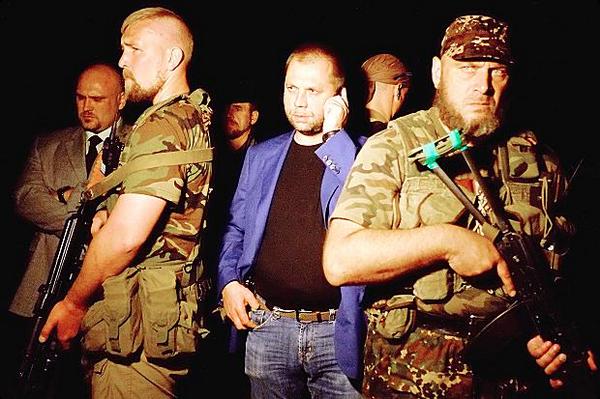 Alexandr Borodai, self-proclaimed "Prime Minister" of the "DNR", surrounded by Russian-backed militants 
Around 50 thousand Russian citizens have fought for the separatist army in the first two years of the war, according to Aleksandr Borodai,  a former so-called "Prime Minister" of the separatist "Donetsk People's Republic" in the summer of 2014 and himself a Russian citizen living in Moscow and a political consultant.
In a letter he wrote to a Russian Orthodox Church bishop in March of 2016, Borodai offers to coordinate assistance to these "veterans," citing the Orthodox Church's track record of "helping those who find themselves in difficult circumstances, working in hospitals, cooperation with Russian armed forces."
"We ask you to consider this proposal of cooperation in the provision of care for the wounded fighters and the families of the ones who died," writes Borodai, lamenting that the organization he leads, the Union of Donbas Volunteers, cannot handle such a geographically dispersed assistance effort.
The letter was leaked from a hacked mailbox of Olga Kulygina, another Russian citizen who was apprehended in the summer of 2014 while fighting for the separatists and was later exchanged for 17 Ukrainian hostages. She is a well-known associate of both Borodai and an early military leader of Russia's proxy army in Donbas, Igor Stelkov (Girkin). The letter was published on the website of Myrotvorets, a Ukrainian web site most widely known for an extensive crowd-sourced database of pro-Russian fighters and associates.
Recently, Myrotvorets published an interactive map of the origins of Russian mercenaries in Donbas. Earlier, it found itself in the epicenter of an international scandal when it published a list of over 4,000 journalists accredited in with the so-called authorities of the Luhansk and Donetsk "People's Republics."
Tags: Borodai, Donbas war (2014-present), myrotvorets, News