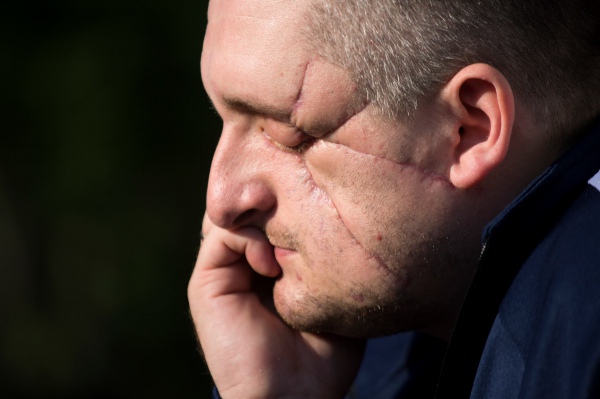 Oleksandr Darmoros. Large deep scars run across Oleksandr's face from the eyes to the cheeks, forehead and cheekbones. 
Yosyp Syvenky has launched Photo Project "Rany"» (Wounds) that began to germinate in his mind during the tragic Euromaidan events of 2014.
The photographs reflect painful images that cannot be seen or heard in the terse daily announcement of casualties and wounded reported by the ATO Press Service.
"It's important for people to understand what's happening in Ukraine. These photos reflect the high price we must pay for our freedom."

"Almost all the soldiers firmly believe that if they hadn't gone to fight, Russia would've pushed forward, and our country wouldn't exist. I think so too."
OLEKSANDR  DARMOROS  
30-year-old Oleksandr Darmoros,  Second Lieutenant of the 8th Special Regiment, sits on a hospital bed as a physiotherapist examines the stump of his amputated leg.  Oleksandr was seriously injured when an anti-personnel mine exploded during his service in Luhansk Oblast on March 25, 2016. Oleksandr lost his sight, his left leg had to be amputated at the knee.
"He's completely blind, but doctors think there's a slight chance that he'll be able to distinguish shades. He needs surgery abroad."
Oleksandr's wife sits at a nearby table with downcast eyes. There's a painting on the wall – soldiers in large overcoats with armbands and a red cross carrying another fighter on a stretcher.
Oleksandr has two daughters. Before the war, he repaired ATMs and worked on the family farm. His wife says:
"People know us. They talk about us. They call every day. I told my husband: "Sasha, our real life will begin when we get home and when we're together again – me, you and the children. Then we'll really see and feel the changes…"
VASYL PELESH
19-year-old Vasyl Pelesh was photographed on a hospital bed in Lviv Military Hospital. He volunteered for the front, was captured, and the terrorists cut off his arm tattooed with "Slava Ukrayini!" (Glory to Ukraine).
ARTUR HALTSOV   
24-year-old Artur Haltsov hails from Dnipro. Due to a serious head injury, he can neither speak nor feed himself.  Artur was on the Maidan in Dnipro, and joined Pravy Sektor as a volunteer when Russian troops invaded Ukraine.
During a combat mission, Artur's friend was torn to pieces before his very eyes. Arthur gathered the pieces of his friend's body and carried them back to his regiment.
When the boy was in hospital to treat a stomach problem, some nurses asked him to move  the bodies of two civilians. Arthur agreed, then jumped out the window.
He is now undergoing rehabilitation at the Nodus Clinic, a modern neurological and neurosurgical center located in Brovary near Kyiv.
ARTEM ZAPOTOTSKY
34-year-old lawyer Artem Zapototsky was the first person to be photographed for the Wounds Project. On February 20,2014, a sniper shot Artem while he was standing unarmed on the pedestrian bridge near the October Palace and Maidan in Kyiv. The bullet damaged his spine and lodged near the left shoulder blade. It is still there. Artem is married and has two children.
Artem works as a lawyer in a large company. He often consults by phone during breaks between physical therapy sessions. He is determined and motivated. Artem dreams of getting back on his two feet and trains tirelessly six hours a day.
VOLODYMYR HONCHAROVSKYI
31-year-old Volodymyr Honcharovskyi is married, father of four children. He used to work as a construction worker. Volodymyr was seriously wounded during the Revolution of Dignity on February 20, 2014 when he tried to rescue wounded activists lying in the open street. He was shot three times, two bullets lodged in his back, severely damaging a nerve. He suffers great pain and cannot leave his wheelchair. He has had several operations at home and in Germany, but his condition remains very critical.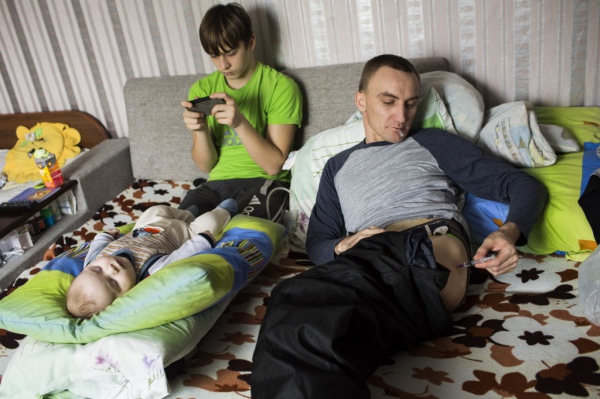 Yosyp comments on one picture:
"Earlier, no one ever thought about ramps. Look over there… do you see the rails for the wheelchair? But even the strongest man in the world couldn't manage to control his chair on the way down! So, Volodymyr's friends have to carry him up and down."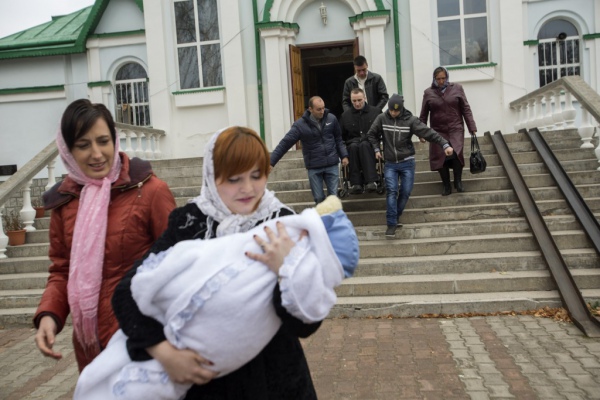 In another photo we see Volodymyr talking to a priest after the christening of his youngest child.
The family lives in Teofipol, Khmelnytsky Oblast. As Volodymyr kisses his wife tenderly, she says:
"Life is so difficult now. We thought that he'd get better, but you can see for yourself… no changes."
SERHIY MASAN
Paratrooper Serhiy Masan lost several fingers and 70% of his body was burnt during heavy Grad shelling by Russian-backed proxies in Dyakove, Luhansk Oblast.
In the photo, he sits with lowered head as his wife carefully wipes sweat from his forehead.
Yosyp comments:
"It wasn't so hot in the hospital room, but Serhiy wanted to sit up on his own. This cost him so much effort and pain that he started sweating profusely."
VADYM DOVHORUK
23-year-old Vadym Dovhoruk is a special-ops officer in the Third Regiment. He lost his arm during combat, and hid in the woods where he was found by "LNR" troops. Both his legs froze while he was hiding, so they were also amputated.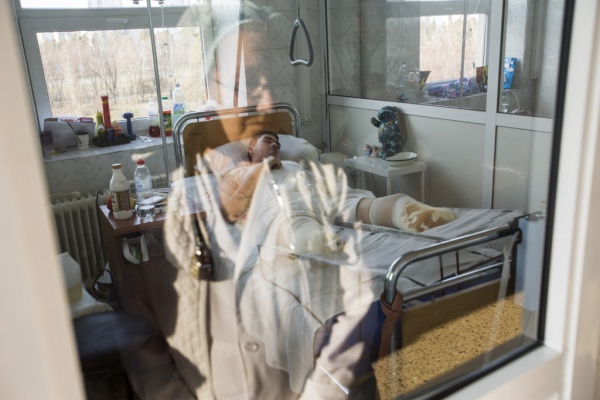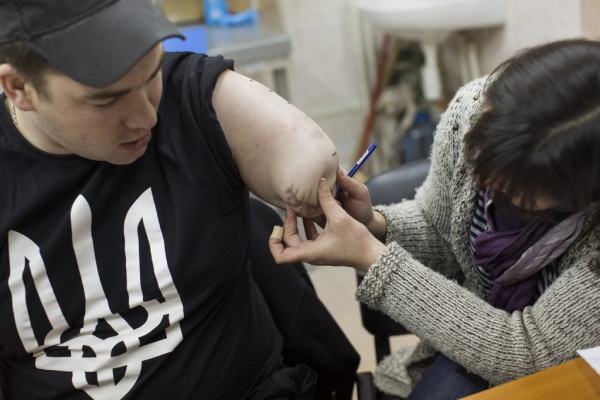 "Our group was patrolling when we were ambushed. I was told what had happened to the rest of the guys. Me and two other men went missing. One of them was buried recently, and the second is lying in the Dnipro morgue, but his parents haven't come for him yet. It seems they've recognized him, but they're waiting for DNA results. He was our commander. Seven other men were captured."

"You know, I have a disability certificate, but I can't accept or get used to that word. I was in the metro one day… I didn't have the prosthetics yet, so I was in a wheelchair. Then I heard someone cry out: "Let this disabled man by!" So, I called back: "I'm not disabled, I'm wounded!"
Vadym runs around on his prostheses, drives an SUV, and last fall entered Kirovohrad Pedagogical University, where he is studying psychology. He plans to work with Ukrainian war veterans.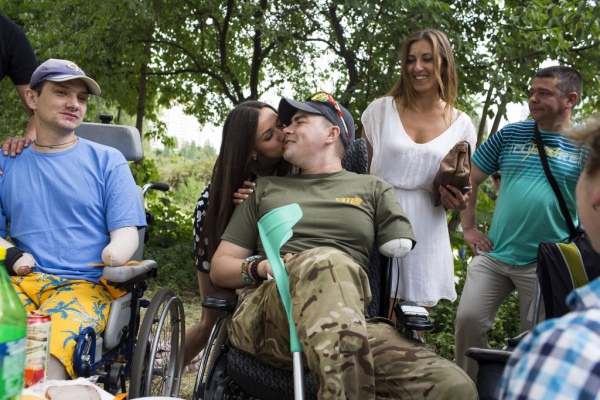 He wants to share his experience and advice with other soldiers, says Yosyp, and gives an example:
 "Look, this is a special-ops officer. His back is completely scarred. He was tortured in captivity. When he returned from the front, a psychologist asked him to remember how he felt when he fell from a tree when he was 12. He replied he was really scared… and he broke his arm."

"You see a man who's suffered war and captivity, and the psychologist asks him to think about falling out of a tree! Soldiers must feel that their interlocutor understands what they've experienced, so Vadym's new profession will be very important."
VIACHESLAV BUINOVSKYI
41-year-old Vyacheslav Buynovsky had his right hand and leg amputated. He used to work as a mechanic in Sumy Oblast. He took an active part in the Maidan protests, and then enlisted in the Aydar Battalion and was seriously wounded in Luhansk in September 2014.
Vyacheslav is currently helping other soldiers understand pain and how to give effective first aid care. Yosyp explains:
"Vyacheslav pretends he's been seriously wounded. We hear gunshots, explosions… the doctors come around a corner and see Vyacheslav without limbs. He screams loudly! There's blood and noise everywhere! That's how medics are being trained now…"
The exhibition has travelled to many cities (Odesa, Zhytomyr, Vinnytsa, Poltava, Kyiv) and will continue to tour Ukraine. 
Contact details and more photos – see RANY PROJECT
Tags: Donbas war (2014-present), exhibition, Maidan, pain, Ukraine