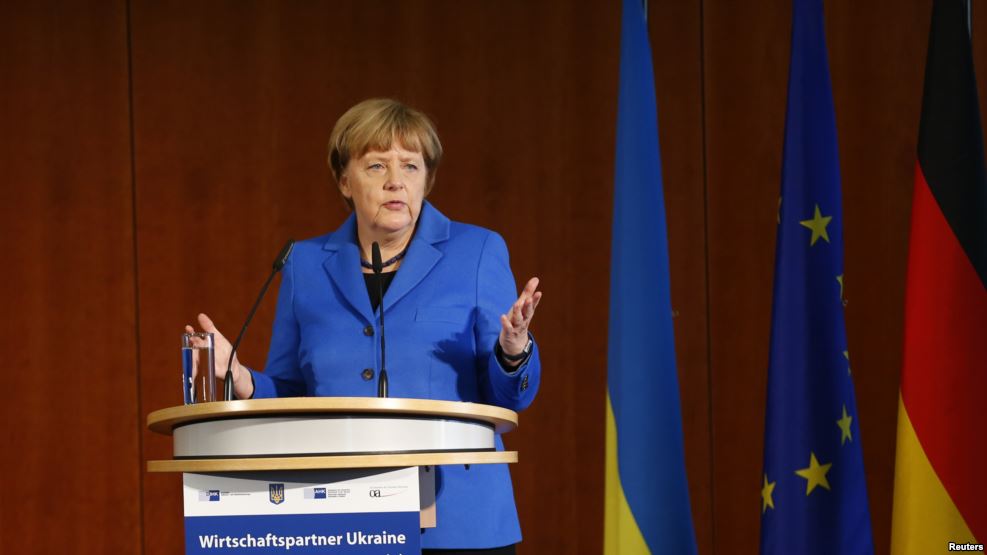 Elections in ORDLO (occupied areas of Donetsk and Luhansk oblasts) are currently impossible because of the complicated security situation in the region, German Chancellor Angela Merkel said at a press briefing  on Monday, June 27, after meeting with Ukrainian Prime Minister Volodymyr Groisman, who is on a two-day working visit to Germany. "The elections cannot take place for obvious reasons: it is simply too dangerous in the Donbas," she said.
The chancellor said that Germany would continue to provide diplomatic support for Ukraine in settling the conflict in eastern Ukraine. Groisman, in turn, stated that under the current conditions elections in the occupied territories are impossible because Russia is not complying with the Minsk agreements.
"Elections must take place when there is absolute transparency and the possibility of making a free choice. If you look at what is happening in the Donbas, you will see that we have some 50 shellings every  day by Russia and its militants," Groisman said.
Ukrainian President Petro Poroshenko has repeatedly stated that elections in the occupied territories of the Donbas could be held only after the full implementation of the Minsk agreements by  Russia and her proxies.
Earlier, Denis Pushilin, representative of the DNR (Donetsk People's Republic) group, stated that local elections in territories that are currently under the control of DNR and LNR (Luhansk People's Republic) militants are not likely before the end of the year because a compromise cannot be reached. Subsequently, the leader of the DNR group, Oleksandr Zakharchenko, announced that the militants could set a date for local elections unilaterally if Kyiv does not pass a law on local elections by July 14.
According to several packages of agreements reached at the negotiations in Minsk during 2014-15, known as the Minsk agreements, local elections in the occupied parts of the Donbas are to be held only according to Ukrainian legislation and with the participation of international observers.
Ukraine and the West accuse Russia of supporting the so-called separatists in the Donbas and demand that Moscow implement the Minsk agreements. Russia, however, denies the accusations and says it is only the "guarantor" of the implementation of the Minsk agreements.
Earlier, DT.UA had reported, citing its own sources, that the West has set new deadlines for Ukraine to hold elections in ORDLO and to stabilize the situation in the Donbas. First, Ukraine was given the deadline of passing the elections law for ORDLO by the end of March and holding the elections in the occupied territories by the end of June. Then, the Ukrainian government was told to hold elections by the end of August.
Tags: Donbas, Elections in Ukraine, Merkel, News