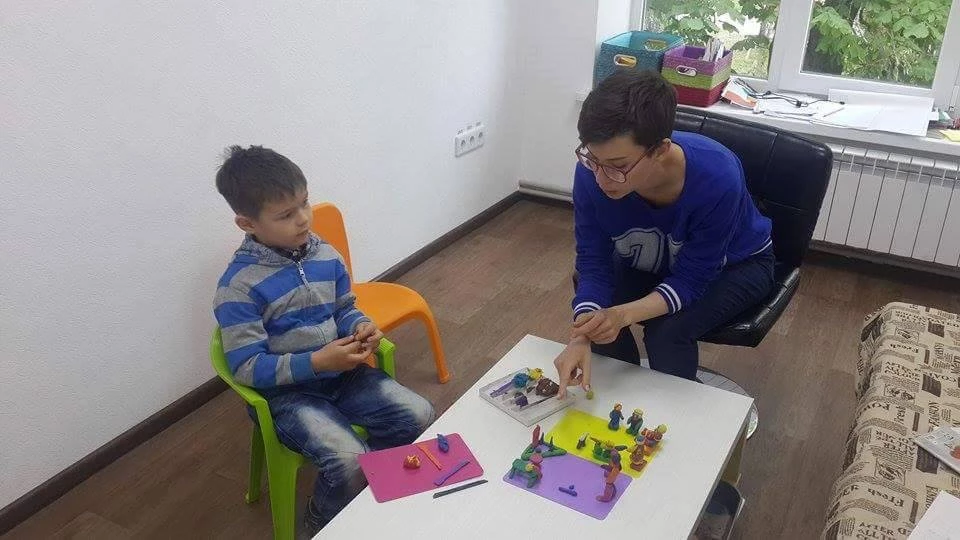 Center for children and family support, Mariupol, Donetsk oblast. (Photo: novosti.dn.ua) 
Children that witnessed death and survived shelling in the East Ukraine are afraid of the dark and demand constant attention. They're scared their family will be gone forever, psychologists explain.
The Center for family support of Ordzhonikidze social service is located in the "Vostochny" micro-district of Mariupol, Donetsk oblast. It is the district which was cruelly shelled on 24 January 2015, leaving 29 dead and dozens wounded. Locals are not in a hurry to restore the damaged houses, as more shelling is expected. To make sure windows survive the blast wave, owners duct-taped them to frames.
The building of the Ordzhonikidze district center of social services for family, children, and youth was half-destroyed. Local authorities helped only to coordinate activists and volunteers' while international organizations aimed at restoring the building. Thus, the Center for the Family Support at UN Children's Fund (UNICEF) was opened.
Center administrator Vera Kachura has been helping soldiers and internally displaced persons since the very beginning of the anti-terrorist operation. In her native town of Shyrokyne, she used to own a shop.
The first IDPs came to Shyrokyne from Sloviansk in April 2014. The population of Shyrokyne was 1.5 thousand people, IDPs outnumbered it almost twice: there were 2.5 IDPs, so the local businesspeople helped them.
"There were about 37 of us, and we tried to do our best. We tried to accommodate people in available recreation centers. This is how it all began," Vera recalls. She explains, that majority of displaced people needed some king of a public place to socialize and share their burdens. This is how an abandoned part of the social aid center was refurbished, and classes for children began.
At first, there was just a room for children with art therapy lessons and a psychologist. Soon it developed to group classes, a class for preparing for school, speech therapist, self-defense course for teenagers, and video skills development class. The next goal is to introduce pilates course for mothers, and meditation for moms with kids.
Mariya Pronina, who is an IDP herself and now works as Center's consulting psychologist, explains that for some children the very fact of moving out causes stress and extreme anxiety. Children do not understand why they cannot stay at home with their family and friends.Without treatment, anxiety may become chronic. Others got stressed and traumatized when their house was shelled or when they saw covered corpses on the streets.
"IDPs' kids as well as children from "grey zones" are afraid of losing their folks, they experience constant stress and anxiety which are physically expressed in tic, enuresis, itching, speech problems. They have phobias and fears. This causes a lot of health issues. Children are afraid of darkness and cannot sleep without parents; they are afraid of being alone (even in the toilet), and they demand parents' attention all the time," she adds.
Child therapy course lasts, on the average, for 2-3 months and it is conducted in close cooperation with parents and often with the whole family.
Anzhelika takes her son to the Center. She has four children, the oldest one is a second-year student of Mariupol State University. The youngest, Denis is 6 and he comes to the Center to get ready for school and receive art therapy course.
They escaped from Mariyinka. Anzhelika says there is no life there now. In the past, it was a district center, and their family with four children used to receive social support. When the hostilities started, the family moved to Mariupol to live with Anzhelika's parents.
"My son was psychologically tested. There were two people [on the picture – ed.], one of them was standing, another one – lying. Denis concluded he was ill". The psychologist said that Denis was experiencing severe stress. Normally, when children see a lying person, they say that he or she is relaxing, sleeping, or sunbathing," Anzhelika tells and adds, that after the family fled the war zone, Denis kept crying and asking all the time, when the family would go home.
Tags: Children, Donbas, Donbas war (2014-present), Eastern Ukraine, IDPs, News, Ukraine