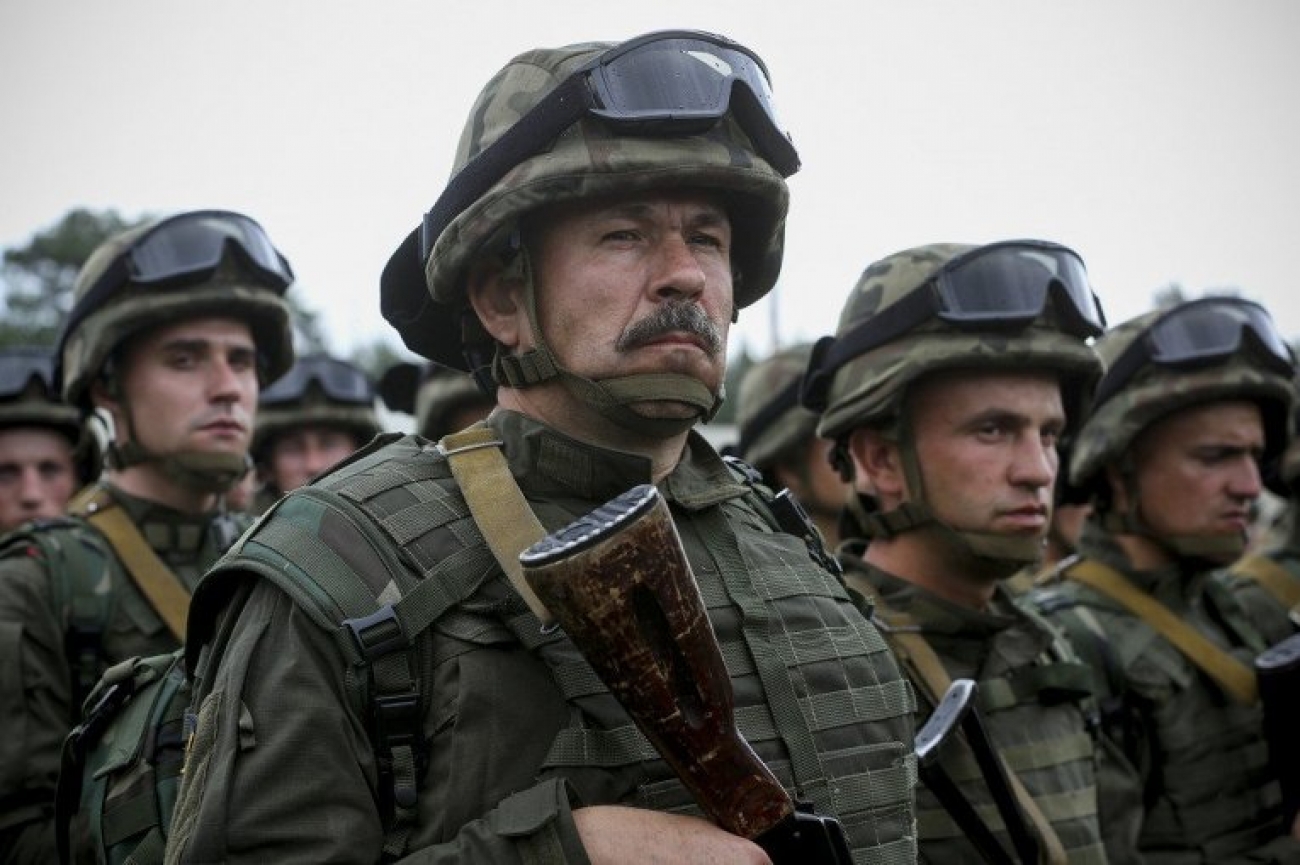 Soldiers of the Ukrainian National Guard (Image: censor.net.ua) 
Nearly every veteran of the zone of the Anti-Terrorist Operation (ATO) has had this experience: not long after they return from the ATO they encounter someone from the civilian population, or a non-veteran who works for the government or the army, or a journalist who asks them, "Why aren't you going back to the war?" To be sure, you are thinking about this question yourself, because you are thinking of your brothers-in-arms who are still at the front.
While everyone has their own reason for asking this question, and it might be innocent enough, nonetheless, it bothers us, and sometimes we give a very heated answer, especially to servicemen who haven't done a tour of duty themselves. The following is a list of reasons men give for de-mobilization rather than accepting a professional contract as a soldier, starting with the most popular replies:
1. The war itself has become incomprehensible: In the summer of 2014 we advanced and consequently liberated occupied territory; but by the fall of that year we were forced to resist a powerful counter-offensive. And where does that leave us now? Neither side is advancing. We are simply in static warfare facing off against each other and shelling one another. If you mount an attack, you are in violation of orders; if you fall back, you are a deserter. But if you stay where you are, you are a vulnerable target. Such has been the reality for over a year. Back in 2014 I had submitted my documents to accept an army contract (thankfully headquarters didn't quite know how to file it), because at that time none of us was afraid of the length of the time the fighting would take, "until the completion of a specified period of time"; we were all certain that we would be fighting with the momentum of victory. However, a year has now passed, everything is static, and no one is making plans to lead us to victory. Even the phrase "specified period of time" is an abstraction. One soldier who is trying to get out of his contract, stated, "I was completely ready to fight "until victory" but definitely not "until retirement." This problem of interpreting their contract is the most frequently raised reason for not returning to the ATO.
2. Reason number two is being worried about their families, and the lack of social security for the families of active servicemen. When the army was small, military towns were able to house the families of the professional soldiers. After the ATO began, the army increased dramatically in size, by nearly five times, and there was no possibility of a corresponding growth in infrastructure. If you accepted a contract, there wasn't even any point in asking about how your family would be cared for, because that aspect was only in theory. No one was there to pay the rent for your apartment, or to give you a place to stay even in a student residence, or to place you on a special list for social support. When you went to the ATO, it was as if you we the only person in the world, with no family. The soldiers who had signed professional contracts before the ATO started were the only ones who had some guarantees. For the others, you had no hope of clemency even if your wife and child were homeless and starving. They didn't exist to the authorities; you were their only concern and obligation, and they wouldn't let you go even if you wanted to take your own food rations to your family.
The chain of command will deny this reality because they fill out their paperwork as if to indicate that they are taking care of everyone. But the soldiers see the reality beyond the reports, and from experience have felt the abject lack of military support for their families. Many of the soldiers don't accept contracts for this reason. They are already veteran defenders of the country, and they see the bankruptcy of the political games: you have the opportunity to defend your country, but at the expense of being traitors to your own family. Our soldiers are not traitors! Many of them equate family with homeland, and for that very reason were motivated to go to war in the first place. The situation in Ukraine is now such that they can defend their families as civilians, and they have lots of problems to take care of in civilian life.
3. The depressing reality of how disabled and families of the military casualties are treated: When you are at war, the world seems like a different place. It's easy to feel that you will be taken care of for your sacrifice, that everything is fine back home, and that as a military man you have certain guarantees. "My apartment won't be rented out to someone else," you think. "I am fighting in the ATO, and the whole country is behind me. The Minister of Internal Affairs himself will defend my rights." At least that is your attitude while you are on active duty. However, when you return home, the reality is much different. You are merely one of many. Your apartment has long since been rented to someone else, the authorities don't do anything, and if you owe any money, the collection agents are still coming after you.
The problem is even worse, one that should never happen during wartime, and that includes the treatment of the wounded soldiers and the families of the dead soldiers. Everyone is just a number… They are misled by officials, are caught up in the bureaucracy, and have difficulty receiving money owed to them. It is mind-boggling for a countless number of your brothers in arms whose day to day needs go unmet, and meanwhile for the functionaries it's all just a matter of line items and paperwork.
What's more, the bureaucrat who drives a Mercedes Benz insists on calling into question your patriotism because you have gone back to civilian life and accepted the designation of participant in combat operations. I remember a conversation I had with a representative of the general staff about why the ATO veterans are not eager to join as contract soldiers: One of the ATO veterans was asked to become a driver for an officer, so he agreed and signed on as a contract soldier. The first thing they did was send him back to the ATO zone. Word like that gets around very quickly, and one deceptive act means that a hundred men will refuse to sign on as contract soldiers. The problem was not with the fact that they sent the man to the front lines; the problem is that they tricked him. The more that the demobilized men hear about such incidents, the more they become demoralized and sceptical about any promises the government begins to make them.
The next two points are ones that I myself have observed, and they are my own conclusions, because very often the men cannot quite articulate what it is they have experienced, but I know that they share my perspective.
4. If a man is uncertain about making a career for himself as a soldier, he has the two options of being mobilized, or accepting a contract. Mobilization is honorable, and an obligation for any citizen who wants to defend his country when there is IMMINENT THREAT (and this imposing threat is essential). As for the contract, this is the path for the citizen who would like to become a professional and even a career soldier. Back in 2014, individuals were leaving their civilian careers because of the dire threat to the safety of the entire country, and they responded as defenders. The war became a static ATO zone in early 2015. The fighting did not end by any means, but a majority of soldiers began to realize that the imposing, critical threat had receded. Many people who had no intentions of making a career in the army returned to their civilian professions and lives, turning down the chance to sign a contract.
5. A return to civilian life is not as easy as it may appear when one is sitting in the comfortable chair of an army bureaucrat. To them it seems no big deal to have been working in the financial sector, take a leave of absence from the bank, serve a tour of duty at the front, and then return back to your civilian job. In reality the process is excruciatingly difficult. In 2014 it repeatedly happened that individuals left their work, without giving much thought to the consequences, jobs that they had held for years. Now they have returned to civilian life and the transition is fraught with complications.
For example, when a lawyer builds his profession, it takes years to compile a list of clients. One begins such work often as a single person, before the years of marriage and family, when your parents can help you and expenses are manageable. Imagine building a portfolio after a few decades, then leaving the law profession for one year in order to fight in the war. You have just lost everything. Now you have returned, and rebuilding your law practice is a colossal task. In addition, you are at the time in your life when it is you who is helping your parents, in addition to raising your own family; more money is needed and it is needed sooner.
If an opportunity does present itself, the ATO veterans do not turn it down, even when approached by an officer to ask if you would consider returning to the front. You are tempted, in reply to such a question, to dispatch him as far away as possible so that he does not bother you again. These returning men understand how lucky they are to have a second chance at a career, a job, or to return to the business world; they feel that they have no right to turn down such an opportunity. It is too simplistic to think in terms of war-civilian life-war; the process is much more complicated. Anyone who has been fortunate to have a second chance at civilian life hangs on with both hands.
What follows was initially intended at point number six, but I decided to highlight what I have to say next because of its importance.
Out there at war, you quickly realize two things: 1. Unlike a Maidan, it is impossible to conduct a war chaotically. A war must be prosecuted under the complete and centralized administration of the government. An effectively conducted war is 100% dependent on our politicians; 2. The purpose of the war is directly related to the results that will occur, and you need to know what the goals are and how they are to be attained. For the returning men, it does not take long to become disillusioned with our politicians, and the men begin to question the competence of lawmakers to effect any tangible results from this war. If they do not see any positive outcomes, the men will quickly lose any and all motivation to fight in this war. One fighter put it best: There was never a time when I was scared to enter a battle, and it was clear to me that I was a man subject to the authority of my superiors. What I began to fear was not the war but them, and not for myself, but for Ukraine, because they are incompetent, and consequently, so is the entire army!
That being said, it is also clear that if the fighting intensifies, every one of these ATO veterans would quickly return to the front lines. And just as they proved by their actions that they were ready to do in 2014, they would be categorical in their resolve. But they would return as mobilized men, because of imminent threat to the country.
As you have seen from the explanation given here, the decisions that veterans face are not as simple as they might first appear.
---
Related:
Tags: Ukrainian military, veterans