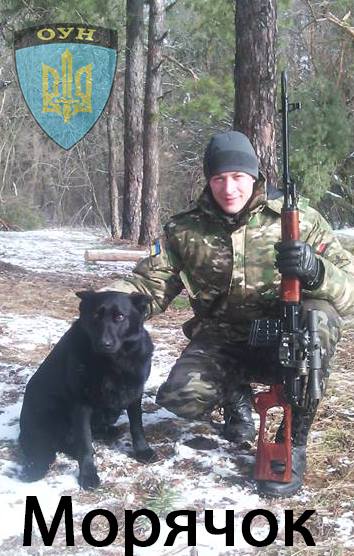 Anatoliy Harkavenko (aka Moryachok)
Article by: Oleksandra Komarshchuk
There are no weekends or holidays in war. Demining expert from Delyatyn, Anatoliy Harkavenko (aka Moryachok) was killed on January 30 during a combat mission with the OUN 93rd Mechanized Brigade.
Post on OUN Battalion FB page:
During his short life, the 25-year-old young man from Ivano-Frankivsk Oblast fought in the ranks of the Ukrainian Volunteer Corps Pravy Sektor and the OUN 93rd Mechanized Brigade. He dreamed of winning the war and giving Ukrainians a decent life in their country. He found love in the war. Heroes do not die as long as we continue fighting for their cause. Let's be worthy of our deceased brother!
Anatoliy is the fifth ATO soldier from of the SubCarpathian region to die in the first month of 2016. Three of the men were killed in combat.
VICHNAYA PAMYAT!  ETERNAL MEMORY!
Translated by: Christine Chraibi
Tags: Donbas war (2014-present), KIA, OUN battalion, Stories from the Front