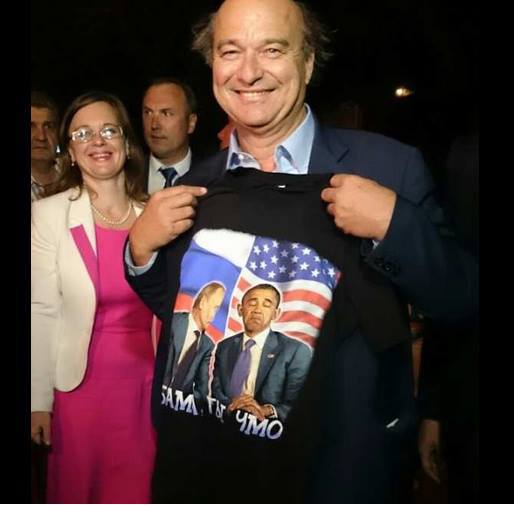 French "tourist-Senator" Yves Pozzo di Borgo during the illegal trip of several French parliamentarians to occupied Crimea July 24, 2015 
On June 8,2016, the French Senate will debate a resolution to lift the sanctions against the Russian Federation. This resolution was submitted by a group of pro-Kremlin members of the French Senate, the second chamber of French Parliament.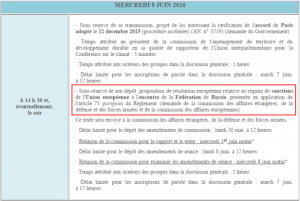 Sanctions were imposed on Russia following the invasion and annexation of Crimea and the occupation of the Donbas. To date, the Kremlin has failed to contribute in any way to resolving the conflict in Ukraine. On the contrary, Moscow has spent a lot of time and effort lobbying for the lifting of sanctions without offering anything in return.
The final text of the resolution is not yet available, but we can assume that such issues as declining French food exports and Russia's counter-embargo on certain European foodstuffs  will be raised although these arguments simply do not hold water. Other arguments concerning Russian myths about the history of Ukraine will also be quoted. Finally, Ukraine will be accused of dragging its feet with regard to reforms although this is not one of the conditions for the imposition or lifting of sanctions.
Several members of the Ukrainian Parliament will visit the French Senate during the week of May 23 to 27 in order to inform their French colleagues of the situation in their country, and more specifically about the Kremlin's activities.
 But, the ultimate question is: will the French Senate choose Putin or international law?
Please like and follow us on Maintien des Sanctions
Tags: Annexation of Crimea, Donbas, France, French Senate, illegal trip, International, News, Russia, Russia-France relations, Russian agents of influence, Sanctions against Russia, Ukraine, Ukraine-France relations