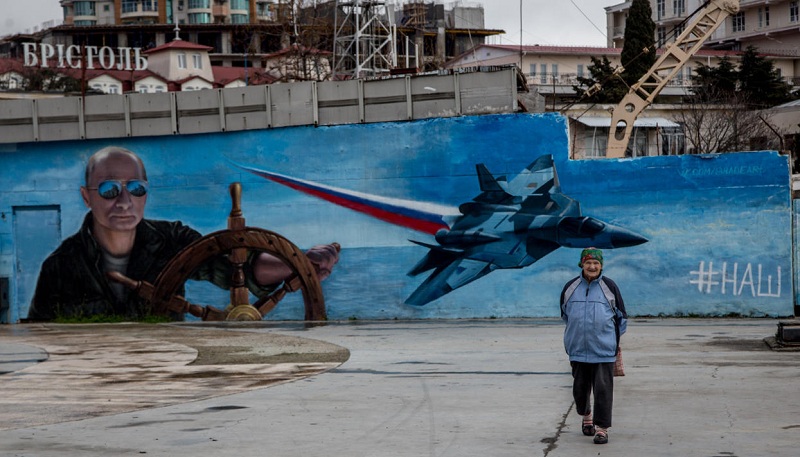 A graffiti picturing Russian president Vladimir Putin and a Russian jet in illegally annexed Crimea  
When Russian film director Vitaliy Manskiy was shooting his
Under The Sun
 which describes life in North Korea, he
shared
 some of his impressions with journalists. When Manskiy tried to buy notebooks as souvenirs in a North Korean shop, he was told it wasn't possible. When he saw shelves full of tomato juice and asked their price, he was told there was no price label yet. In fact, juice, like everything else there, was not for sale. The director concluded that it was not a store, but an exhibition.
To some extent the situation resembles Crimea. For Russia, the peninsula turned into a show-piece that is difficult to maintain, but Kremlin will never admit it.
Hidden goal of annexation
Marking the second anniversary of Crimea's illegal annexation, Russian media informed about the obstacles of the heavily-reliant on Ukraine peninsula on the way to integration with Russia. According to the reports, Ukraine is causing all the trouble through those who ruled the peninsula before, and those who are putting spokes into wheels now.
But what drives Russia to suffer such troubles if it has never been a secret that the peninsula needs huge money allocations which can hardly ever be returned?
One of Russian experts Sergey Karaganov explains some of the motives according to a Russian propaganda line. According to him, the annexation  "allowed implementing a minimum program – to create conditions for impossibility of further expansion of Western alliances on territories which Moscow considers as vital to its security interests." The journalist goes on stating that Russia's annexation of Crimea started the debate about possibility of Ukraine's accession to NATO and proved that it was ready to make [the West] consider its point of view.

Russia never emphasizes the importance of the Black Sea Fleet located in Sevastopol. However, today, around 50-60 thousands of military personnel are based in Crimea and the same amount is expected to come. The ships from the Black Sea Fleet have been already involved in the Syrian conflict. The peninsula is turning into a military base and civilians are needed there only to serve this base.
Crimea is to finish the year with a hundred million dollar deficit
The self-proclaimed "Prime Minister" of Crimea, Sergei Aksenov, announced that Crimea's budget will receive significant income on the anniversary of Russia's illegal annexation of the peninsula. However, when we examine the economical figures during the rest of the year, optimism fades.
Russian Budget magazine collected all information about planned revenues, expenditures, and deficits of the subjects of the Russian Federation in 2016. The most significant deficit was expected in Crimea's Sevastopol. The city planned to spend RUB 24.4 bn (US $360.3 mn), while planned revenues were only RUB 16.9 bn (US $253.7 mn), giving a 30.74% ratio of the deficit to expenditures. 
Overall in Crimea, the ratio of the deficit to expenditures is 22.26% with the total amount of planed revenues RUB 67.4 bn (US $1 bn) and expenditures RUB 86.7 bn (US $1.3). So the deficit will be RUB 19.3 bn (US $139.6 mn).
It is not only after the annexation the region became subsidized. However, the scale has been changed. According to Federal Service of State Statistics in Crimea, in 2015 67% of Crimea's income came from the center, compared to 50% 2013 when Crimea was part of Ukraine, according to a Radio Svoboda analyst.
Statistics on 2015 reveal other interesting figures.
For example, the highest monthly unemployment rate has risen from 1.8% in 2013 to 9.5% in 2015. The exports have reduced from US $905 mn to US $79.3 and import from US $1.1 bn to just US $100 mn. 
See full statistics below.
Changes in Crimea's economic parameters, 2013-2015 

Data: Andriy Vvedenskyi, Radio Svoboda.

2013

2015

Subsidies from the center

50%

67%

Export of goods and services

$905 mn

$79.3 mn

Import of goods and services

$1,100 mn

$100 mn

Amount of tourists

6 mn

1.5 mn

Ratio of unprofitable entreprises

36.4%

38.2%

Unemployment

1.8%

9.5%

Consumer prices index

99.5%

127.6%
No matter how  hard Russia tries to hide the difficulties, as long as the peninsula is annexed its economy will not function as before. And here are some reasons why.
1. Ukrainian tourists are not coming
After Crimea's illegal annexation, the flow of tourists dropped significantly to the peninsula that was once the number one summer destination for Ukrainians. Not only did the closed bus and train transport connections with mainland Ukraine make it physically difficult to reach the peninsula, but also the violation of international law, dire human rights situation, and sanctions repelled Ukrainian and foreign tourists.
Russia attempted to fill resorts with state employees who bring almost no revenue to the peninsula.
Before the annexation the majority of Crimea's annual tourists – 67.4% – were Ukrainian citizens. This was a trend since the Soviet period. For example, in 1986, the year when Crimea set a record for the greatest number of tourists with 8 mn, 5 mn of them were from Ukraine. Conversely, in 1993 when Crimea had its weakest tourist season with only 2.3 mn visitors, two million of them were Ukrainians.
Crimea has thus lost the lion's share of those who once made up its annual influx of tourists.
Trains were the primary means of transport for tourists traveling to Crimea, accounting for 70% of all arrivals. Today it is impossible to travel to Crimea by train. Kremlin-appointed authorities now offer tourists few options for traveling to the peninsula: they may only arrive by plane or ferry. Between these two travel options, current capacities allow for no more than 1.3 mn people annually.
Crimea's tourism industry can be divided into two components. The first is health resorts (i.e., sanatoriums and rehabilitation centers), which took in around 1 mn people and operated year-round. Today they are filled by organized tour groups from Russia, who received special vouchers for vacations in Crimea.
The second component includes 4,500 small resorts and rental properties, which together accommodated more than 4 mn tourists and operated only during the summer holiday season. These small facilities relied on payments from independent tourists, and they have especially suffered from the drop in tourism, standing empty for the second year in a row.
2. Crimea can't provide itself with own food
Crimea was never capable of meeting its own demands for food. Before the annexation, most of Crimea's food products were imported from mainland Ukraine. However, agricultural production in Crimea has been multifaceted.
Crimea accounted for 30.3% of Ukraine's wool production, 23.7% of its grape yield, and 5.7% of its fruit and berry crops. If you consider Ukraine's land resources as a whole, Crimea's vineyards account for 32.5% of all vineyards in the country, and only 6% of Ukraine's gardens and berry farms. Today, the Kherson, Odesa and Mykolayiv oblasts provide these agricultural commodities to the rest of Ukraine. Furthermore, Crimea only produced on average about 2.7% of Ukraine's total grain harvests.
3. Crimea is  extremely dependent on water from Ukraine
63% of the Crimean landscape is covered by dry steppes. This includes districts of Krasnoperekopsk, Rozdolne, Saky, Lenine, Sovietsky, Dzhankoi, Nyzhnehirsk, Bilohirsk and Pervomaisk. The steppe zone also includes the cities of Simferopol (the capital of Crimea), Bakhchisarai, Yevpatoria, Kerch, Stary Krym, Bilohirsk, Dzhankoi and Sevastopol.
The peninsula used more than one billion cubic meters of water per year, 85% of which was provided by the North Crimean Canal (the longest in Europe, stretching 405 km from Nova Kakhovka of Kerch). In fact, two thirds of Crimea's population (1.5 mn) relied on this water from the Dnipro. However, 72% of Dnipro water went to the needs of Crimea's agricultural sector.
Crimea can fully meet its own demands for drinking water without help of the canal. Providing the population with enough drinking water, however, would require the construction of new artesian wells and the modernization of existing ones.
4. There are no European investments  
Before the EU imposed sanctions on Russia after its illegal annexation of Crimea, half of all Crimea's Foreign Direct Investment came from Europe and Russia, each accounting for roughly 25% of total investments in the region's economic development.
In 2013, the Autonomous Republic of Crimea's foreign trade turnover (including both imports and exports) totaled over $2 bn. Trade with Russia accounted for approximately 23% of total, with trade balanced equally between imports and exports. That same year, European countries also accounted for 23% of Crimea's total foreign trade volume, although Crimea maintained a trade deficit with these partners (i.e., imports exceeded exports) of $ 60 mn. Imports from Russia consisted primarily of raw mineral products and simple equipment, while Crimea imported mostly hi-tech goods from Europe.
Funds and organizations from EU, US, Canada, and Türkiye had been key donors of technical assistance to Crimea, including funding projects aimed at alleviating economic and social problems.
Read also: 7 myths driving Russia's assault against the Crimean Tatars
Myths on Crimea's economy in this article were gathered in the Anthology of Modern Crimean Mythology which is a civic initiative of Internally Displaced Peoples from Crimea. The brochure is printed of the support of the Ministry of Information Policy of Ukraine.
Related:
Tags: Crimea, Economy, International, Russia, Ukraine