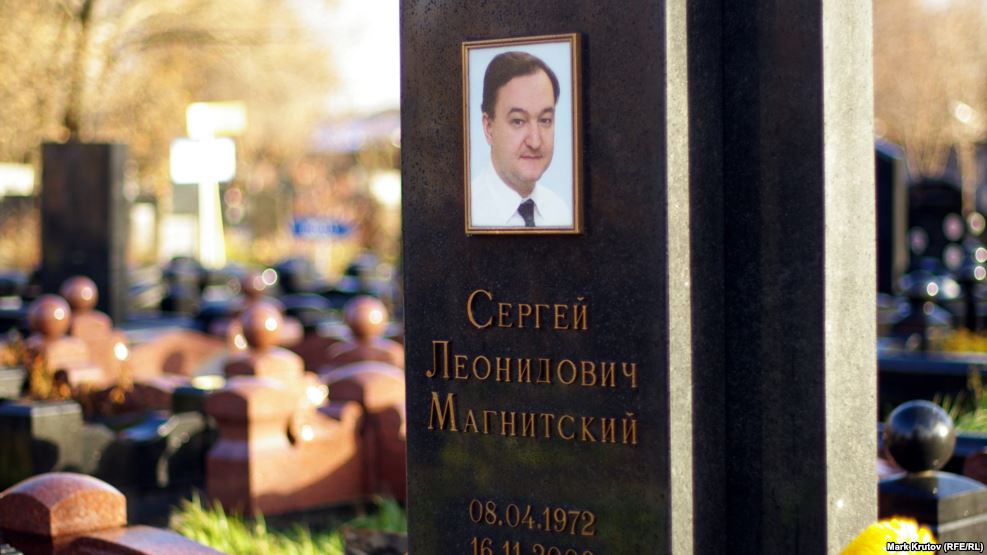 Grave of Magnitsky in the Probrazhensky cemetary in Moscow. Photo: RFE/RL 
ZDF, a Ger­man public-service tele­vi­sion broad­caster, has con­firmed that they will not broadcast "Sergei Magnitsky, behind the scenes," an anti-Magnitsky film by Andrei Nekrasov.
Pre­vi­ously, Sergei Magnitsky's widow and mother expressed their cat­e­gor­i­cal objec­tion to dis­tri­b­u­tion in any form of the Nekrasov's film about Sergei Mag­nit­sky because of its false and slan­der­ous content.
ZDF has now for­mally con­firmed its com­mit­ment to not broad­cast Nekrasov's film. This fol­lows a sim­i­lar com­mit­ment by the French TV net­work ARTE.
"This film is full of lies and mis­in­for­ma­tion about the Mag­nit­sky case," said William Brow­der, leader of the global Jus­tice cam­paign for Sergei Mag­nit­sky and author of the New York Times best-seller "Red Notice: How I Became Putin's No 1 Enemy."
"It is my duty to Sergei's mem­ory and to his fam­ily to pre­serve the truth and pro­tect his legacy," con­tin­ued Browder.
As a result of the campaign waged by Browder, the US Congress passed a law imposing sanctions against several Russian officials who were allegedly involved in the death of a lawyer in 2012. The law had enraged Moscow.
Nekrasov's film con­tains false state­ments about Sergei Mag­nit­sky, which are refuted by inde­pen­dent inter­na­tional bod­ies, includ­ing the Par­lia­men­tary Assem­bly of the Coun­cil of Europe, com­pris­ing del­e­gates from 47 states, the Euro­pean Par­lia­ment, the US Depart­ment, and the US Con­gress, among others.
Russ­ian human rights activists, includ­ing vet­eran dis­si­dent and head of the Moscow Helsinki Group Lud­mila Alex­eeva and Valery Borschev, head of the Moscow human rights com­mis­sion who inves­ti­gated Magnitsky's death, spoke out against the attempts by Andrei Nekrasov to spread the lies in this case for the ben­e­fit of those who have been exposed by Magnitsky's tes­ti­mony of involve­ment in the fraud and broader cor­rup­tion aris­ing out of Panama Papers, and are being affected by Mag­nit­sky sanc­tions.
Previously, Nekrasov's anti-Magnitsky film was sched­uled for broad­cast on ARTE, a Franco-German cul­tural TV net­work,on 3 May 2016. ARTE has can­celled the sched­uled broad­cast of Nekrasov's anti-Magnitsky film. Browder then sent ARTE a list of factual errors in the film and warned that the TV station may be subject to the legal prosecution for deliberate publication of false information.
"It's one thing to have freedom of speech, manipulating and using lies, innuendo, and falsities in order to prove something that is not true is something completely different, – Browder then said to RFE/RL. – That's why there are laws of libel – to protect people from such things."
"The film is just a set of lies and manipulations that offend the memory of Sergei Magnitsky and replace the entire story of how he died," said Browder.
The deci­sion not to broad­cast Nekrasov's film by ZDF and ARTE fol­low the ear­lier deci­sion not to air Nekrasov's film at the Euro­pean Par­lia­ment after complaints from relatives and former colleagues of Magnitsky. The screen­ing of Nekrasov's film was orig­i­nally sched­uled there as a pri­vate ini­tia­tive of Heidi Hau­tala, Andrei Nekrasov's girl­friend and a mem­ber of the Euro­pean par­lia­ment from Finland.
Magnitsky uncovered an embezzlement scheme of 230 million dollars, was later charged for tax evasion, and died in a Moscow prison in 2009. According to the relatives and friends of the lawyer, before his death, he was subjected to beatings, torture, and did not receive medical care.
ZDF is based in Mainz, Rhineland-Palatinate. It is run as an inde­pen­dent non-profit insti­tu­tion, which was founded by all fed­eral states of Germany.
Tags: International, Magnitsky, News, Russia, Russian propaganda