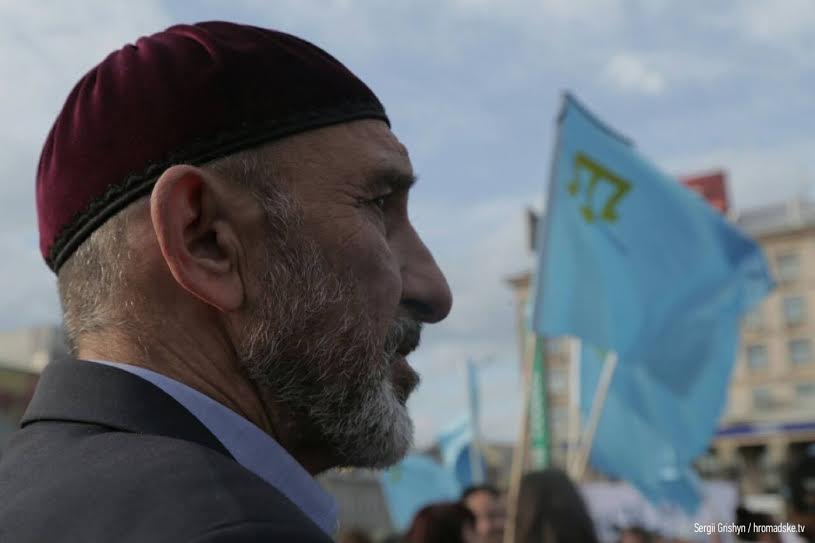 A Crimean Tatar stands with a Crimean Tatar flag on Kyiv's Maidan square. Photo: Sergiy Grishyn 
After Russia occupied Ukraine's peninsula of Crimea on March 2014, thousands of Crimean Tatars were forced to leave their historical homeland and become Internally Displaced Persons (IDPs). About 2,000 of them settled down in Lviv, turning this Christian and rather conservative city into the largest, apart from the capital Kyiv, Crimean Tatar destination in Ukraine.
How do Lviv residents deal with sudden cross-cultural challenges, is  the Crimean Tatar minority doing well in a new place, and what kind of mutual changes did they face within two years of such an interaction? Euromaidan Press investigates.  
Balancing between integration and assimilation
"Today is April 29, Friday, seven hundred ninety two days since Crimea's annexation." This is how the newscast now always begins on ATR – the first and only Crimean Tatar TV channel. For those who do not have relatives or friends left in the peninsula, ATR is the only source where they can hear the Crimean Tatar language and news from their former homeland. Most of the IDPs feel at risk of losing their identity while adapting to a new life style. And the right person to talk about it is Alim Aliev, the Crimean Tatar co-founder of the Crimea-SOS. This NGO, which started as a Facebook-community of Crimean people on the very first day of the peninsula's annexation, today has grown to implementing partner of the UNHCR (the UN Refugee Agency) with four national offices and an army of volunteers.
Alim is sure that the decision not to create any kind of specific Crimean Tatar area in Lviv was the right one, as it gives the IDPs chance to not end up isolated inside of their own neighborhood. "We do not need a ghetto here. A kind of Crimean Tatar district exists in Kyiv, as a result, IDPs often have conflicts with locals," he says. On the other hand, Crimean Tatars complain they are scattered widely throughout Lviv region not only physically, but also mentally and spiritually. "We solve our problems all alone. Everyone has their own care," says Elmira Eshyleva, a Crimean Tatar woman.
Something, however, is being done yet to support Crimean Tatar minority in Lviv. Crimea-SOS is providing social, psychological, and legal consulting for the IDPs and encourages them to apply for grants available to IDPs (Internally Displaced Persons). Another step in the right direction is the first Crimean Tatar language school, which was opened in Lviv in 2015. As this language was being oppressed for a very long time even in Crimea, many people treat this event as a sign of positive changes in Ukrainian society. Courses are open for children regardless of their ethnicity. Classes for adults are about to be launched too, but Crimea-SOS is still missing a volunteer teacher with the appropriate language skills. What is noteworthy, many Crimean Tatars expressed a desire to study Ukrainian and English languages and now they have such an option as well.
Read also: Deportation, autonomy, and occupation in the story of one Crimean Tatar
At the same time, local authorities do not seem to do their best to help Crimean Tatars integrate into local society. A systematic mechanism for accommodating and employing IDPs is yet to be created, so part of them are doing odd jobs and facing brokers' prejudice when trying to rent an apartment. Besides, Lviv city council has been putting off the decision to lease premises for the Crimean House in Lviv cultural center for almost a year due to internal interparty conflicts. After two refusals and elections-related changes in the composition of the city council, Crimea-SOS finally got a preliminary agreement. Yet negotiations continue. "We are being offered an uninhabited and ruined place, and we are not asking for more. It is normal to independently search for funding for major repairs. We just want to have a guarantee that this place is not taken away," Alim explains.
Overall, Crimean Tatars are trending now in Ukraine, especially in Lviv. Showing movies about Crimean Tatars, inviting Crimean Tatar bands for the most famous festivals, sometimes, unfortunately, using their image to obtain political dividends and so on is more and more widespread. Today Crimean Tatars are justly associated with pro-Ukrainian views and as long as this holds true, they are welcome to integrate, at least in Lviv.
Doing business, Crimean Tatar style
Among many things that Crimean Tatar IDPs brought to Lviv, their delicious national cuisine definitely stands out. For the first time in the city, halal-restaurants are being opened, eastern sweets are being cooked, and an intercultural dialogue is ongoing, held in the comprehensible language of taste.
Crimean Tatars Elmira Eshileva and Eldar Gralov are a mother and son from Sevastopol. Driving towards Lviv from Crimea, they made sure they took all the kitchenware – there is no use in trying to cook a real Crimean Tatar meal without family pots off all possible sizes. Apart from kitchenware, there were carpets, photos, national costumes and symbols. The restaurant they opened with their own savings and later some funding from UNCHR is called Bakhchisarai. Bakhchisarai is one of the few original city names in Crimea that was renamed in Russian, so for Elmira and Eldar it is the symbol of their homeland.
"Whether to leave Crimea or not was not a dilemma for us. It was just a matter of time," Elmira claims. She spent time trying to sell her flat after the illegal annexation, but did not succeed. Now she leases it to acquaintances and visits it regularly, fearing that the property will be taken away. "I'm afraid to go there. I do not trust even friends. In my own home I am believed to be a Ukrainian spy," Elmira says. Eldar does not accompany his mother: he does not want to appear in Crimea as long as Russia is there, so he remains in Lviv to watch over the restaurant.
Elmira and Eldar admit that in Lviv they faced Crimean Tatars with whom they avoided communicating even in Sevastopol. "We live a rather secular lifestyle, so it was an unpleasant surprise for me when other people from our minority came and tried to persuade us to stick to the Muslim rules. We experienced nothing similar in Crimea. At the same time I was shocked to get to know that many people from our community did not come to vote in the elections in Lviv on religious grounds. Why then did they leave Crimea?"
Elmira and Eldar are doing 12-hours shifts without days-off in Bakhchisarai. In order to reduce expenses, they stopped renting apartments and moved to the basement of their restaurant. Eldar is an electrical engineer, Elmira used to teach at Sevastopol's National Institute of Nuclear Energy and Industry, but now they do not have time to search for jobs. "I am very worried that we don't have enough customers. We serve only fresh and best quality food, so I do not understand why," Elmira says. "We do not have customers even among other Crimean Tatar IDPs. They often come for help, food, or a piece of advice, but never as clients," she adds.
From the opening day "Bakhchisarai" was robbed twice and once Eldar was shot from a traumatic gun. None of the perpetrators are punished. Nevertheless Elmira and Eldar remain optimistic. They are not going to close their restaurant but develop and promote it in all possible ways. Their main fear is that the Crimea will not return to Ukraine. "Our nation has already spent almost half of the century being ready to leave [means the deportation of Crimean Tatars by the Soviet Union in 1944 – K.Y.] Most of all, I do not want a repetition of that," Elmira says.
Understanding Islam
Crimean Tatar Ruslan Abliamitov also came to Lviv with the intention of opening a restaurant. But his reasons for leaving the peninsula are quite different. Islam is the most important part of Ruslan's life, so he moved to Ukrainian mainland, being afraid his religious freedom is under threat. "The whole world now can see Russia's attitude to Muslims, regardless of their nationality. But Crimean Tatars are not accustomed to expressing their position in a half-whisper," he says.
Crimean Tatars are Muslims. It is the only minority in Ukraine that professes Islam, but because of the compact disposition of this nation in Crimea and Kherson Oblast, Ukrainians hardly contacted with Islam until 2014, when Russia illegally annexed Crimea. Migration of the IDPs throughout the country became a strong impulse for an interfaith dialogue. And Lviv as the spiritual center of western Ukraine became one of the platforms for such a collaboration.
Ruslan is not a beginner in the catering industry. He ran a little cafe in Simferopol before Crimea's annexation, and even planned to start a new business in Kyiv. But the rhythms of the capital were to be too fast for him so he chose Lviv, where Crimean Tatar cuisine was not familiar for the locals. That is how the "Crimea" restaurant was set. "People here are friendly and there are many tourists, so I agreed to the smaller city and hired the staff – partly from Ukrainians and partly from other Crimean Tatar IDPs. Local authorities do not interfere with me. This, I believe, is the main help they can give," Ruslan says.
Ruslan prays five times a day, negotiates with suppliers of meat on his own to make sure it was slaughtered in the right way, all the female staff in his restaurant wears a uniform covering almost the entire body. Some of the waitress change into ordinary clothes before returning home at the end of the day. "Crimea" is well-known and successful. Christians, Muslims and representatives of other religions gather here every day.
Ruslan has a wife who is currently bringing up three small children. Their eldest daughter in the family is now in Crimea. This fall Ruslan, and his wife are going to send their children to kindergarten in Lviv. The family claims that despite many good experiences, they still feel a portion of bias from the locals. "There are too many horror stories and stereotypes in the West about Muslims. The media place an equal sign between Islam and terrorism. Lviv as a European city is exposed to such stories. But actually Islam can bring to society only clemency and purity," Ruslan opines. At the same time he claims that the pro-European vector chosen by Ukraine, with its democratic and often atheistic values, does not go well with Islam principles.
A little more than two years ago only two Crimean Tatars lived in Lviv. Now one can easily create a "Crimean Tatar Trail in Lviv", since more and more Crimean destinations are coming on in this city. Even an Islamic cultural center which actually performs the function of a mosque was opened not far from downtown Lviv in 2015. The mosque's imam is also a Crimean Tatar – Sheikh Murad.
Now it is difficult to predict how the relations between the Crimean Tatars and other Lviv inhabitants will look like in the future. But for sure it is a chance for both Ukrainians and Crimean Tatars to get to know each other better.
Tags: Crimea, Crimean Tatars, Lviv, News, Ukraine, Ukrainian IDPs