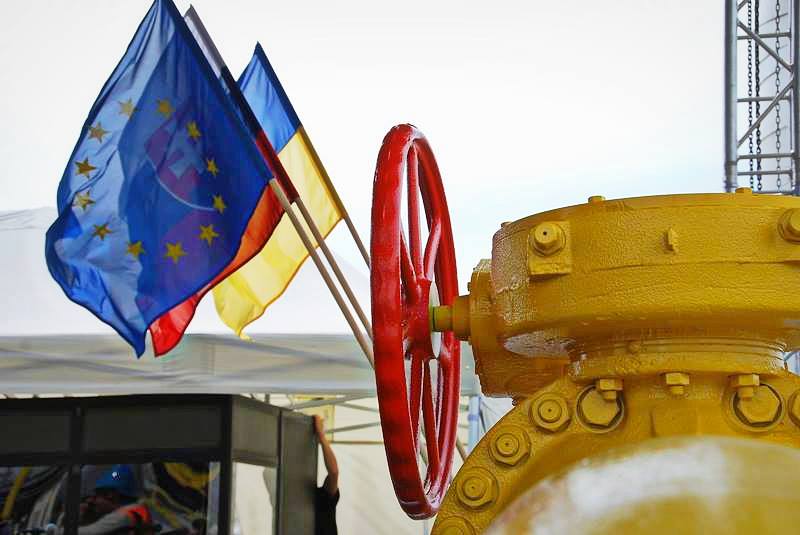 Ukraine has increased gas reverse flows from Slovakia. Photo from: kmu.gov.ua 
For a long time corruption in Ukraine's energy industry was the great nemesis of all reform efforts.
Since independence, the sale of natural gas was heavily subsidized, ostensibly to protect consumers but in reality to enrich the oligarchs who bought the gas at subsidized prices and sold it abroad at market rates. This state sponsored graft fuelled corruption and organised crime syndicates and meant that household gas rates were 'about one-fifth the cost of importing that gas from Russia'.
International prices were often ten times the artificial Ukrainian ones and oligarchs got rich off the arbitrage, while the absurd practice of buying gas at market rates from Russia to sell domestically at a loss cost Ukraine around 5% of GDP per year. The low prices caused a great deal of energy wastage which led to higher consumption and even more government money lost through subsidies.
This energy racket also meant that billions of dollars were spent on unprofitable coal mines, thus preventing the diversification of the energy supply and leaving Ukraine vulnerable to Russian extortion.
One of the current administration's unsung triumphs is its successful reform and restructuring of the energy sector. Under pressure from the IMF, the government raised prices precipitously and within two years they should reach market rates.
This measure, though initially unpopular, will reduce corruption, make the oligarchs poorer and give the government more money to spend on truly worthy causes.
The importance of such reform is illustrated by the following comparison: in 2013 Ukraine spent $18.6 billion or 10% of its GDP on importing oil and gas. In 2016 the country will spend one quarter of that amount, barely $5 billion and with less money being made in the energy sector it should become a much less attractive target for corruption.
Furthermore, the Verkhovna Rada recently approved a new law which will bring Ukrainian energy practices into line with the EU's Third Energy Package. The government estimates that full cost recovery on gas sales to households will be achieved by April 2017 and in November of last year the government adopted an energy plan which should reduce consumption by 9% by 2020.
Additionally, although the war in Donbas has caused great destruction and loss of life, it has succeeded in finally breaking Ukraine's energy reliance on Russia. Ukraine has not imported gas from Russia for over 150 days now, marking the first time Naftogaz did not need supplies from Russia to get through the winter. The abundance of European supply through reverse-flows has been the main reason for this but the increase in gas prices has also led to less wastage and less consumption.
In 2015 alone gas imports fell by 25% and if the country's gas consumption in 2016 continues to decline as predicted from 36 bcm to 29 bcm then Ukraine will only have to import 9 bcm as it produces around 19 bcm internally.
Although the decline in consumption is also due to loss of revenue from the industrial base in the Donbas, the general outlook for Ukraine's energy independence and energy reform is extremely positive.
However, there is still a significant amount of work to be done if the country's Soviet energy infrastructure is to be dismantled and improved. In order to further reduce energy consumption, new gas, water and heat meters must be installed, along with improved insulation throughout the country. Obsolete and faulty boilers, pipes and transmission wires need to be replaced and an independent regulator should be established to oversee this complex and costly process.
Furthermore, the taxation of independent companies must be made simple and reasonable to allow the development of a competitive and independent market. Many critics have praised the government's introduction of corporate governance structures to state-run companies like Naftogaz, but the authorities must continue the job of 'unbundling' former Soviet bureaucratic behemoths, as well as encouraging the development of indigenous energy production. Many of the rules governing the exploration of oil and gas fields date from 1984 and need be revised, along with the creation of a new Subsoil Code.
Related:
Tags: #UAreforms, Economy, Energy, Gas, Ukraine