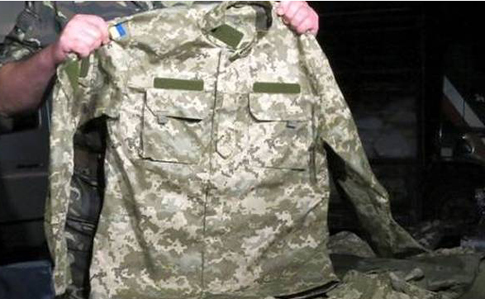 The Russian occupation force in the Donbas ordered a large supply of fake Ukrainian uniforms (Image: Ukrayinska Pravda) 
On a procurement order from the Russian hybrid military force in the Donbas, a garment factory in Donetsk [in Russia-occupied territory of Ukraine] has delivered a large supply of Ukrainian Armed Forces-style combat uniforms with fake Ukrainian insignia, according to the Information Resistance (IR) group, as reported by Dmytro Tymchuk, the IR coordinator and head of the Center for Military-Political Studies.
"Part of the order – with the insignia of Aidar battalion – has already been manufactured and delivered to the mercenaries, the other part of the order – with the insignia of the Ukrainian Armed Forces brigades [is incomplete yet]," – the statement says.
It reports that patches with "Mykolaiv" and "79" were observed, which are symbols of Ukraine's 79th Separate Airmobile Brigade based in Mykolaiv.
Related:
Tags: Donbas war (2014-present), false flag operation, Russia's hybrid war, Special operation