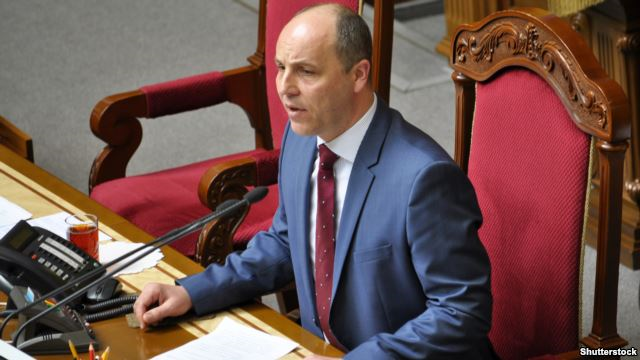 Andriy Parubiy, the speaker of Ukraine's Verkhovna Rada (parliament), has called for an urgent meeting of the UN Security Council following the banning of the Mejlis Council of the Crimean Tatars by the Russian Ministry of Justice.
"A whole people, our Crimean Tatars brothers, have been declared an extremist organization. For the first time since the eras of the dictators Stalin and Hitler an entire people have been declared extremists. This is a manifestation of Russian fascism: On May 18, 1944, Stalin signed the criminal order that led to the terrible tragedy of the Crimean Tatars. And on April 18, 2016, the Russian totalitarian government has again banned the Mejlis," Paribiy said at the morning session of the Verkhovna Rada on April 19.
Speaking on behalf of Ukraine's Verkhovna Rada, Parubiy appealed to international organizations to react appropriately "to this crime."
"I appeal to Ukraine's Ministry of Foreign Affairs to explore the possibility of convening an urgent UN Security Council on this issue. I am sure that with the entire civilized world we will achieve the release of our brothers, so that they experience our support," he said.
On April 18, Russia's Ministry of Justice added the Mejlis of the Crimean Tatar people — the Crimean Tatars' highest ruling body — to the list of organizations suspended due to the "exercise of extremist activity." As noted on Russian ministry's website, this decision was reached "on the basis of the decision by the prosecutor of the Republic of Crimea to suspend the organization's activities."
The Ministry of Foreign Affairs of Ukraine called this decision "a flagrant violation of human rights" and the continuation of Stalinist repressions against the indigenous people of Crimea.
On April 3, the Kremlin-appointed prosecutor for Crimea, Natalya Poklonskaya, reported that she had decided to suspend all activity on the peninsula by the Mejlis of the Crimean Tatars until a future court decision.
Earlier, the UN had urged Russia to prevent the banning of the Mejlis of the Crimean Tatars in Crimea. The European Union also expressed concern about plans to ban the Mejlis.
On April 15, a regular court session was held in Crimea on the suit to ban the Mejlis. The next court session will be held on April 25.
The Verkhovna Rada voted to fix February 20, 2014 as the official date of the beginning of the temporary occupation of Crimea and Sevastopol by Russian troops. On October 7, 2015, President Petro Poroshenko signed the bill into  law. International organizations have called the occupation and annexation of Crimea illegal and have condemned Russia's actions. Western countries have introduced a series of economic sanctions against Moscow. Russia denies that it has occupied the peninsula and calls it the "restoration of historical justice."
Tags: Andriy Parubiy, Crimean Tatars, News, Russia