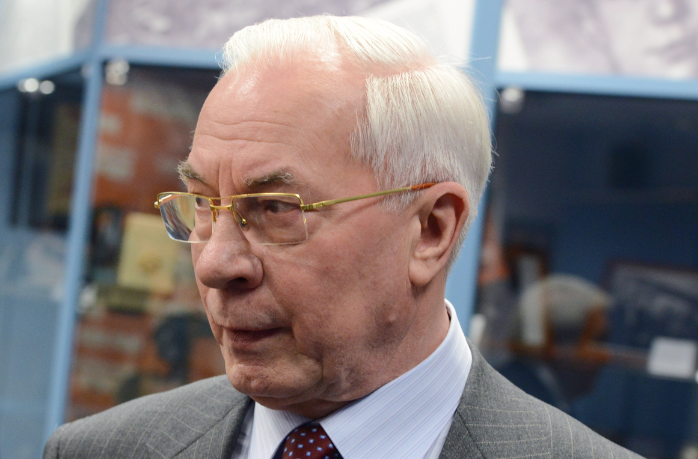 Azarov in Russia, February 2016. Photo: TASS 
In June 2015, Ukraine's fugitive ex-president Viktor Yanukovych entertained international readers, saying how he "supported" ostriches in his private zooin an interviews to BBC. A recent interview of his right hand, ex-Prime Minister Azarov, is arguably less amusing, but more revealing of the ways in which the now-ousted Ukrainian leadership exchanged Russian money for influence over Ukraine. 
Pavel Kanygin from Novaya Gazeta, which media critics consider to be one of the few semi-independent media left in Russia, recently interviewed Mykola Azarov, the fugitive prime minister of Ukraine's ousted President Viktor Yanukovych.
Azarov, who is wanted in Ukraine for "appropriation, embezzlement or conversion of property, abuse, committed in a large scale or by an organized group" and is under international sanctions together with Yanukovych and others, fled the country in February 2014 after three months of Euromaidan protests, where over a hundred protesters were shot dead and many hundreds were wounded.
Read also: Yanukovych's cronies still free, possessing stolen millions
Two years later, he lives in Russia, owns property in Austria, and denies any responsibility for his actions as Prime Minister, many of which were the reasons behind the Euromaidan public uprising. Moreover, he declared the creation of a government in exile, called the Ukraine Rescue Committee.
Now the only thing he feels responsible for is for not sufficiently "clarifying" the activities of the government he headed. However, there are four other things that the ex-minister might regret, but doesn't.        
1. Suspending signing the Association Agreement with EU
Before the Vilnius summit at the end of 2013, the Ukrainian government was actively preparing to sign the Association Agreement with the EU.
"We made a historic step to conclude an Association Agreement with the EU, and in March we initialed its political part and agreed the plan of actions for the association with our partners. I am convinced that next year the deal to be signed," said Azarov in the end of 2012.
"It was you and your government who had been promoting the idea of ​​European integration of Ukraine for several years and signed the documents.  Why did you put the deal on hold?" ask the journalist of Novaya Gazeta more than three years later.
"I do not understand you. Why is the course [on European integration] is a contrary to a good, neighborly, integrative and cooperative ties with Russia? You say I was the engine of progress. Yes, I was!  And I absolutely do not believe that I was doing bad things. I have done good things for the country," answers Azarov. "We decided on the neutral status of Ukraine, we decided to extend the lease of the Russian base [navy] in Sevastopol for 20 years, we passed the European Association. And don't you oppose this course to integration with Russia, Belarus and Kazakhstan," Azarov goes on.
However, the ex-prime minister doesn't mention that signing the Association did oppose integration with Russia. At least he himself named it as the main reason of not signing the document in the end of 2013.
"The Russian leadership clearly stated: signing of the agreement means that further discussions of trade and economic regimes would not make sense," the Russian service of BBC quoted Azarov in the end of November 2013.
Moreover, that time Azarov said that Ukrainian side was clearly told by the Russian side "We are ready to discuss the problems in a trilateral regime, but for it you should postpone the signing of the agreement, and we will sit down at the negotiating table, agree and then you sign it."
Now, in the conversation with the journalist of Novaya Gazeta Azarov says that the previous government did not sign the agreement because "the economic situation has dramatically changed" and states that Ukraine "does not have any European future" and that "at least in nearest 25 years nobody waits for it in Europe."        
2. Development of corruption schemes
European sanctions have been imposed on the ex-prime minister since 2014 and have been prolonged until now. The sanctions were imposed for misappropriation of Ukrainian State funds and their illegal transfer outside Ukraine
Azarov denies any guilt.
"There is no blood, theft and corruption on my hands. Although they have invented ridiculous charges against me during two years," says the ex-prime minister.
However, his professional carrier is penetrated by dingy cases. For example, in 2012 media reported that Azarov used corrupt schemes to steal  UAH 300 mn (around $37,5 mn) from the military forces of Ukraine. In 2014, Ukraine's Security Service informed about solving a scheme of splitting-up UAH 200 mn (around $25 mn) from the state budget by Yanukovych, Azarov and Co. In 2015 the court issued a warrant to arrest Azarov for actions which caused damage to the state in amount over UAH 37 mn in a result of commercial use of planes of the Antonov state enterprise. Ukrainian Interior Minister Arsen Avakov said that the Ukrainian government had seized about $4 bn and UAH 6 bn in cash of ex-President Yanukovych and his chronies' assets. However, it is hard to predict the real scales of stealing as the corruption machine of Yanukovych and his cronies, including Azarov, was working for such a long time.
3.
Ignoring the will of people during the Euromaidan
Kanygin: "You passed the European Association [agreement], but why did you abandon it overnight? After it, Maidan started." 
Azarov: "Maidan did not start because of this!" 
Kanygin: "But people at Maidan were saying so, they even called themselves Euromaidan."
Azarov: "It does not matter what they were saying."
In the morning of 30 November 2013, Ukrainians woke up and received the shocking news. Law enforcement forces had cruelly beaten the students who were staying at the main square of Kyiv at night. The following day, nearly a million people came to the Independence square to show that they are not afraid and that they are not going to tolerate such actions of the authorities towards them.
However, Azarov sees the event in another light.
"That time there were students of different universities, no more than a thousand people. And on Friday, 29 November, they decided to go away at all, maybe 30 people stayed. The mayor decided to put the Christmas tree, it was the New Year eve. And at three o'clock on the night of November 30, suddenly from the hotel Ukraine 200 people, football hoolingans, "pravoseki" [the Right Sector members], "Trident" and so on walked down. They came down and attacked the policemen, who were guarding the students. They started to beat the police, armed only with batons, grabbed burning firewood and beat them [the policemen]. The seniors of the squad, of course, called for reinforcements."
The only thing why Azarov condemns the law enforcement forces for is dispersing people in front of TV cameras.
The video of the incident:


4.
Placing Ukrainian state security under risk by gas agreements with Russia
Azarov: "I paid five hundred dollars for the gas. Perfect conditions! Now these idiots are buying it for 170 [dollars], but I bought from Russia for 500!"
Kanygin: "So why are they idiots if they buy for 170? This is almost three times less than you did."
Azarov: "Because oil has fallen in price! That environment really helped them."
Kanygin: "It is known that Gazprombank has been providing loans to your government for buying Russian gas. It turns out that Russia actually sponsored purchasing such expensive gas."
Azarov: "And what could we do? The gas pipeline is coming from Russia, not from Slovakia."
Now, Ukraine bears the fruits of the Azarov-Yanukovych policy in the format of a multibillion-dollar loan which Russia requires the current government to repay. The money was a part of the amount which, experts believe, was promised to Ukraine in the end of 2013 as a compensation (or a bribe) for refusal from Eurointegration. Now the countries are disputing the case in the High Court of Justice in London. According to the Ukrainian side, it is a commerce debt, while Russia insists that it is sovereign.
Being asked to comment the situation, Azarov suggested to read his book where it is written how Ukraine took and paid of loans.
"It [Ukraine] does not have a gas and oil reserves to provide gold holdings in needed amounts. Therefore, they had to be formed by politics…I paid 'Gazprom' 1.2 billion a month. For all last year Ukraine did not pay to 'Gazprom' even a billion," states Azarov."
In late November 2015 Ukrainian energy company Naftogaz stopped purchases under direct contracts with the Russian gas monopoly Gazprom. Now all of Ukraine's gas comes from Europe via a reverse flow.
"We had difficult gas relations with Russia. Russia pays us for transit, we pay them for gas. So when we did not have enough money, we asked 'Gazprom' to pay us for transit in advance, and from this [money] we paid for the supplies. I emphasize, you can't even imagine that we were not just paying 2.5 times higher price than it is now, but we bought two times more of this gas," Azarov answers one of the journalist's quotations.
The gas relationships with Russia indeed have always been very complicated and served as a point for political manipulations. In 2010 the notorious Kharkiv agreements were signed. According to it, Russia sold gas at a discounted price. Instead, Ukraine agreed to prolong the term of present for Russian navy in Sevastopol. That time the opposition claimed that such a deal is a threat for Ukrainian national interests. Two years later even Azarov himself recognized that the deal brought nothing to Ukraine: "In fact, there was not any reduction [in price], it was the rent for the Black Sea Fleet. However, it was a respite."
Later, it became clear that the presence of the Russian Black Sea Fleet on the territory of Ukraine opened the door for Russian soldiers in Crimea to prepare the illegal annexation.
Tags: Azarov, corruption in Ukraine, Russia, Ukraine's Navy, Ukrainian Armed Forces, Ukrainian Army, Yanukovych