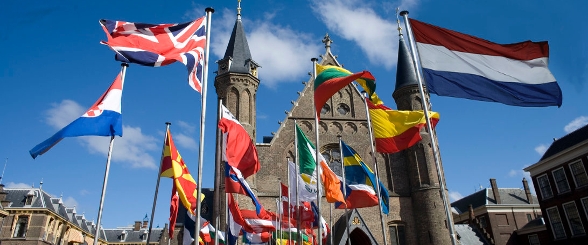 Each year, on March 8, the celebration of International Women's Day provides an excellent example of the flourishing trade between Ukraine and the Netherlands.  On that day, thousands of Dutch tulips cross customs, bound for Ukrainian women.  Ukrainians traditionally celebrate International Women's Day with flowers and Dutch tulips are among the most popular.
But trade between Ukraine and the Netherlands is by no means restricted to flowers.  Since Ukraine became an independent country, the volume of trade, investment and business activity between these countries has grown rapidly, reflecting a growing mutual interest in exchanging goods and services.  And ever new possibilities are expected to arise from the signing of the Association Agreement between the EU and Ukraine.
To illustrate these opportunities, this article describes a number of recent developments in trade between the two countries and summarizes the prospective benefits expected for Dutch businesses to arise from the Deep and Comprehensive Free Trade Area (DCFTA) agreement, entered into between the EU and Ukraine.
First of all, how important are The Netherlands and Ukraine for each other as trade partners?
In 2015, Ukraine was only 54th among all export destinations for Dutch goods and was only 52nd in imported goods to the Netherlands.  Ukraine's share of total Dutch exports was a tiny 0.1%, and imports from Ukraine accounted for only 0.2% of total Dutch imports.  The Netherlands' largest trading partners include Germany, Belgium, the United Kingdom and China.
By contrast, the Netherlands constitutes a more valuable trading partner for Ukraine than vice versa, being 11th in Ukrainian exports, with a share of 2.4% of Ukraine's exported goods, and being the 16th largest importer to Ukraine, with 1.2% of total imports.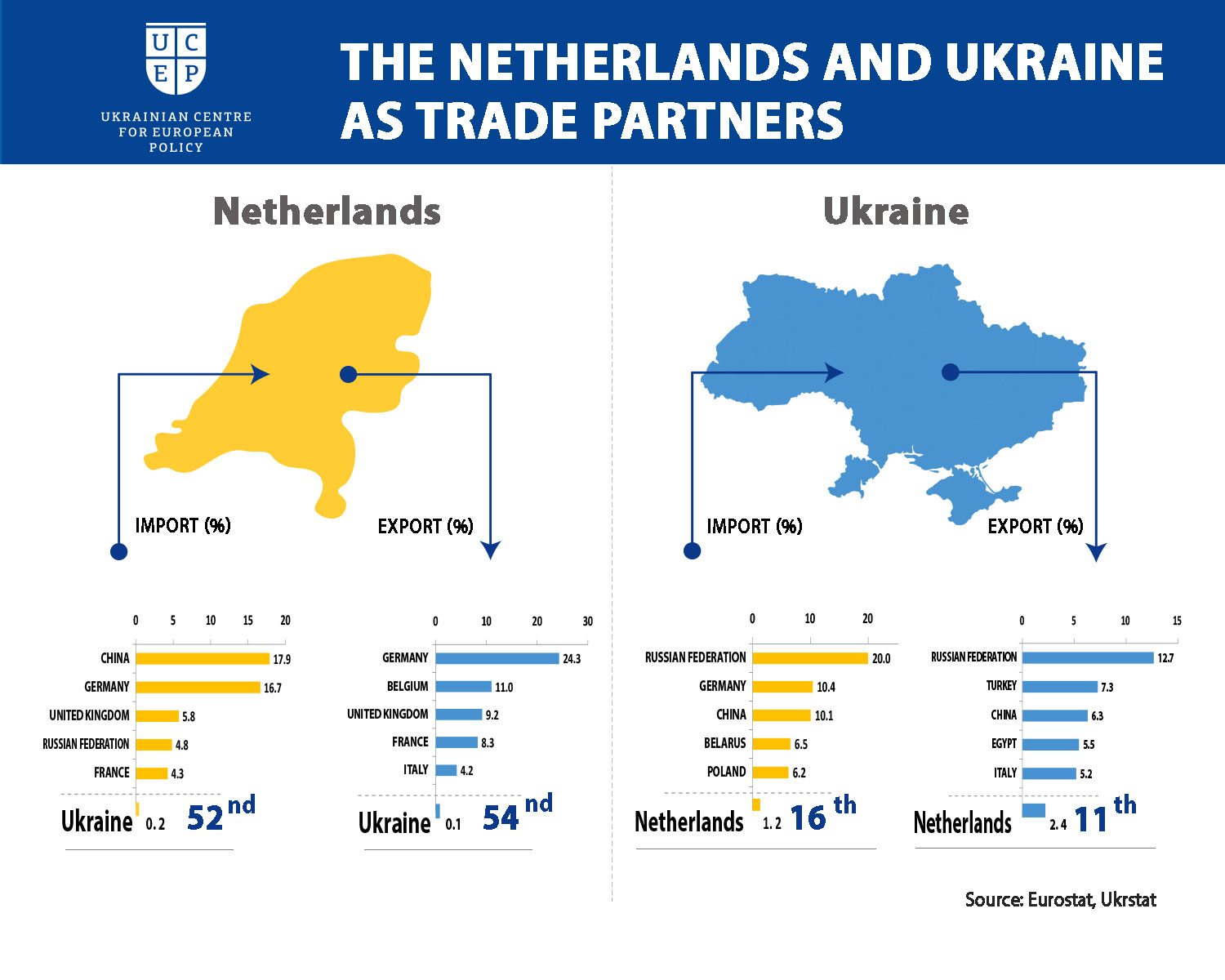 In absolute measures, Dutch exports to Ukraine were measured as $450 mn in 2015, while the value of Ukrainian exports to The Netherlands was twice as much: $900 mn.
Currently, neither Ukraine nor the Netherlands are top trading partners for each other, especially on the Dutch side.  But at the same time there is enormous growth potential for trade between these two countries, especially taking into account the size and economic potential of Ukraine's large population and its many prospective opportunities in Europe.
How did trading patterns between Ukraine and The Netherlands develop during recent decades?
Dutch exports to Ukraine increased from EUR 14 mn euros in 1992 to EUR 200 mn in 1997.  Following the economic crisis in 1998-1999, trade again picked up and grew for several years by an average annual rate of 12%.
In 2007 the volume of Dutch exports to Ukraine reached its historical maximum, at EUR 1,400 mn.
The world-wide economic crisis of 2008-2009 hit Dutch exports to Ukraine severely.  By the end of 2009, exports to Ukraine had shrunk by half.  In 2012, they rebounded to EUR 1,200 mn, and then entered a new phase of contraction.  Dutch exports to Ukraine hit a new bottom in 2015 against a backdrop of war in Eastern Ukraine and the consequent reduction in industrial production and domestic demand, augmented by political instability and a worsening business climate.
Ukraine's exports to the Netherlands have historically followed a similar pattern as those from the Netherlands to Ukraine, with the primary difference that total value of Ukrainian exports has been about half that of Dutch exports.  But, as depicted in the chart above, Ukrainian exports to the Netherlands revived following the 2008-2009 economic crisis, and continued to grow until, in 2015, those exports in absolute terms (EUR 892mn) actually exceeded Dutch exports to Ukraine (EUR 670mn). Such an unexpected trend can be explained by the fact that
the majority of Ukrainian exports to the Netherlands consist of raw materials, such as agricultural products and semi-finished goods, and the prices of those goods were impacted significantly during that time frame by the rapid devaluation of Ukraine's national currency (the hryvnya).  Consequently, those goods became more competitive in Europe.
Also, during that time, a proactive strategy was undertaken by large Ukrainian agricultural interests, due to the devaluation of the currency, to escalate the export of those products into the European market.
Recently, trade between Ukraine and the Netherlands has declined, particularly in terms of Dutch exports to Ukraine. This decline has resulted from adverse economic conditions in Ukraine, limiting demand for Dutch goods. Nevertheless, Ukraine has recently been able to boost its exports to the Netherlands as a result of the devaluation of the Ukrainian currency, as well as efforts by Ukrainian exporters to seize a ripe opportunity to ramp up sales to Europe.
At the same time, there is little doubt that Dutch exports to Ukraine will increase significantly due to implementation of the Deep and Comprehensive Free Trade Area (DCFTA) agreement between the EU and Ukraine.  Further, under DCFTA, structural reforms are being adopted in Ukraine in order to improve the country's business climate and trade conditions.
What do The Netherlands sell to Ukraine and buy in Ukraine? 
Dutch exports to Ukraine are well diversified and consist mainly of plastics (13.4% of the total), specialized machinery (9.7%), pharmaceutical products (8.7%), and vehicles (8.7%).  In total, these products comprised approximately 40% of the aggregate value of Dutch goods exported to Ukraine in 2015.
Ukraine's exports to the Netherlands consist mainly of grain (32.6% of total exports to the Netherlands in 2015), metals (21.7%), oil and oil seeds (20%), meat and sub-products (4.3%) and residuals from the food industry (3.8%).  In total, these products comprised approximately 83% of all goods shipped in 2015 to the Netherlands from Ukraine.
Expressed in dollars, Dutch exports to Ukraine in 2015 consisted of agricultural tractors ($28 mn), ethylene ($28 mn), pharmaceuticals ($26 mn), gold, oil products, polyacetals and polycarbonates, as well as such traditional Dutch good as cocoa and chocolate ($24 mn) and flowers, including both live flowers and bulbs ($10 mn).
Correspondingly, Ukraine's exports to the Netherlands in 2015 consisted of corn ($278 mn), ferroalloys ($171 mn), sunflower oil ($134 mn), oil seeds ($45 mn), meat and related products ($39,000,000) and residual food industry products ($34 mn).  Interestingly, Ukraine also sells to the Netherlands a significant amount of machinery for the printing industry ($18 mn) and cables ($15 mn).
Dutch exports to Ukraine consist mainly of finished goods with significant value added, such as machinery, pharmaceuticals and chemical industry products, but are also strongly augmented by cacao, chocolate and flowers, for which the Netherlands maintains a worldwide market.  Ukraine's exports to the Netherlands consist mainly of agricultural and food industry products, as well as steel products.
In addition, Ukrainian businesses expect to enter into some new niches in machinery exports, some of which are already in demand in the Netherlands.
What services are exchanged between the two countries?



In 2015, the Netherlands ranked 18th as an export destination for Ukrainian business services (valued in US dollars at $107 mn), while imported Dutch services accounted for the 7th largest volume of services provided to Ukraine (in US dollars, $139 mn).
In services, the decline in trading volumes during 2008-2009 was not as sharp as for goods.  In 2013, trading in services almost reached a pre-crisis level, but during 2014-2015 the volume of trade in services hit a new bottom.  In 2014 the export of Dutch services to Ukraine fell by 36%, and the export of Ukrainian  services to the Netherlands fell by 62%.  In 2015, trading in services declined again due to the general deterioration in economic activity between the two countries and the general fall in demand for services in Ukraine as a result of its stagnating economy.
Dutch companies provide significant financial services to Ukrainian clients (in 2015, Ukraine's share was 36% of total exported Dutch services).  In 2015, services provided to the Netherlands by Ukraine consisted mainly of transportation services (44% of Ukraine's total exported services to the Netherlands).  This logically flows from the large volumes of agricultural goods crossing Ukrainian borders for the Netherlands.  In 2015, the Dutch share of total transportation services provided to Ukraine was only 14%.
Ukraine also provides significant business services to the Netherlands, including financial services, other business services and transportation services.  In the future, IT services are also expected to be significant.
Each country provides the other with a relatively significant volume of its total exported business services, respectively (21% of the total for each in 2015).  In 2015 Ukraine provided a relatively large amount of its exported IT-services to the Netherlands (28% of its total exported IT services).  And significant IT-services were also provided in 2015 to Ukraine by Dutch companies (in 2015 the Ukrainian share of total Dutch exported services was 12%).
How much did the Dutch invest in Ukraine? 
At the beginning of 2016, the Netherlands was the 2nd largest investor in the Ukrainian economy, continuing its historical position in foreign direct investments (FDI) provided. As of January 1, 2016, the amount of FDIs from the Netherlands in Ukraine was equal to approximately $5,6 bn, or 12.9% of the total amount of FDIs brought into the country from all destinations.
The economic turbulence in Ukraine has negatively influenced the willingness of investors to put money into the Ukrainian economy.  Totals for 2015 reflected this slow growth of FDIs, despite Shell Oil undertaking a large shale gas project in Eastern Ukraine.
Based on the information available, the FDIs from Ukraine into the Netherlands over the last 10 years have been almost zero.  However, it should be noted that information about these FDIs is not officially available.
In terms of FDIs, the ICT sector (mainly the food and chemical industry) was the main attraction for Dutch investors in 2015, comprising one-third of the total amount of foreign investments in Ukraine.  Two other important sectors for Dutch FDIs were wholesale trade and real estate.  Traditionally, the largest investors in Ukraine have been Royal Dutch Shell, ING Ukraine, Rabobank, Philips, Akzo Nobel, Damen Shipyards, Unilever Export, and others.
What will Dutch business gain from the Free Trade Area with Ukraine?
Dutch companies already have a strong business presence in Ukraine.  As of the end of 2015, approximately 315 Dutch companies had a presence there, with an almost even distribution between agriculture and food (155 companies) and other industries (160), while other companies have been involved in other sectors, including financial services, logistics, business and IT-services, as well as energy, construction and lumber.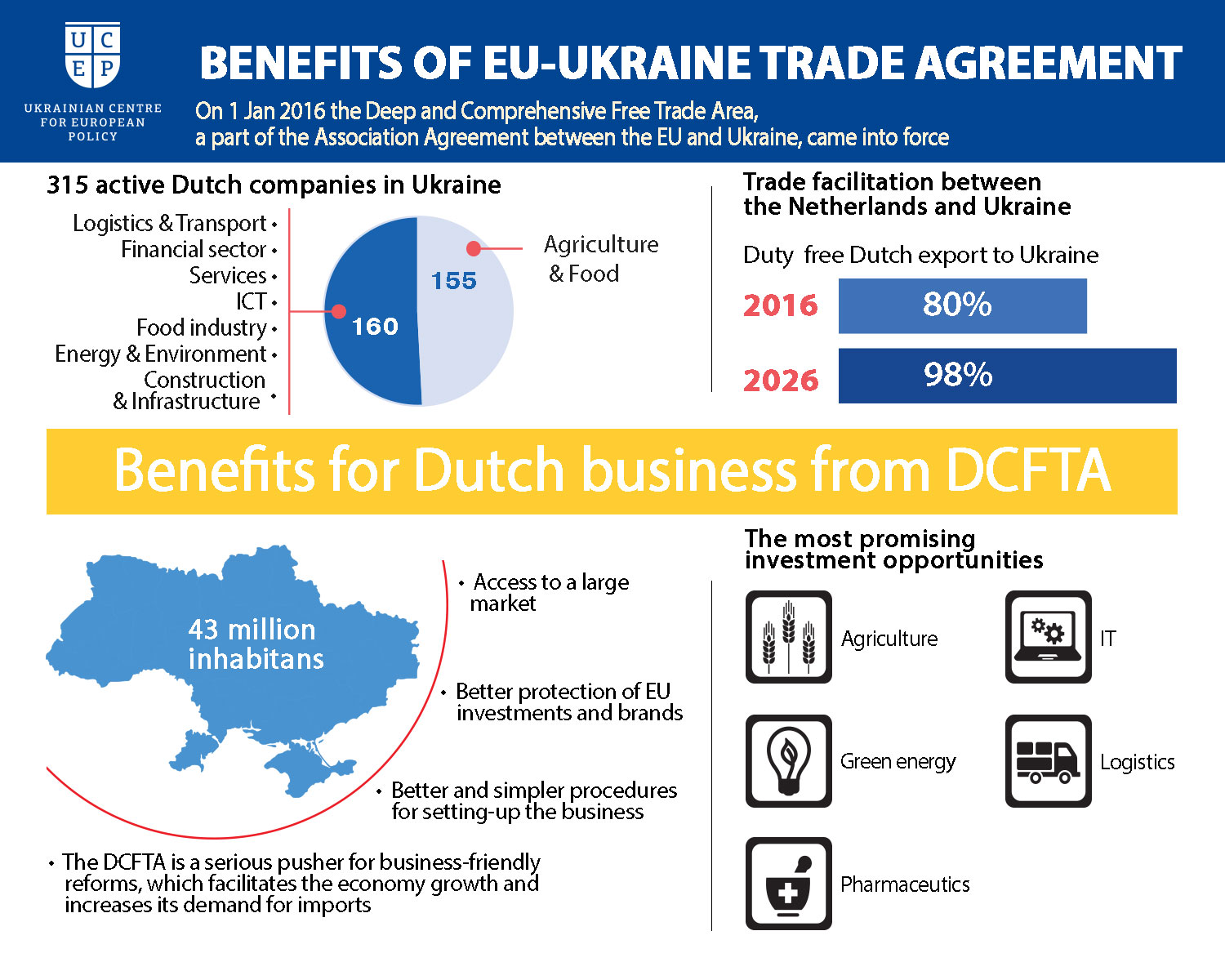 The Deep and Comprehensive Free Trade Area (DCFTA) between the EU and Ukraine, rolled out on 1 January 2016, will significantly facilitate trade between Dutch and Ukrainian businesses.  This trade deal improves market access and makes it easier for companies from the Netherlands to do business in Ukraine, both in terms of exporting goods and services to, and importing goods and services from, Ukraine.
As a result of DCFTA, according to the modeling results of the Institute for Economic Research and Policy Consulting (2011), imports from Ukraine to the EU will increase by 6.3% and EU exports to Ukraine will increase by 5.8%.
Facilitation of trade will result from the gradual elimination (over a period of 10 years) of the majority of tariffs on exports and imports between the EU and Ukraine.  Simply put, this will reduce the cost of trading, which will in turn lead to greater trade.
For Dutch exporters, this will mean the following changes:
since the initial implementation of DCFTA, 80% of current Dutch exports enter Ukraine duty free and, for the remainder, the average import duty is only 2.9%.  After 10 years, 98% of current Dutch exports to Ukraine will be traded freely.
Further, it should be noted that, for Ukrainian imports into the Netherlands, a higher level of tariff protection will be maintained.  The Dutch market will be freely opened to only 78% of Ukrainian imports.  Tariff quotas will remain in place for particularly sensitive goods like cocoa and chocolate.
Since the initial implementation of DCFTA, tariffs on the majority of Dutch exports to Ukraine have already been set to zero.  The only goods for which Ukraine will impose protective duties in 2016 will be used tractors, and bulbs, tulips and other flowers.  For used tractors, the tariff protection will be eliminated in 2019.
Nevertheless, DCFTA is more than a simple a tariff liberalization agreement.  It also offers a comprehensive reform program for Ukraine to align its business laws and procedures with those of the European Union.
After Ukraine completes its reform of these laws and procedures, trade with Ukraine will be similar to trading with any other EU member state, and costs will be reduced for everyone.  Businesses that want to trade with Ukraine will no longer need to consider what rules they have to comply with, how they differ from those of the EU, or how they can obtain certification of compliance. 
Certification from either EU or Ukrainian authorities will demonstrate compliance in the other's territory.  The DCFTA-related reforms will therefore have a tremendous impact on the operating environment for Dutch companies working in Ukraine and will contribute significantly to the success of those businesses.  The same is true for Dutch companies that are just now planning to enter the Ukrainian market – one of the largest in Europe, with 43,000,000 consumers.
Dmytro Naumenko, Senior analyst, information campaign "Stronger together" 
Tags: #DUTCHINUA, Association Agreement, Business, Dutch, Netherlands, Referendum