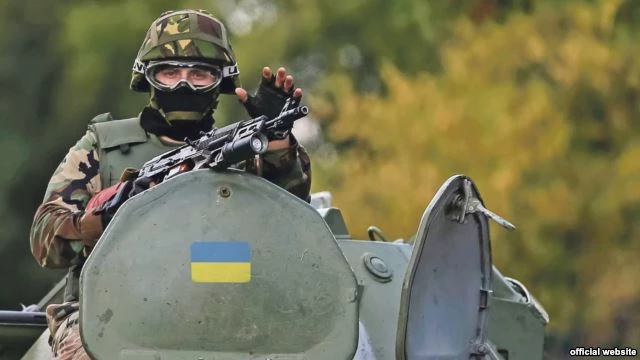 Oleksandr "Alex" Martynenko has been serving in the army for the past two years. The Kyiv activist took part in the Revolution of Dignity, and after the Maidan enlisted in the Donbas Territorial Defense Battalion where he was initiated into reconnaissance and surveillance techniques. He talks about new concepts in psychology that he and his comrades-in arms previously lacked before, during and after combat.
– Every war is built on psychology because everything we feel and face in civilian life is completely different from what we see in war… totally different. In wartime, we must use certain "tools" to perform our military tasks and duties. So, psychology is the first thing soldiers should learn and understand – that's my personal opinion – and then afterwards they can learn how to shoot, build up their physical strength and sharpen their tactical skills. In critical situations, a soldier is faced with something completely different from what he knew before; he must learn to use these new instincts to his own benefit… and that depends on how prepared he is psychologically. A soldier can be hardened, physically prepared, have good knowledge of military affairs, but in a real critical military situation he must know how to act and behave in a totally different way.
– Several friends serving in the army have told me that even well-trained soldiers are not always able to pull the trigger and shoot a man, even though he's the enemy. Do you think this is due to poor psychological preparation?
– Yes, for the most part it is. It's hard to become a soldier and "plunge" headfirst into war. It's equally difficult to return home. Unfortunately, some soldiers cannot get used to civilian life again and continue living as they lived before the war.
– Does Ukrainian military psychology have some sort of scientific and historical base? For example, have scholars studied the psychological preparation of Zaporizhzhian Kozak  troops?
– Ukrainian Kozaks were of a different caliber; they belonged to a particular caste. They knew how to use weapons and how to fight because it was their job; it's what they did every day. Unfortunately, I'm not a Cossack, I live here and I defend Ukraine in another period of history; I can't say much about the Kozaks. But what do actually we do in war? We kill people. "Killing" or "murder" sound horrible in civilian life. However, if you go to war, you have to reformat your mental state and tell yourself that you're just doing your job. According to statistics, only 10 percent of the population can be real soldiers. The hardest part is coming back to a peaceful city: first, you start feeling very uncomfortable, but if you're psychologically prepared, you'll be able to adapt quickly to civilian life and return home both physically and psychologically, so to speak.
– Alex, where did you follow courses in psychology and was this training really useful?
– Yes. I'm still fully engaged in our military affairs. Russia's aggression against Ukraine has become my personal war. Many of my colleagues and friends have died, so my personal war continues and it will end when Ukraine is victorious.

We didn't have any psychological preparation at the beginning of the war. Defining specific symptoms, determining and overcoming psychological and mental problems – i.e. grounding and safety techniques – these are things a soldier needs to learn before combat, during combat and after combat. However, each soldier should be trained differently as much depends on his combat missions.

For example, if you serve in an assault unit, you'll have specific psychological problems, but your comrades are nearby and can evacuate you from the line of fire or help you in times of extreme anxiety and fear. Soldiers working in intelligence units must be carefully selected as everything is more complex in the reconnaissance field: you penetrate into enemy territory for a few days, or spend a few days on the line of contact, but you're alone, your friends won't be there to help out; no one will evacuate you…  A psychologist should prepare an intelligence officer for his mission: you're alone, no one will come and get you out; no one will bring you back; you can count on yourself, only on yourself…and that's it! I'm not really a teacher or an instructor for our boys. First of all, I had to learn and understand all this myself, and then build up my confidence – that's essential!
– Did you learn from specialists? Who trained you – Ukrainian psychologists or foreign instructors?
– I studied with Ukrainian specialists who took part in the Maidan, and after the Revolution they attended training courses in Georgia, Israel, the US, and Lithuania. Our psychologists gained new knowledge and experience and passed it on to us. Now I realize how much we didn't know when we were sent to the front lines in 2014. It's so difficult to understand the person next to you, and it's even harder in critical situations. We all know that the real you appears in a crisis. I realized one thing during our training sessions… you know, we don't know much about psychology in Ukraine; there are very few sound psychological principles in the Ukrainian culture and we have no experience in consulting psychologists. Our female instructors didn't pretend to treat our mental anxieties; they clued us in and instructed us in assisting our comrades-in-arms on the front lines. Guys, it's important to listen to such experts! You start understanding yourself and realize you mustn't be afraid of sharing your feelings and emotions. This is normal for a man who's been in combat – the surge of emotions is normal – but it's most important to overcome and control them. Each person needs a certain period of time to heal…time heals all wounds.

 

After the war: Don't be ashamed; don't be afraid of your dreams!

You will return to fight another battle,

Learn to live with it!

Don't be ashamed; don't be afraid of your dreams!

Talk to your friends and family…

Win the battle raging inside you!

(Alex plays in this short video about psychological assistance for soldiers)

 
Tags: Donbas war (2014-present), Military analysis, psychology, training courses, Ukraine