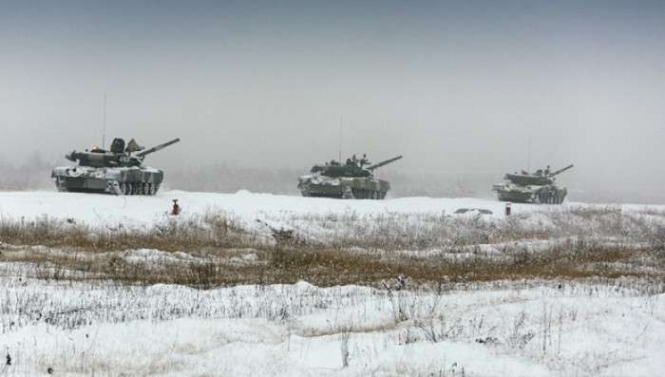 Russo-Ukrainian war in the Donbas, Ukraine (Photo: uapress.info) 
Russia continues to supply the terrorists with military hardware by railway and has begun only a piecemeal withdrawal of their heavy weapons, in effect only relocating their military equipment and armed forces to Shyrokyne, Mariupol, and Debaltseve, according to ATO spokesperson Andrii Lysenko, as per the information centre for the National Security and Defence Council of Ukraine.
"The terrorists have only begun a partial withdrawal of their heavy weapons, and even then they have taken them back a distance that can be traversed within 30 minutes," he stated at the daily briefing.
In addition, according to the representative of the OSCE in Ukraine, Michael Bociurkiw, their mission continues to be denied detailed information about the specific military hardware, while the ongoing presence of military weapons makes it impossible for them to monitor the removal of military equipment in the possession of the terrorists.
"Based on the information of our observers, under the pretense of the removal of heavy weaponry, the Russian-terrorist army is in fact accomplishing a re-deployment and rotation of troops and equipment, re-inforcing their militarized lines with even more troops, building up their capabilities for the purpose of conducting armed patrols behind the front lines," explained Lysenko.
He gave the example of the city of Debaltseve, where military equipment and terrorist troops have been simply re-located to the raion settlements of Pisky, Marinka, and Shyroke, while from Brianka, near Debaltseve, the movement of a military column was sighted, consisting of nearly 100 military items and equipment. In addition, a convoy of Grad missile systems together with other military hardware (nearly 50 items) have been transferred from Donetsk to the direction of Mariupol.
"The Ilovaisk railway system continues to be the manner in which military trains from the RF have been arriving with their cargo of military equipment, supplies of ammunition and supplies of fuel and oil," he said in summary.
It should also be noted that the Ukrainian border has been crossed today by the 16th so called humanitarian convoy from Russia.
One day earlier, the ATO staff made the announcement that in the past 24 hours three Ukrainian military servicemen have been killed in the ATO zone, while another seven have been wounded.
Tags: Donbas, Donbas war (2014-present), Russian Army, Russian invasion