Yesterday morning a grenade exploded at an office of the Crimean Tatar Majlis organization in Kherson in Southern Ukraine. Some reports say it was an RPG (rocket-propelled grenade.) Just the door of the office was damaged, however, this is just the loudest manifestation of a steadily growing buildup of Russian subversive propaganda and other activity in Kherson. The Majles is the representative body for the Crimean Tatars, an ethnic group from the Crimean peninsula. They have been persecuted in Crimea since the Russian takeover in 2014, and many have fled to Kherson, the bordering Oblast.
Two days before this explosion the Ukrainian security service (SBU) announced it had discovered an arms cache in a Kherson town less than 2 km away from Russian-controlled Crimea. The arms cache included two RPG launchers and two IEDs.
Russian far-right propaganda has been talking about Kherson since late December (see here for our previous analysis.) On many Russian websites "reports" about ISIS members from Türkiye heading to Kherson have appeared almost daily. The Russians were probably surprised by the effectiveness of the Crimean Tatar-led blockade and energy blockade of the occupied Crimean peninsula in late 2015. Russian propaganda has been particularly active in disparaging the Crimean Tatar Majlis, in particular their energy blockade and the prospects for a special Crimean Tatar unit in the Ukrainian National Guard.
In order to provide cover for their subversion and terrorism inside Ukraine, the Russians are sticking to their tried-and-true methods they used most blatantly in Donetsk and Luhansk, but also more recently in Kharkiv and Odesa. First, Russian propaganda claims that there are groups of Ukrainians who are angry at the Ukrainian government. Russian propaganda then claims that these people are arming themselves and preparing to take action. Then, when the Russian bombs go off, Russian propaganda points to their previous "reporting" about Ukrainian groups. A few days before the Kherson bombing a website advertising Kherson hotels was hacked and an anti-Tatar message from a group calling itself the "Community of Kherson." The message included an apology to the sites owners.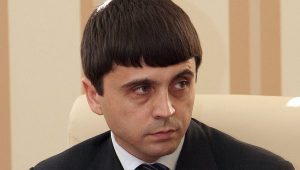 Sure enough, in the wake of this bombing in Kherson, one of the Russian's chief stooges in Crimea, the "Vice-Premier of the Crimean government" Ruslan Balbec predictably said that there is a guerrilla movement working in Kherson: "The patience of the residents of Kherson is not unlimited. In response to the boundless antics of Ukrainian "fighters" someone threw a grenade at the Majlis building…In Kherson a guerrilla movement has begun for the liberation of the area from the occupation of Majles mercenaries…."
Yesterday the "Minister of Information" for the so-called "Donetsk People's Republic" Victor Yatsenko said that Kherson was a "Russian city" that will one day "return to the bosom of the Russian state." He claims that he is a native of Kherson. No doubt, if the Russians ever try to build an more high-profile propaganda narrative about imaginary Kherson separatists, they will be based in Donetsk under the patronage of Mr. Yatsenko. This is the same kind of pattern the Russians have followed in Odesa, where the so-called "Odesa Underground" or the "Odesa Fraternity" claims to be based in Donetsk. So, when they engage in subversion, Russia can have clean hands. It is a proxy that is in turn wrapped in a proxy.
Russia's separatist projects in Kharkiv and Odesa appear to be on ice for the time being, but there is a new one brewing in Kherson. This separatist project is much more likely to be merely Russian cover to harass and attack Crimean Tatars in Kherson rather than some project with any hope of splitting Kherson off from Ukraine. The Crimean Tatar activists have obviously scared Putin. What lengths will Putin go to to stop them? How should Western governments respond to Russia's export of terrorism to Donetsk, Luhansk, Odesa, Kharkiv, and now Kherson Oblasts?