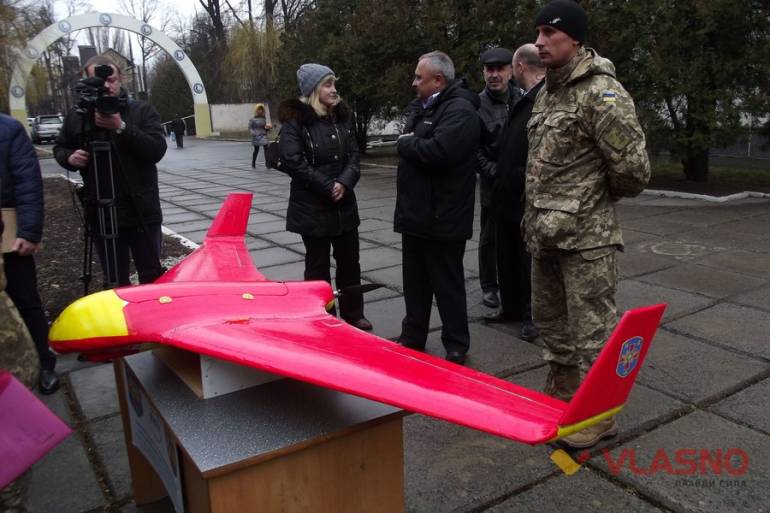 Two drones were recently presented to Ukrainian military personnel.  They were prepared and developed by professors and students of Vinnytsa National Technical University.
The drones will undergo state inspection at the Chernihiv training grounds and will then be delivered to the front lines.
"We don't see what's really happening on the front lines…" say the soldiers "These drones will be our eyes and will save the lives of hundreds of our men."
The engineering systems were prepared and developed at Nebesna Dolyna (Sky Valley), the University's educational centre for the development of radio and engineering systems and technical devices.
"It was just an idea at first… and then we created a team of specialized developers." says Oleksandr Pilhanchuk, a demobilized volunteer.
The team received support and funding from the Regional State Administration and began working on the project…
"The drone was just 20% of the work. The other 80% was devoted to training operators, building the control station and developing the aerial reconnaissance system. In short, it was a complex task." says Professor Serhiy Pavlov, vice-rector of Vinnytsa National Technical University.
He added that the drones had been certified, were very reliable and informative and met all modern requirements.
"This model can also be used for research and mapping purposes." stated Professor Pavlov.
Experts estimate that one drone costs 200,000 UAH or about $ 7,000 US.
"Rex", chief sergeant of a reconnaissance brigade was briefed on drone operations.
"A vehicle with the drone leaves for the defensive front line. There, the drone is launched from a catapult. It collects information on the location of enemy vehicles and enemy forces. When we receive information from the drone, we decide how to proceed. This device will help us survive in dangerous and difficult areas."
According to intelligence officers, the drone can travel 15 km. This is enough for the soldiers to obtain the necessary reconnaissance information.
The study and development of reconnaissance drones were launched last spring.
Photos: Tetiana Kuts
Tags: reconnaissance, save lives, Science and Innovation, Ukraine