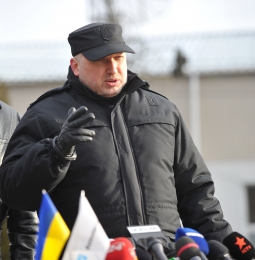 Ukraine will manufacture its own military drones, the Secretary of the National Security Council Oleksandr Turchynov said on Tuesday, January 27, as reported by Ukrinform.
"Our Armed Forces have a very serious demand for combat unmanned aerial vehicles (UAVs), and it is no secret that we have conducted consultations with UkrOboronProm (association of multi-product defense industry enterprises — Ed.) and are beginning this production in the Antonov plant," he said.
Turchynov explained that the Antonov plant has significant production capacity and for that reason was chosen as the site for producing these military vehicles, including the heavy ones.
According to Turchynov, the intelligence gathering and combat UAVs can significantly improve Ukraine's defense capabilities and even be competitive in international markets. Most of all, the domestic production addresses a major problem: Ukraine's ongoing difficulties in obtaining drones from abroad.
"I find that the foolish limitation on the military-technical cooperation with our country is continuing when it comes to lethal weapons, but we will break through this barrier as well and rely on our own production, our own potential. We are capable of manufacturing weapons that are better than similar versions that are being produced in the world today," he said.
Furthermore, the price of Ukrainian drones is three times lower than that of foreign counterparts, making them competitive in foreign markets. "This price, which is three time lower than similar foreign products allows us not only to supply these devices to the Ministry of Defense, the Armed Forces of Ukraine, and the National Guard, but also to compete in foreign markets," he said.
He added that the drones will be designed and mass produced at the Antonov plant and will be tested under combat conditions in the ATO zone by the Ministry of Defense.
Commenting on recent statements by Russia's Foreign Minister Sergey Lavrov that Russia has not violated the Budapest Memorandum, Turchynov stressed that Russia's actions actually directly contradict the agreements it has signed.
"It is both difficult and simple to comment on these statements because lately I haven't heard anything except lies and provocations from the leadership of the Russian Federation," he said. "This includes not simply the failure to honor the Budapest Memorandum, which the Russian Federation signed, but on the contrary, the actions of the Russian Federation are actually a direct contradiction of the decisions that were recorded in the Budapest Memorandum."
Turchynov also said that the statements of Russian President Vladimir Putin about Ukraine's state borders are a "direct political justification" for military aggression against Ukraine.
"First, no one asked Putin when the borders of our state were formed, and second these public statements are a direct political justification for military aggression against our country." he concluded.
As previously reported, on January 25, Putin stated that the border between Russia and Ukraine was established "arbitrarily" and "unjustifiably" during the Soviet period and that the inclusion of the Donbas in Ukraine was "nonsense."
Tags: defense industry, Ministry of Defense of Ukraine, News, Turchynov, Ukraine, Ukrainian defense industry