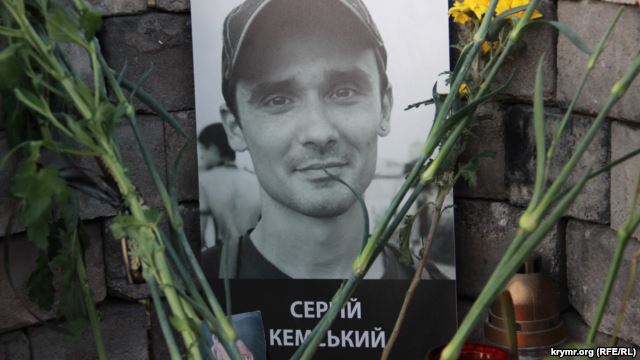 Serhiy Kemsky, born in Kerch, Crimea, was one of many who came to Maidan two years ago to support Ukraine's European integration. He was a supporter of direct democracy and tried to spread his ideas among the protesters. He was killed by two sniper bullets on February 20. We travelled to Korosten where his family currently lives to learn more about Serhiy.
At the entrance of the two-story building we see a granite plaque with vases on both sides. One has a bouquet of white roses, the other – two red carnations enveloped in a blue and yellow fabric. A portrait of Serhiy Kemsky is engraved on the plaque – political scientist, journalist, Euromaidan activist. Killed defending a new Ukraine on February 20, 2014.
"Around a year ago I got a call from a Korosten resident who said: "A year has passed since Maidan, and nothing has been done to honour Serhiy." He asked me if he could put a commemorative plaque on my building." says his mother, Tamara Kemska.
Tamara Kemska did not want vehicles parking before the memorial plaques, so a local businessman installed a gate at her request.
We are greeted by Serhiy's father, Oleksandr and a spotted cat Serha.
"We brought her home about a month after Serhiy's death; she was a month old. We actually call her Seriozhka. She's saved us; if we didn't have her, I really don't know what would've happened to us." says Tamara cheerfully.
Serhiy's room remains as he left it
Only the portraits on the walls remind us that he is no more. His old laptop and CDs lie on the desk. The shelves are lined with books – poetry, political science, literature, modern art. His clothes are neatly folded in the closet.
"He liked to dress casually: jeans, sweater, jacket, simple clothes. During Maidan he made himself this jacket." says his mother, gently arranging her son's clothes. "Once he came home and bought a green corduroy cap, just like Mayakovsky's; Mayakovsky was his idol."
Newspapers with articles about Serhiy lie on one of the shelves. "We can't allow the Heavenly Hundred to become cannon fodder for politicians and oligarchs who are ready to divide our country freed of Yanukovych and his clan." After reading the article out loud, Tamara says bitterly: "That's what has actually happened … they've taken everything that's left."
She picks up another newspaper and reads the title: "Mum, has spring arrived?". "We haven't seen the spring…" she sighs.
Serhiy's murderers have yet to be found
On the night of February 19-20 , when Maidan was under a real threat, Serhiy did not sleep and kept watch on the barricades. He went to sleep at dawn, but was woken by a phone call reporting that the situation on Institutska had worsened. Kemsky ran to help his friends, joining the first column of men who were trying to break through to the government district.
He was killed by two bullets near Zhovtnevy Palace: one bullet tore through his body; the other remained in the right lung.
"I found all the videos and photos; I watched him crawling past the Zhovtnevy Palace. He was still moving forward at 9:16, but at 9:28 his friends were pulling him out by the feet. Apparently, he was still alive. It was still possible to save him, but they didn't have time. He lost too much blood." says Tamara.
Two years have gone by, but investigative authorities have failed to identify the men responsible for Serhiy's death.
Pavlo Dykan, the family's lawyer, reported that Serhiy's murder is being investigated as part of two criminal proceedings. The first case has been presented in court, where suspects are two former members of the Berkut Special Forces – Pavlo Abroskin and Serhiy Zinchenko.
"Two other Berkut officers and deputy commander Yanyshevsky have been charged. These cases will be presented in court sometime in February, most likely." explained Dykan.
According to him, material for the first case where Abroskin and Zinchenko appear was gathered too quickly and presented in court before the first anniversary of Maidan. However Dykan hopes that prosecutors will take past mistakes into account, a new case will be properly presented against the former Berkut officers, and the guilty will be brought to justice.
"However, it's very unlikely that we will establish who was directly involved – the man who fired the shots – in Serhiy Kemsky's murder. Because we can't actually see the moment when Serhiy was killed on the video, just when he was wounded." says Dykan.
A group of people, who carried out the shooting of protesters, resulting in the February 20 killing of 49 people, are currently under investigation.
Serhiy was born in Kerch, Crimea in 1981. His parents moved there in the late 70s from Zhytomyr Region. His father was sent to the peninsula after graduating from a marine college. Serhiy spent his childhood in Crimea and studied at school No.1. He was interested in kickboxing, swimming and reading. He suffered from a speech defect from the age of two: he stuttered when he felt excited. By high school, he was able to overcome it with the help of professionals.
"He read a lot of, and tried his hand at everything, even singing both poetry and songs." smiles Tamara.
He left Crimea in 1999 and enrolled in Lviv National University. Serhiy's mother admits that her son wanted to become a journalist, but went into political science because there was less competition.
In 2004, Serhiy and his classmates travelled to Kyiv to join protestors on Maidan (Orange Revolution).
"He stayed there throughout the entire protest. It was terribly cold, and he was so sick! He travelled to Korosten to see my sister and she called me "He's got a high fever, and he's very sick, severe bronchitis." He got a bit better in Korosten and then went back to Lviv." continues Tamara.
After graduating, he moved to Kyiv. First, he wrote texts for an advertising agency, and then took up journalism. Eventually he was hired by the Institute of Political and Economic Risks, for which he wrote analytical articles. In 2011, he moved back with his parents in Korosten and began working from home.
Serhiy's mother informed him when Viktor Yanukovych refused to sign the EU Association Agreement.
"I saw it on TV, ran to Serhiy's room: "Son, can you just imagine what he's done… he rejected the agreement. It's all over, isn't it?" He turned to me and said: "Mum, it's just the beginning…That's all he said."
Believe in yourself and your brothers!
Serhiy supported anarchism, public and civil self-organization and direct democracy.
"When we visited our village, he told me that villagers and people in general live according to one principle – every man is master of his own fortune. On the one hand, this is a good concept; on the other hand, they could simplify their lives if they were organized in cooperatives in order to buy equipment and seeds…to save money and make better products." adds Serhiy's cousin, Oleksandr Melnychenko.
Serhiy firmly believed that politicians had 'stolen" the Orange Revolution and its activists. However, he hoped and believed that civil activists would build a coherent agenda and bring in real change. He actively debated on the future of Maidan and Ukraine with other protestors and in December 2013 published a programme – "Do you hear us, Maidan?" in Ukrainska Pravda.
http://www.pravda.com.ua/columns/2013/12/19/7007716/
From Serhiy's article: "As Maidan chants "Out with the crooks!", protesters gather to drive out our leaders. However, everyone agrees that we haven't rallied together in order to elect a new tsar. We want to transform our state from a feudal baton into an instrument of public self-determination. We no longer need to be led like sheep; we need people who will carry out the will of society and effectively coordinate public resources to achieve common goals."
In his article, not only does Serhiy declare general principles, but he also offers specific mechanisms for instilling direct democracy, which, in his opinion, can improve the lives of his countrymen. He believes that members of each community should be given the right to remove district judges, heads of district police departments, prosecutors and other government officials. He also proposes to simplify mechanisms governing local and state referendums. He considers that such activities will help ordinary citizens to control government officials and impose the will of the people.
Serhiy's parents last saw him on February 16, 2014, when he came to stay with them for a few days. His mother remembers that he did not leave his laptop in the evenings, constantly drumming his fingers on the keyboard. After his death, Tamara went on his Facebook page and found out that in those long evenings he had written a poem called "Hey, Maidan!", where he expressed his feelings on the protest movement. He wrote it in the style of Vladimir Mayakovsky, his favourite poet, basing it on the poet's verse "Hey!"
We'll drive the treacherous rats from the stage,
And choose delegates from our own.
The people will command the Council
Deciding and acting now.
Hard and bitter times will pass,
But all scoundrels will be punished.
Hey, Maidan!
Call all the oppressed
To freedom!
Serhiy Kemsky, the "Maidan Mayakovsky" (based on "Hey!", 1916)
Tags: Maidan, Orange Revolution in Ukraine (Nov-2004 to Jan-2005)