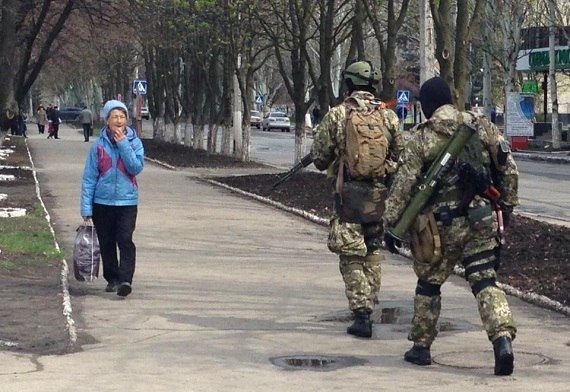 This should have been a week of good news for Ukraine. The Ukrainian economy is officially out of recession, and all EU countries have finally ratified the EU-Ukraine association agreement.  However, the attention of Ukraine watchers is on an increase in fighting in Donbas. Due to the surge in violence in Eastern Ukraine and reports of heavy weapons use by Russian irregular forces, the Ukrainian General Staff warned that they might return artillery and tanks to the frontline. 
A German term for "lightning war," blitzkrieg is a military tactic designed to create disorganization among enemy forces through the use of mobile forces and locally concentrated firepower. Its successful execution results in short military campaigns, which preserves human lives and limits the expenditure of artillery.
On Monday the Ukrainians reported that Russian special forces (spetsnaz) were once again operating on the front lines and that the Russians are stepping up their electronic warfare again. In the midst of this new escalation, Putin urged that the Minsk II agreements be extended and warned of the "threat of Donbas turning into another frozen conflict…"
Schleichen – German for "to sneak", "to creep"
A frozen conflict might be preferable to the current situation in Donbas, where the conflict is anything but frozen. The end of the agreement on heavy weapon withdrawal in Eastern Ukraine would not "re-start" the conflict, because tanks, rockets, and artillery pieces are not making war in Ukraine. Putin is, and he is mainly waging war with irregular forces using small arms. Withdrawing heavy weapons from the frontline without any change in Putin's will or his capability to wage low-intensity warfare in Ukraine may actually help Putin achieve his goal of dismembering Ukraine and destroying the Maidan revolution. 
Another, larger, Russian blitzkrieg into Ukraine might accomplish these goals quickly, and that might be in the offing, but perhaps Putin does not want to risk the casualties and further sanctions. Also, the Russian army cannot occupy a hostile Ukraine without a massive mobilization and thousands of casualties in a drawn-out guerrilla war.
Putin could instead opt for "schleichkrieg" over blitzkrieg, a slither-war over a lightning war: slowly disintegrating Ukraine using Putin's "little" Russian army of subversives, mercenaries, and radicals while cowing the Ukrainians with the "big" Russian army behind the lines. Rather than destroying Ukraine in a climactic battle, Putin could kill it through a thousand cuts. A small advance here, a bomb there, a propaganda campaign here are all wearing down Ukraine and distracting its leaders from carrying out critical reforms. Any good news about Ukraine can be quickly drowned out by more news of another spike in violence. After triggering an escalation, maybe Russia can seize a small scrap of territory or extract a political concession from Ukraine. After the "threat of war" dies down diplomats will have an opportunity to pat themselves on the back for preventing a war that in fact is slowly continuing.
Today Putin has absorbed the political shock of the sanctions, and the recent terror attacks on Russians and Frenchmen will probably result in some coordination of an anti-ISIS campaign in Syria, and a consequent softening of relations between Russia and some NATO countries. All the while foreign investors remain wary of risky investments in Ukraine and constant tension and low-level fighting saps the Ukrainian army's morale and the morale of the Ukrainian public.
In 2014 Putin denied victory to the Ukrainians, but only by deploying Russian mechanized forces. Now he can deny the Ukrainians victory through diplomacy and fear while slowly chipping away at Ukraine. And perhaps this was actually Putin's initial plan.
Heavy weapons arrived late to the war in Ukraine. The first use of armored vehicles by "separatists" in the war in Eastern Ukraine was on 16 April 2014, when Russian irregulars obviously coordinated by spetsnaz captured some APCs from a demoralized Ukrainian army column heading into Sloviansk. The journalist Simon Ostrovsky filmed this surrender in depressing detail in his April 20th 2014 dispatch with ViceNews.
This kind of "fighting" was in line with a slow-kill strategy. Unfortunately for Putin, the Ukrainians began to fight back around May. Ukrainian National Guard units, not penetrated by Russian spies and full of Maidan veterans with high morale, completed their training and moved up to the front.
Armored vehicles from Russia did not appear in the war in East Ukraine until mid June 2014, according to NATO, two months after the April debacle at Sloviansk, when the National Guard began to move in on the city. After another ceasefire ended and the National Guard penetrated far into Russian-occupied territory, the Russians began to use their heavy weapons – first shelling Ukrainian units from over the border, and then in mid-August sending in Russian regular mechanized forces to smash the National Guard, most notably at the battle of Ilovaisk.
Putin never intended to move mechanized units into Eastern Ukraine – rather he wanted to keep the mechanized units right across the border while his proxy forces, complemented by spetsnaz, seized more and more Ukrainian territory from a compromised and demoralized military. The Ukrainians called his bluff and he acted reluctantly to save his proxies. Then there was the Minsk Protocol (September 2014) which was abrogated when the Russians advanced again and captured the Donetsk Airport.
Then there was the Minsk II ceasefire. When diplomats and journalists talk about Minsk II, they rarely mention that the final Russian assault on the Ukrainian troops in Debaltseve, the climactic battle of the war in Ukraine (so far) occurred after the Minsk II agreement was signed on 11 February 2015 (Ukrainian troops finally fought their way out of Debaltseve on 18 February).
Since the end of the battle of Debaltseve, fighting has escalated at least three times. In April, in August, and now, in November. Russia has so far been unable to capture any more Ukrainian territory, but today some of Ukraine's Western friends are more willing than ever to end the war in Ukraine at almost any additional cost to Ukraine.
If this pattern of false ceasefires continues and Russian proxies capture more territory or just kill more Ukrainians before another Western-brokered ceasefire de-escalates the situation, why wouldn't Putin seek to repeat this pattern over and over? If there are no new consequences for repeated Russian violations of the Minsk II ceasefire while Putin continues to arm (and direct) the "rebels," then diplomats have just returned the conflict to Putin's original plan. True, Putin's proxies hold less territory than they did in April 2014, and there are reports of low morale among Putin's fighters in East Ukraine, but they are battle-hardened, well-supplied, and Putin now has a powerful diplomatic weapon to ensure that the Ukrainians cannot liberate more territory: the Minsk process.
Russian propaganda will continue to emphasize Russia's intermediate goals in Ukraine – the withdrawal of the National Guard from the frontline, the recognition of the "rebel" leadership as part of the promised "special status" for the "DNR" and "LNR" and the idea that this "special status" would also permit the "rebels" to keep their arms, claiming the precedent of the Republika Srpska in Bosnia.
Above all Russian propaganda will emphasize that the Ukrainians must not receive weapons from the West. Eventually Western diplomats will get the message and lean on Ukraine to give in on this or that "small" concession in order to "prevent a wider conflict" and "preserve the Minsk agreement" – with new concessions in the offing every time.
As for weapons, Russian propaganda is constantly trying to frame the war in Ukraine as "either the Minsk Process or escalation" – and western weapons, they say, would make the second one more likely.
In fact, the Ukrainians now have both the Minsk Process and escalation – just in small doses.
To break this Russian strategy, the West needs a new approach. The first step is to do more to deter Russia from intervening with mechanized troops again. A plentiful supply of advanced anti-tank weapons would be a good start, and perhaps a Western ally could provide Ukraine with constantly updated satellite imagery or more than two counter-battery radars that would allow Ukraine to respond rapidly to destroy Russian guns.
Far from escalating the conflict, if the Ukrainians would be able to convincingly deter a major Russian armored thrust the war would be a lot closer to a true ceasefire. Merely forestalling an escalation in Ukraine is an insufficient diplomatic goal. It may help bring about Putin's ultimate victory.
Tags: Military analysis, Op-ed, Putin, Terrorism, Ukraine