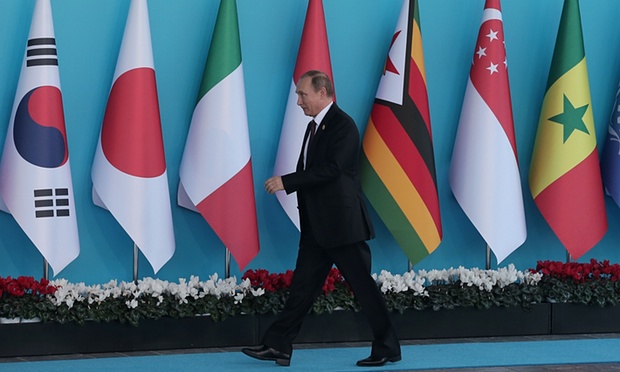 Vladimir Putin at the G20 summit. Photo: Chris McGrath/Getty Images 
Islamic terrorists attack Paris, and western leaders quickly readmit Russia in their circles. Obama, Merkel, Hollande – all of them suddenly talk with Putin without problems.
Does the fight against a terror group really need an alliance with the major terrorist – which is Russia?
The latest developments are the last confirmation that western European elites do not want to face realities: the main enemy is not the Islamic state, but Russia.
We will get to this conclusion in asking questions western media or politicians probably do not dare to ask themselves: Are the Islamic terrorists really able to organize sophisticated terror acts such as downing airplanes, planning combined attacks with a professional masking of traces and to cyber-attack crucial infrastructure? And which professional secret services have the knowledge and willingness to help them in conducting sophisticated operations?
The Islamic state does the dirty work, but isn't it the Russian leadership who is really profiting and nobody else? Aren't those attacks helping Russia to advance its geopolitical interests in Ukraine, other Eastern European states and elsewhere?
Can we really avoid a future war in allying with a criminal and terrorist regime? Hasn't Russia already declared war on the west in occupying Crimea, followed by a terrorist war in the Donbas, in leading a large-scale lie campaign on Russia's deeds and geopolitical goals, in hacking government data bases in the US and western Europe, in conducting sophisticated cyber-attacks on western infrastructure and companies on a weekly basis?
Sadly, western elites and media live in their own reality, and continue to turn a blind eye on Russian crimes and have not the courage to name Russian terrorist acts "Russian terrorist acts." There are plenty of examples for such Russian acts; one of the most convincing examples is flight MH-17 taken down with a Russian Buk missile. But western media and politics have repeated the narrative of "separatists" taking down the airplane for so long that they are convinced tractor drivers and miners are capable of handling such missiles.
Terrorist acts after MH-17 – in Ukraine and western Europe – increased, such as attempts to conduct terrorist attacks. This will continue if the main driver behind terrorism, Russia, will not be named and fought. An alliance with Russia, officially for fighting Islamic terrorists is not a guarantee that such attacks will decrease, quite the opposite. Russia in its current shape is a terrorist state which will need more attacks, because this is the best measure how to prove the validity of its arguments, and to get politicians to the negotiation table. As some have argued, Russia (i.e. some affiliated terrorist groups) would also not shy away from launching a dirty bomb somewhere in Europe.
With whom does Russia "negotiate"? Its leaders have special skills to select parties known to be weak or to have interests with Russia. So it is quite telling that the "Normandy Four" never have accepted Poland or the Baltic states to be part of the negotiations – because they would rather pressure Russia to fulfil its obligations regarding the Minsk agreements, instead of putting pressure on Ukraine as Germany or France do. Also in the case of Islamist terrorism, Russia will prefer alliances with parties that have had interests with Russia. The French president is already rushing to Moscow. Others may quickly join if similar attacks happen in their countries.
So what does this mean for Ukraine, the Baltic States, Poland, Romania, Bulgaria and other countries in central-eastern Europe threatened by Russian further expansionism and less by Islamists (even if attacks also might happen there)?
It means to name realities: Germany, France, Italy or the UK are placing their national interests first, especially if it comes to geopolitics. They might be partners on some issues, but those states are not strategic allies in geopolitical struggles.
It means to act: Eastern European countries have to unite forces in order to be taken seriously, especially by Russia and Germany.
The economic collapse of Greece and the mass migration to Western Europe, in particular to Germany and Sweden, have shown that Eastern European countries are only accepted as partners in the EU if they consent to western – in these cases German – demands.
In regard to Greece, this basically means endless monetary support without a realistic perspective for real reforms (reforms, eastern European countries after 1989 or just now Ukraine have undertaken largely on their own and with huge sacrifices). Greece additionally is not willing to control its borders which are also the external borders of the European Union.
Just after the total collapse of Greece was again postponed in summer 2015, Germany's political leader unilaterally decided to take in hundreds of thousands of Muslim immigrants from Iraq, Afghanistan, and Syria into the EU. The politics of "open borders" for migrants can only be understood as what it is: it is a selfish social engineering experiment in order to transform the nature of European Union countries without asking its citizens for their consent, forcibly changing the ethnic composition of nation states.
Moreover, both crises – Greece and migrants – have mercilessly shown that a bankrupt pro-Russian state on Europe's periphery and Muslim immigration politically count more than the concerns of states that lie east to Berlin or south-east to Vienna.
Those crises, plus the recent Russian geopolitical games, are a final "wake-up" call for Eastern Europe.
It is time for Eastern Europe to make a move, too.
Forget about Western Europe.
Form a common alliance against Russia in Europe.
Tags: France, International, ISIS, Putin, Russia