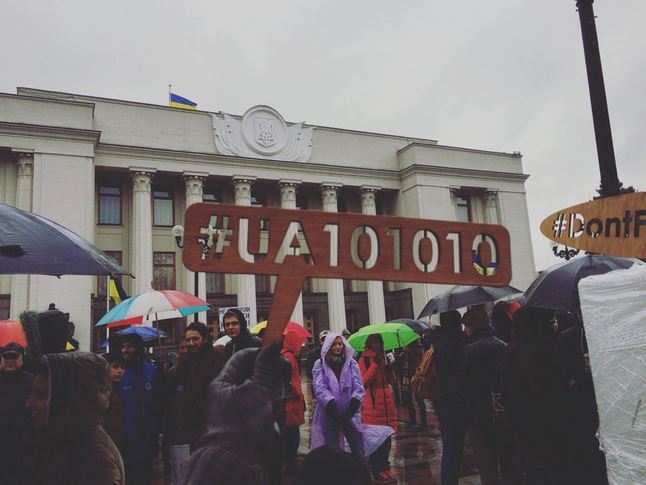 #UA101010 rally at Ukrainian parliament. Photo: @Drragina 
Ukrainians self-organize to make their MPs accountable before those that elected them
When Ukrainian MPs failed to pass 10 laws necessary for visa-free travel to the EU on 5 November 2015, many Ukrainians felt that they were being betrayed the future for which over a hundred protesters died during the Euromaidan revolution. On November 10, the deadline for the adoption of the laws, they self-organized to persuade their parliamentarians to adopt the legislature crucial for Ukraine's reforms.
The organizers of a FB event with 1400 saying they will attend, which grew out of a single fb post, considered it unfair that "1% of MPs who sabotaged the voting decides the future for the rest 99% of Ukrainians."  And it's not only the visa question either, but "also the reforms that to be made due to The Revolution of Dignity and what Ukrainian people still stand up for."
Some 300 protesters without political affiliation showed up at the Ukrainian Parliament (Rada) to persuade their MPs to vote for the 10 laws that are necessary for a visa-free regime with the EU. Under the hashtag #UA101010 and the motto Don't FU€K with us!, they rallied before the Ukrainian Parliament and handed leaflets to their MPs to persuade them vote for the laws. It's hard to say whether it was them or something else, but 6 of the laws were passed that day.
Volodymyr Hroysman,  the head of Ukraine's Parliament, thanked the protesters in a fb post, saying that their "willingness to stand by Ukraine's European choice and critically important anti-corruption reforms were very important for the parliament in this difficult day," and that "two years ago in the same rainy November day, people went to Maidan Nezalezhnosti when their European dream was being stolen from them," and that the MPs "were able to rise above political contradictions."
He said that Ukraine crossed a psychological and political threshold after which a visa-free regime with the EU becomes reality and not empty words. On November 12, the protesters will gather again to persuade the deputies to adopt the rest of the laws. The European commission has postponed the deadline for adopting the necessary laws for 10 more days.
Not about visas, but about Ukraine and corruption
The laws under question concern EU requirements for implementing a visa liberalization regime. Contrary to Western media coverage, the proposed legislature concerns not only anti-gay discrimination. They can be divided into three groups:
Biometric documents, control over the border, tackling crime – includes Law #3224, concerning EU-standard biometric passports and #3154, concerning the safety of borders, and also #3171, on legal procedures for establishing the fact of birth or death in the temporarily occupied territory of Ukraine, and #2542, on clarifying the jurisdiction of pre-trial investigation.
Anti-corruption legislation. Includes many fundamental laws which Ukrainian deputies don't want to pass: #1776 that will strip total inviolability from Ukrainian MPs and judges in accordance with EU standards (in Ukraine, many MPs are desperate to keep being reelected in order to evade responsibility for crimes committed under their deputy mandate);
# 3040 and #3041, on creating and financing the National Anti-Corruption Agency of Ukraine; #2540 and #2541, which allow seizing property from relatives of suspects in corruption cases, and improve the institution of special confiscation — these two allow to get back assets that Ukraine's corrupt officials stole and gave as a "present" to their wife, daughter, or friend, which is a common corruption case in Ukraine.
Anti-discriminatory measures in the Labor code. The most visible of the package of laws is law #1658 and a newly proposed #3442 which prohibits all sorts of discrimination in the workplace, including anti-gay discrimination. On November 5, the Rada failed to pass these measures, gathering only 117 votes out of the required 226; on November 10, they fell short again with 207 votes in favor.
Speaking on Hromadske, protest organizers Serhii Morhunov and Artem Horunzhiy said that the reason for the unwillingness is not so much a disapproval of the laws as a result of internal political battles and negotiations on concerted voting between fractions. For instance, Batkivschyna, the party of Yulia Tymoshenko, has declared that their fraction will abstain from voting altogether until a law they are proposing is put to vote.
This is what changed in Ukraine after Euromaidan
In a functioning democracy, politicians are kept in check by their electorate. In Ukraine, where civic society is still very much dysfunctional after decades of Soviet rule, politicians abuse power without punishment, resulting in corruption and palaces for the few while the majority barely survives. Euromaidan was a rebellion against this way of life, but much more has to change in order that there are less revolutions and more sustainable change. After the Orange Revolution of 2004, Ukraine fell back into its usual complacency and hopes to delegate their responsibility to newly elected politicians – a reminiscence of Soviet times.
Such a protest gives hope for Ukrainian society. Not only was it spontaneously organized without political parties, but also had resonance with politicians – it is them that spread the leaflets inside the Rada building. It also drew support from various places of society: the posters and stickers for the action were printed by the same company that were printing them for Euromaidan. Altogether, it shows that even though Ukraine has a long way to go towards reforms, there are people that are ready to take the journey all the way.
Tags: corruption in Ukraine, EU, EuroMaidan, homophobia, International, Rada