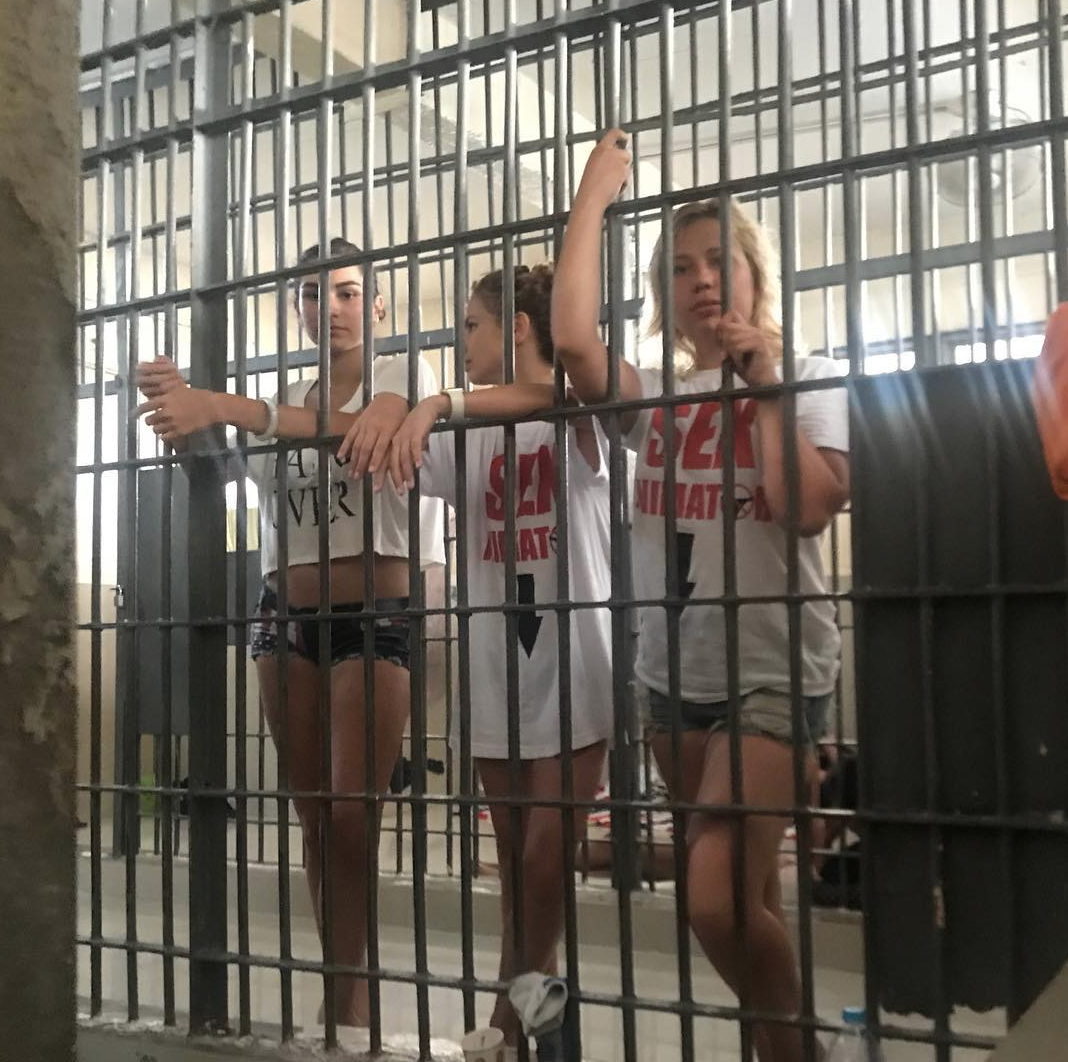 Anastasis Vashukevich (Nastya Rybka), in Thai prison, February 2018 (Source: Instagram) 
• Details about the arrest of "Nastya Rybka" from an eyewitness
• "Locals acknowledged that they received instructions from Russia to detain us by any reason" – Alex Lesley
In the past few days, American media has reported that Anastasia Vashukevich, a.k.a. Nastya Rybka ("little fish") – a high-end  escort and self-proclaimed "sex huntress" from Belarus – has been detained in Thailand.  We got a chance to speak with a witness and find out the latest news about the arrest.
First some background.  Anastasia Vashukevich's infamy began about a month ago, after Russian opposition leader and anti-corruption crusader Aleksey Navalny published an explosive investigation conducted by his anti-corruption foundation, FBK. Navalny highlighted not only Rybka's links to Russian oligarch Oleg Deripaska, but also revealed an intriguing contact between Deripaska and Russia's Deputy Prime Minister Sergey Prikhodko. Scouring Rybka's Instagram posts, including a suggestively illicit excursion off the waters of Norway on Deripaska's yacht, as well as other openly available sources, Navalny suggested that these contacts and their timing can significantly aid in the investigation of Russian interference in the 2016 US presidential election. Rybka's posts provide direct photographic, audio and video evidence that she was intimately involved with the Russian oligarch who also has had extensive business ties to Paul Manafort. Rybka recorded Deripaska in August 2016 speaking with the Kremlin official about fixing the America problem, less than one month after Manafort had offered to provide Deripaska private briefings on the Trump campaign, first reported in September 2017.
Deripaska reacted sharply to Navalny's revelations, and even sued Vakushevich and her "sex-guru" Alexander Kirillov, (a.k.a. Alex Lesley) for posting what he claimed were libelous private photos on social media.  Russia's media watchdog, RosKomNadzor, blocked Navalny's blog containing the investigative video report, and the opposition leader did remove them from his site, stating the video was still available elsewhere on YouTube.  Two days ago, Kirillov, Vakushevich and several other were arrested in Thailand where the "sex-guru" was conducting one of his "training in seduction" sessions, which he does regularly around the world. Anastasia Vashukevich was able to record a number of video messages where she asserted that their group had been arrested on orders of Russian authorities. She also warned that if they were extradited back to Russia, she could wind up dead.
Translation of Rybka's in her video posted on Instagram:
"Dear friends from the American press:  I wasn't planning on telling you much at first. But we're now dealing with a very different situation. They're trying to silence us, "shut us down" and for a long time.  Which is why I'm prepared to tell about all the missing puzzle pieces you have been looking for, with confirmation in audio and video recordings, regarding the contacts between our honorable deputies with Manafort, Trump, and all the furor about the elections in the United States.  I know a great deal.  Which is why I'm awaiting your suggestions and waiting for you in this Thailand prison.
Today they told us they arrested us by on orders from someone in Bangkok. They have now paid someone off in order to lock us up for breaking all sorts of Thailand laws. We posted bail, but they still haven't let us go.  Therefore, if you're able to find me alive in this Thai prison, I will gladly talk with you. Awaiting your offers."
It's been reported that Alex Lesley and Nastya Rybka requested political asylum from the US Embassy. We were able to speak with New York resident and one of the participants in Lesley's training, Pavlo Yunko, who was a witness to the arrests. Currently, Pavlo is located in Bangkok and serves as a trusted liaison between the detained group and the press.
Pavlo said in an interview with our site:
"I participated in the training session. Thai police raided our premises on the last day of the training.  I'm certain that they acted with help from Russian FSB, since an FSB agent was present at our training.  He was videotaping everything and clearly anticipated the moment of arrest which he knew about."
Yunko confirmed that the stated reason for the arrests was the failure to obtain a license for their training. According to Yunko, they were taken to court, and after a hearing, Thai authorities released the group on bail.
"However, as the guys were leaving the court building, police detained them again, this time by immigration authorities. Their visas were annulled. During this time, locals let slip out that someone connected with the Russian Embassy demanded that they be detained for any reason whatsoever."
After the hearing Alex Lesley managed to give Pavlo a two-page letter requesting political asylum from the US Embassy, claiming that the lives of the detained are in great danger since they possess "information highly valuable to the US."
Pavlo clarified, "The consulate was closed, and they didn't want to let us in, but I insisted that they speak to me.  I'm an American citizen and I stated that I have very important information."  Soon afterwards, Thai authorities transferred the detained group from one immigration jail to another prison located in Bangkok.
Pavlo also said, "Alex Lesley is sure that Russian authorities are pressuring Thailand to keep them in jail as long as possible or extradite them back to Russia. My Thai friends have also confirmed:  police don't normally conduct themselves in this manner.  Apparently, this is why the Russian Security chief Nikolay Patrushev flew to Thailand a day earlier, which was reported.  For our guys both options are dangerous.  In jail, Alex met with a Chinese opposition activist who was arrested by Thai authorities on orders from the Chinese government.  He's been stuck in immigration jail now for 12 years.  If they indeed get extradited to Russia, they will face certain death. Nastya had an affair with Deripaska for over a year, which is why I don't doubt that she knows important things.  They don't leave such witnesses alive."
Pavlo told us that he was informed that a Russian police squad was awaiting the detained group at the Bangkok airport.
He also mentioned that "It's likely they came in with Patrushev. This is coming from unofficial sources."
(Photos of letter reported by Buzzfeed)
Tags: 2016 elections in the US, Alex Lesley, corruption in Ukraine, International, Mueller Investigation, Nastya Rybka, Navalny, Nikolay Patrushev, Oleg Deripaska, Paul Manafort, Russiagate, Russian interference, Trump-Russia