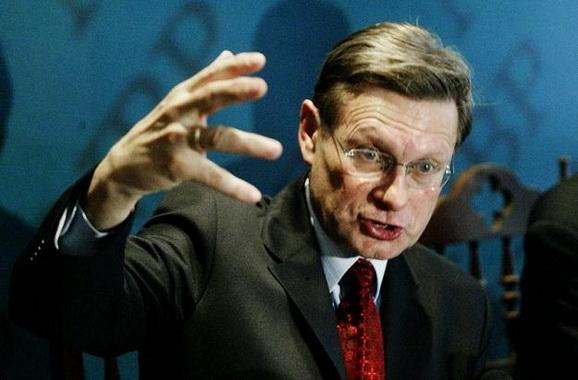 Dr. Leszek Balcerowicz is a Polish economist famous for implementing the Polish economic transformation program in the 1990s that is widely credited for bringing about the Polish "economic miracle." In this interview with Anton Borkovskyi on Espreso TV, Balcerowicz discusses the state of the Ukrainian economy, the challenges and successes of Ukraine's current government and what Ukraine must do to succeed. Balcerowicz is the former chairman of the National Bank of Poland and the former deputy prime minister in the government of Tadeusz Mazowiecki. 
How would you assess the state of Ukraine's economy? How bad is it?
Without exaggerating. Any country that had inherited an empty treasury, as you did after Yanukovych, and additionally had been attacked militarily and economically by its large neighbor would have experienced a recession. This was unavoidable. The government, which is almost a year old, should  not be blamed. Rather it is important to watch what the government does. No country can exist without reserves, but these reserves were almost nonexistent. Therefore, it is very significant that the current government — and Minister Jaresko deserves special merit — have significantly stabilized the budget and really limited the deficit. As a result, the lack of confidence in Ukraine's economy has decreased, leading to a strengthening of the Ukrainian hryvnia. And this is very important for people. Everything has been done for stabilization to begin.
What are the chances that the hryvnia may fall again against the dollar?
Everything depends on how actively the work continues to stabilize the budget and to decrease inflation. In my view, the Central Bank is conducting a professional policy. But much depends on independent factors. I also hope that Ukraine's defense forces have been strengthened and that the West understands the situation sufficiently well to prevent President Putin from taking further steps to destabilize Ukraine.
Will Ukraine be able to withstand this long struggle with Russia and Russian aggression? We understand that this may last not only six months but a year, two years, even 10 years.
The best answer to that is the pace of the reform and strengthening of the economy. Because the economy can only be strengthened through reforms. By "reforms" I mean first of all significant improvements in the conditions for the development of private businesses, especially the small and medium ones. After all, they create jobs and jobs are important for people and they are equally important for the development of the economy. Second, it is understood — and I'm not sufficiently well informed to discuss it — but I believe Ukraine is building up its defense forces.
You had two miracles in Poland. One was in the early 90s, but then some of the Poles began to curse you, holding you responsible for their small pensions and so on. The second miracle was in the late 90s when you were also minister.
Well, it's worth clarifying certain things. First, people curse when those in power do not remove inherited problems. In Poland I was criticized the most by certain politicians, much less by the ordinary people. In politics there will always be those who try to earn political capital on demagoguery. And this is a normal but unpleasant phenomenon. It is important not to let them triumph. Everything must be done to eliminate the problems. And to a large extent this has succeeded in Poland. But we carried out very important reforms even later. I was also deputy prime minister and finance minister during 1997-2000 when we accelerated privatization, deregulated the economy, carried out deep reforms of the local government, reformed the pensions. This shows that it is possible to work even during complicated political periods. Because at that time there was no more euphoria and there were no more so-called post-revolutionary attitudes.
Was privatization the most complicated thing you did?
No. There is usually opposition to privatization on the part of certain demagogic or post-socialist politicians, but how does socialism differ from capitalism?! In socialism everything belonged to the state, and that is why socialism failed and had to fail. Under capitalism there are private enterprises. If there is competition and a strong legal system, capitalism wins and offers better conditions for people. And this is why if there are enclaves of socialism remaining in state enterprises, it is worth turning over their management to more capable hands. There can be exceptions, but they must be completely justified. State security considerations, for example.
Were the members of the governments of Mazowiecki, (Jan) Bielecki and so on aware of the threat of oligarchization in Poland? How were you able to avoid it?
You're asking why this so-called oligarchization — obtaining property through political connections and not the market– never took root in Poland? Because in 1990 we carried out radical demonopolization and radical liberalization. Thus it became easy to create new businesses. And there was competition from the West. And under those conditions only those people prevailed who were more successful in the market and not those with better connections. Political connections did not count. As the person responsible for the economy, I personally treated this as one of the fundamentals — that competition was necessary and that only those who were better competitors deserved to win. In Ukraine during the first 4 years of independence all attention was centered on other things — on national symbols and on symbolic issues rather than on economic affairs. As a result, inflation grew rapidly during these 4 years and there were few market reforms. Under those conditions fortunes arose that were due to political connections and not on winning in the market.
Well we heard the recordings of President Kuchma, the so-called wiretaps, which indicated that everything was decided manually. In other words, someone comes in, brings some piece of paper. I suppose similar conditions could have existed in Poland.
No there was nothing like it. After all people understood that on the part of the government, on my part, there would never be any agreement to anything like that. Such a person would have been sent to the prosecutor's office immediately. Besides, we had Solidarity, which was a civic force and became a political force. And Solidarity also made sure that politics remained clean.
Tadeusz Mazowiecki died a poor or even an impoverished man.
Well perhaps not entirely poor but certainly not wealthy. I too lived for the first 3 year in a high-rise apartment of 56 meters. And the thought would not have crossed my mind to try to enrich myself through politics. Only later, after I had left politics, through international lectures was I able to move from this apartment to a neighborhood of single-family houses.
In your opinion, what has not yet been done that should have been done as soon as possible?
Deregulation, that is the removal of bad regulations that hurt the small and mid-size businesses the most. And these businesses are critical for a healthy economy. Second, it's important to do what other countries have done — to complete privatization because state enterprises always have losses and people pay for these losses.
But aren't there any state-owned enterprises in Poland?
Yes, but this is no excuse to imitate the bad examples in Poland. Instead, you should copy what is good. In Poland state ownership has remained primarily in the energy sector.
Therefore energy should be controlled by the state?
No, it should not. It can be controlled without state ownership. You can have golden shares and you can have veto rights. That is, you can safely proceed further. For Ukraine it is very important to reach clarity on which government sources or structures need to be changed fundamentally. In order to cut the political ties between the politicians and those so-called oligarchs, so that conditions improve significantly for the small and medium enterprises.
How was Poland able to withstand the global economic downturn during the premiership of Donald Tusk?
Poland was able to withstand it because we had no (economic) expansion, in particular no rapid growth of credit. And this was because the Central Bank of Poland maintained relatively high interest rates. But Germany also did not experience a large downturn because it also had no boom. However, Ukraine after 2007 experienced two major upheavals. One was because debt grew too fast. First there was a boom and then a crash, and then there was the attack from Russia at a time when Yanukovych left an empty treasury. And no government could have prevented the downturn of the economy.
How should we treat Russian capital, which is very common in Ukraine and is often affiliated with the government and often even appears to be Ukrainian capital?
It should be treated as capital that is not private and it should be monitored to make sure its actions coincide with the interests of the Ukrainian economy. That is, see if they support the creation of new jobs and production or determine where they do not coincide, especially if the capital is used for propaganda purposes. After all, Russia is attacking on three fronts: economic, military and propagandist. And this is why it is very important for other, independent mass media to develop, so that all this propaganda is met with resistance. I believe the West must do a lot in this area to deliver real information to Russians, who now are very dependent on this very insidious, dishonest Russian propaganda.
Is there any chance for something like a "Marshall Plan" for Ukraine?
The Marshall Plan is a myth. And it was a myth after the war. The Marshall Plan in reality was a very limited aid program that supported reconstruction, or rather the return of capitalism in Western Europe. Capitalism had already existed there, but it had been frozen during the war. What Ukraine needs — and I hope obtains — is the reduction of debts and reforms that enable the influx of private capital. In Poland we also has something of a catastrophe at first. The capital did not rush in even after we began radical reforms. Only after it became more evident that we would  be successful did more and more private capital begin to flow  in. Reforms should seek to create a better environment for all investments — both Ukrainian and foreign.
Is there any chance for the reduction of debt?
I hope so. I can only speak in this fashion since I do not represent this side, but I can express great hope and conviction that Ukraine should get debt reduction from the creditors.
Well how should we treat the ordinary people? We know that Ukraine is an old country and that we have many retirees and quite a few poor, unemployed people. I understand that social benefits need to be cut, but on the other hand, people already get so little.
No, no. In my opinion it is much more important in a situation where there are many retirees to raise the retirement age, which is very low in Ukraine.
Low?
Of course it is low. What is the retirement age?
At 60.
For women it is even lower than in many so-called rich countries. Because pensions are always low when there are very many retirees. Certain steps have already been taken, but it is important to limit privileges to avoid situations where certain groups retire earlier and have higher pensions than others. And certain steps have already been taken to address that in the current budget.
Are we talking about pensions for the security forces?
Well there are more groups who receive privileges. A principle of equal treatment needs to be implemented, but on the other hand, there needs to be a big campaign to educate people that if they retire early ( pensions are low while costs are enormous) then the result is that taxes are very high, which stifles the entrepreneurs. Thus there are fewer jobs and that means unemployment. It's important to explain, to demonstrate through films, graphs. This isn't easy and not everyone will be convinced. But other countries have done this, and they had a less complicated situation than in Ukraine.
But won't this finish off the state? We know very well that Russia always takes advantage of the uninformed masses.
I speak with all kinds of people from different environments. And this reinforces the fact that there is mobilization for good things first of all. We're talking about Maidan and post-Maidan. Second, people here are not so easily provoked by populism. But obviously it is very important for people to be presented with a clear plan and important to have more of it.
Have you received any offers to join the government or the presidential administration as a consultant?
Here it is important to distinguish two things — first the position and second the work. I'm not interested in any position. Obviously there were certain proposals for me to join some council. But I'm interested in the work. And if talking with you gives me the opportunity to address hundreds of thousands of people then this is very important work — to share an experience that is very important for Ukraine.
I understand that you know the international capital environment very well and we know that is needs Ukraine. We hoped that it would be possible to create something similar to what had been done in Poland with the participation of George Soros — meaning some kind of investor council for Ukraine.
No council will replace the creation of a favorable environment for private capital. These types of councils are often decorations. Decorations will not take the place of better products and better policies. It is more important to see what is happening: what is improving and what is not. To keep a watch on the government without demagoguery — a government that in my view is the best one since 1991. And I come here regularly.
Did I hear you correctly? The best government?
Yes. Therefore it needs to be monitored but in a professional manner. It needs to be given a chance. It is important to criticize but for significant matters and  not criticize for everything under the sun.
Well, precisely, there is an information campaign under way to discredit the current government. We understand that this is a political game. Although of course there are things to criticize.
The essential thing is not to become demagogues, not to hold the government responsible for the absence of miracles. Or for actions taken out of necessity. The reduction of large subsidies for heat and gas was inevitable. Poland did this 20 years ago and because of that we now have a much simpler situation. So it is important to distinguish between demagogic criticism and meaningful criticism that helps the government to advance.
Well, but people are very unhappy because people see the bills.
First, I said that what is happening in Ukraine now happened in Poland a long time ago, as well as in other countries. This is elementary. Second, the previous system was such that those who had  larger homes, apartments, and especially palaces received enormous subsidies and paid very little for them. And who paid for them? Because the state does not have its own money. Other people paid, those who paid taxes. This was such a system where the poorer people paid for the rich. This was unfair and ineffective — a system that destabilized the economy. Because of that the reduction of subsidies, even  if not complete, is a step in the direction of greater fairness and also  removes a source that pulled down the Ukrainian economy and made it dependent on Russia. Because the lower the gas prices, the more gas is used. I am convinced that many people understand this, and with the help of a proper campaign even more will understand. Politicians who would take advantage of this to attack the current government are demagogues. It is important to understand that they wish to harm Ukraine. First, the current government and the government in general should have a short but clear plan, a kind of schedule  with the diagnosis, the existing problems and the proposed solutions and timeframes. We had that. In the beginning I always had something similar and I believe it is very important. It is a tool to support discipline — that the promised reforms have been carried out. Second, it is always possible to do a better job presenting what is being done and why it is being done — both abroad and to the Ukrainian public. There is much work to be done. Here I agree with you. It is bad when there is total criticism that supposedly nothing is being done. After all a lot is being done.
In Ukraine?
Well yes, of course. I believe that Ukraine is achieving the best results in Europe when it comes to fiscal consolidation. It is a way out of a very dangerous situation of a huge budget deficit.