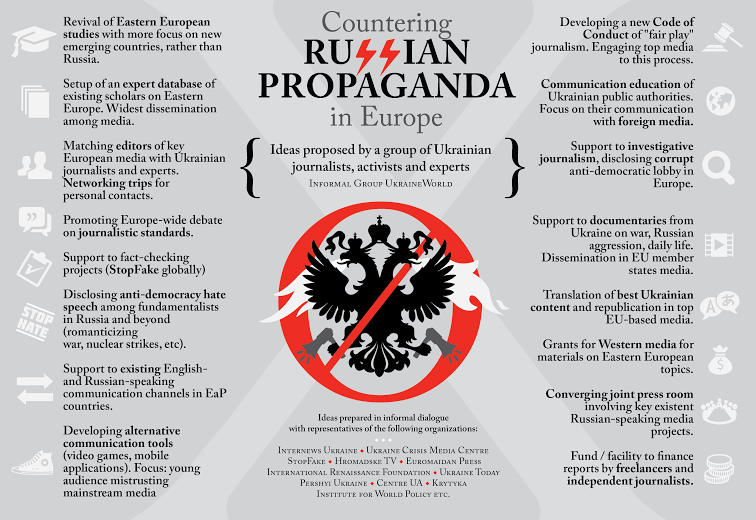 Ideas proposed by a group of Ukrainian journalists, media activists and experts (informal group UkraineWorld) on possible ways of countering Russian propaganda and unfair journalism
1) Revival of Eastern European studies in the EU with more focus on new emerging countries of Eastern Europe which showed significant democratic committment: Ukraine, Moldova, Georgia. Providing significant number of scholarships for Western scholars (both experienced and young scholars making their first steps in the field) studying Eastern Partnerhip countries for their stay and research in these countries. Steps to create a new generation of scholars focused on Eastern Europe as opposed to those seeing Eastern Europe through Russian lenses.
2) Setup of an expert database among the existing prominent scholars focusing on Eastern Europe, security studies, etc. with their profiles and contacts; widest possible dissemination of this database among the editors of key European media.
3) Systematic work on matching editors of key European media with Ukrainian and Ukraine-focused journalists and experts: grants for networking trips of representatives of Ukrainian civic communication and expert institutions with editors of key media outlets in specific EU member states; grants for regular visits of editors of Ukraine, including Eastern regions close to conflict zone.
4) promoting Europe-wide debate on journalistic standards in a new environment, their correlation (i.e. "balance of opinions" vs "facts"). Promoting Europe-wide debate on freedom of speech and possibilities of restricting information / messages promoting war, conflict, hatred, xenophobia etc
5) promoting new self-organization of journalists worldwide, aiming at their re-definition of journalistic standards, principles, values of the profession. Holding a conference of European regulators aiming at developing a new Code of Conduct of "fair play" journalism.  Analyzing instruments and influence of Russian propaganda in the conditions of today's democratic societies. Invitation of top media to subscribe to the new Code of Conduct.
6) supporting projects on communication education of public authorities in Eastern Partnership countries (particularly Ukraine) with key focus on their communication with foreign media
7) more support to investigative journalism, aiming to disclose corrupt schemes of anti-democratic (i.e. Russian) lobby in Europe. Support to investigative projects disclosing links between propaganda and corruption
8) support to documentaries from Eastern Partnership countries focused on war, Russian aggression, lifestyle of people OR success stories, with their further possible dissemination in EU member states media.
9) Support to projects focused on fact-checking and disclosing lies on Europe-wide scale (StopFake, etc)
10) Support to projects disclosing and analyzing anti-EU and anti-democracy hate speech (in Russia, but not exclusively) directed against democracy and Western civilization and disseminating destruction rhetoric (romanticizing nuclear strikes, etc) – indicative title StopHate.
11) Support to existing English- and Russian-speaking communication channels both in Eastern Partnership countries and in EU member states. Support to Russian media in exile and / or in other Eastern European countries (Ukraine, etc).
12) Support to alternative / communication ideas aimed at audience which distrusts mainstream media. Developing alternative communication tools (video games, mobile applications for youth etc)
13) translation and dissemination of best content of Eastern Partnership countries and suggesting them for publication copyrights free in top EU-based media. Setting of a copyrights-free resource for translations of best publications (like Project Syndicate) inviting European media to use them. Providing grants for key European media inviting them to republish best EaP (including Ukrainian) materials.
14) Providing grants for EU-based media specifically on Eastern European topics (travel costs, translation, permanent columns of the best Eastern European intellectuals etc).
15) Setup of a converging joint press room involving key existent Russian-speaking media projects.
16) Setup of a fund / facility to finance reports by freelancers and independent journalists who would publish their reports and analysis on existing and popular media platforms.

Ideas prepared in informal dialogue with
representatives
of the following
organizations
:
Internews Ukraine, Ukraine Crisis Media Centre, StopFake, Hromadske TV, Euromaidan Press, International Renaissance Foundation, Ukraine Today, Pershyi Ukraine, Centre UA, Krytyka, Institute for World Policy
, etc.
Tags: Infographics, Russian propaganda