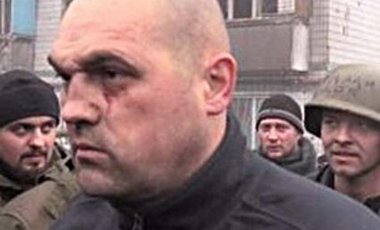 The commander of the 90th Battalion, 81st Brigade and defender of Donetsk Airport, Oleh Kuzmynykh is to be released soon.
This information was confirmed by volunteer Victor Maystrenko, who is also involved in the liberation of Ukrainian prisoners. He notes that Ukraine has not exchanged the previously detained sergeants and officers of the Russian GRU. Other prisoners will be exchanged for the Ukrainians POWs.
"Two odious fellows will be transferred – one from Kharkiv, an ideologist of "russkiy mir". They've long wanted him. I don't remember his name…." said Maystrenko.
He added that the exchange will be announced by the Presidential administration, and that the President will also explain who was responsible for this transaction.
However, as of 21:45 on May 22, the SBU did not confirm the release of Kuzmynykh. "We're working hard for this to happen." reports the Ukrainian intelligence agency.
Earlier, the President of Ukraine, Petro Poroshenko, informed that "the humanitarian subgroup in the tripartite contact group has completed its work".
"Today, it is very likely that the commander of the 90th Battalion, 81st Brigade, our own Cyborg Kuzmynykh, will be released. We hope that he will be home this evening. Let us pray that this operation is completed successfully." said the President.
Oleh Kuzmynykh and other Cyborgs were captured by pro-Russian terrorists on January 20. On January 22, Russian media broadcast a video of Russians bullying and insulting the captured Cyborgs.