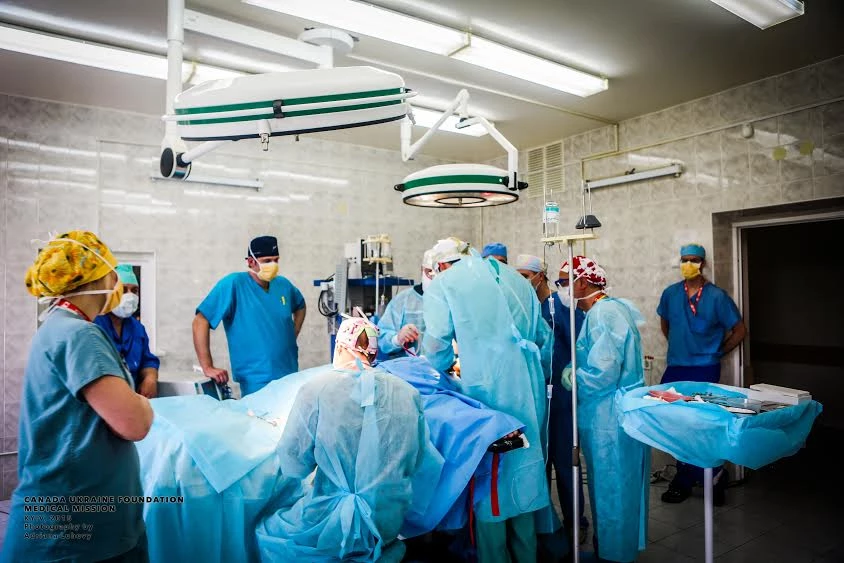 A team of medical professionals from Ukraine and Canada operating at the Ukrainian Military Hospital" Photo credit: Adriana Luhovy 
Minister Rob Nicholson visited the mission while in Ukraine recently, and announced support for the Ukrainian Military Hospital
Toronto, Canada (May 20) – A specialized team of Canadian health professionals recently returned home after completing a medical mission in Ukraine. This mission marked the second medial mission the Canada Ukraine Foundation has organized in as many years.  The team worked alongside Ukrainian doctors and nurses in performing reconstructive complex surgical procedures on victims of the Euromaidan movement and Vladimir Putin's invasion into Eastern Ukraine. All surgeries took place in Kyiv at the Ukrainian Military Hospital.
The medical team of 22 professionals was comprised entirely of volunteers and included surgeons, anesthetists, and nurses. The team was assembled from across Canada. 49 patients from across Ukraine with complex post-traumatic defects and deformities were seen in consultation.
A total of 53 reconstructive procedures were performed in 29 patients between May 10-16, 2015; for a total of 116 operating hours.
The procedures included:
13 upper extremity reconstructions
5 skull reconstructions
14 facial soft tissue (nose/eyelid/lip/cheek/scalp) reconstructions
20 facial bone reconstructions (mandible, orbit, midface, nose)
"During this mission we focused our efforts primarily on injuries to the skull and face. The majority of the injuries sustained by the patients were shrapnel/explosive wounds and gunshot wounds," said Dr. Oleh Antonyshyn, Head of the Adult Craniofacial Program at Sunnybrook Health Sciences Centre and Professor of Plastic Surgery, University of Toronto. "Multiple procedures were done in many patients, by one or two surgical teams, working concurrently or consecutively. And perhaps most importantly, we have already identified 10 patients for major reconstructive surgery on our next mission."
During this medical mission, Canada's Minister of Foreign Affairs, Rob Nicholson visited the Ukrainian Military Hospital. He met with patients and Canadian and Ukrainian medical professionals. Just prior to his visit the Government of Canada announced $1.2 million in support for building additional health care capacity in the Ukrainian military.
"I am grateful to the Canadian Government for supporting the Ukrainian Military Hospital through the Canada Ukraine Foundation", said Victor Hetmanczuk, President of the Canada Ukraine Foundation. "These funds will go towards much needed equipment to increase their capacity to treat wounded Ukrainian soldiers".
Funding for both medical missions comes largely from "United for Ukraine", a fundraiser organized by the Canada Ukraine Foundation in September 2014, attended by Prime Minister Stephen Harper and Wayne Gretzky. The Toronto fundraiser was attended by almost 1200 people and raised upwards of $200,000. Eugene Melnyk and Bohdan Onyschuk co-chaired the fundraising efforts for the mission.
"I am grateful to the Canada Ukraine Foundation and to the thousands of Canadians who donated to our mission," said Dr. Antonyshyn.
The Canada Ukraine Foundation is thankful for the support of Stryker Canada, which once again awarded the medical mission a grant which provided for virtually all surgical hardware and implant materials for the medical procedures.
The Canada Ukraine Foundation is grateful to the sponsors of United for Ukraine, who made this, and the first mission possible. They include: Eugene Melnyk, Canadian Tire, Molson Coors Canada, the Temerty Family, the Ihnatowycz Family, Bell Canada, the Globe and Mail, the National Post, the Jacyk Foundation, the Ukrainian Credit Union, Buduchnist Credit Union, Caravan Logistics, Yarcia Huculak and Family, CIBC, Manulife, and Community Trust Credit Union.
The Canada Ukraine Foundation was established by the Ukrainian Canadian Congress to coordinate, develop, organize and deliver assistance projects generated by Canadians and directed to Ukraine. It is a registered charitable foundation.  Donations for the next medical mission and other projects may be made at 
http://www.cufoundation.ca
. The
first medical mission
of the Canada Ukraine Foundation was made in November 2014.
Tags: Archive, Canada, Help, Help Ukraine, International, Medics, Stories