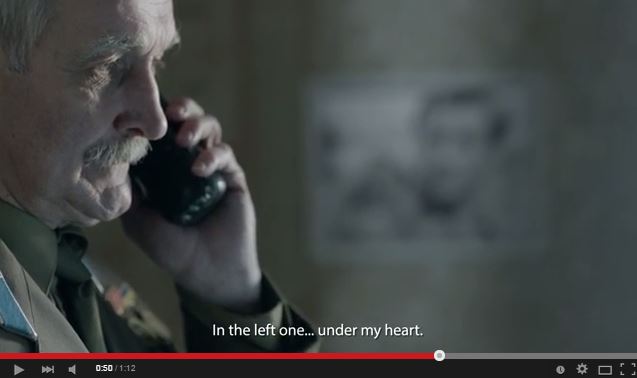 Snapshot from "Grandfather" video 
We Remember. We admire. We will prevail.
Information Resistance group with the assistance from Ukrainian National Guard, National Military History Museum, and creative marketing agency TABASCO, a leader in the advertising marketing, created social videos commemorating the Allied victory in the Second World War. These videos tell a story of love for Ukraine and the connection between different generations and memory of the victory over Nazi occupiers.


According to Dmytro Tymchuk, a Ukrainian MP and coordinator of Information Resistance, this project is designed to combat the tide of Russian propaganda and speculation regarding Victory Day celebration as well as veterans and awards of the Second World War:
"These social videos tell a story of two generations, who despite a raging conflict can find common ground. In the center of the story are World War II veterans who receive a telephone call from their grandchildren: one is a nurse in the military hospital , the other – a soldier in the Ukrainian Armed Forces.  Their dialogues better than any political rhetoric show the true feelings of "modern Banderites" (as Russian propaganda calls us) regarding the memory of our grandfathers who fought and stopped fascism. We value their heroism and sacrifice and will never forget it."
Limelite Studio, a leading Ukrainian production studio was in charge of the videos' filming and production and made a colossal contribution to the task. The Israeli film director Eli Sverdlov agreed to participate in this project, despite his tight schedule:
"Over the years of my work and partnership with Ukraine I feel a strong connection to its people. Ukrainians are always in search of justice. Our short films tell a story of different generations, their struggle and desire for freedom; a feeling that is passed from parents to children, from grandparents to grandchildren. As an Israeli, I can relate to this story and to this passion."
In early April, Ukrainian MPs adopted a legislative initiative regarding the establishment of May 8th as the Day of Remembrance and Reconciliation in honor of all victims of the Second World War. It was also decided to leave May 9th as a Victory Day over Nazism. At same time, Russian President Vladimir Putin continues to build its own ideology based on the myth of Russian people's exclusive role in the victory of the "Great Patriotic War," using it as a weapon in Russia's war against Ukraine and its expansionist policy overall.
Tags: Donbas, Russian invasion, Soviet Great Patriotic War (1941-1945), Video, World War II / WW2 / Second World War (1939-1945)