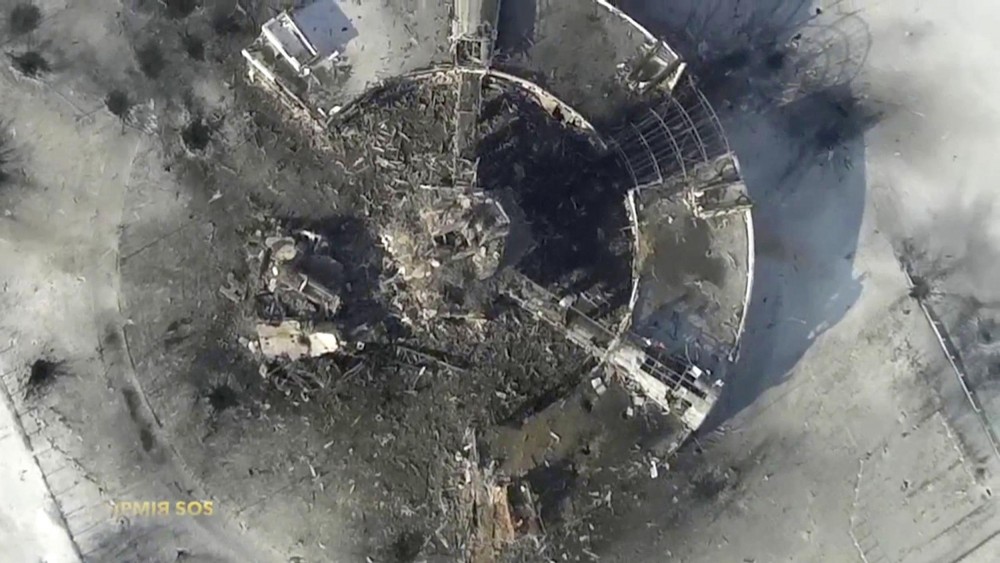 Arial view of the destroyed Donetsk Airport , photo taken on Jan. 15 2015 
It's called a crisis, civil conflict, unrest, an anti terrorist operation (ATO), rebellion, separatism, and any other adjective. Mysteriously though, never the 3 letter word, "War". If there even is a fleeting echo of "war", it's only to label it as a civil-war within Ukraine. (More on that below)
There have been two Minsk ceasefires and popular demand to label the "situation" in Ukraine for what it is, has fallen on deaf ears. Seemingly everyone from President Obama, chancellor Merkel, President Hollande, President Poroshenko, to Western media and Ukrainian Media, is tone deaf.
Those who self identify as Russians must be against a self identified Ukrainian, who is also a jewish fascist, and a puppet of "America" who wants to destroy Russia and all that is "Russian Soul".
Words and Labels are important.
They define tribes, affiliations, cultural values and most importantly — one's own self identity. In some respect, at least the Russian narrative, the current unstated "war" in Ukraine is itself about labels.
Those who self identify as Russians must be against a self identified Ukrainian, who is also a jewish fascist, and a puppet of "America" who wants to destroy Russia and all that is "Russian Soul." Never mind that Ukrainians never invaded Russia, genocide is in order (original post). The irony of the additional objectification and non human descriptors of Ukrainians hasn't been lost on this author.
Given that we can all agree that Blue should be Blue and Yellow shouldn't be Purple (as in the generally accepted wavelength bands of light), we can also agree that facts should be facts. Hard, cold, emotionless and lack of rhetorics facts.
If the voice of the people is to be heard, let's dive into what is actually a War, and why there's a sudden culture of denialism on all fronts with no "War" in Ukraine.
War is a public, organized and often a prolonged struggle for supremacy that includes the use or threat of lethal force. War can be carried out both by states and non-state actors. It is generally characterized by extreme violence, large scale human suffering, social disruption and an attempt at economic destruction.
Ukraine is 100% at War, with Russia.
If we look skin deep, Ukraine is 100% at War, with Russia. All the elements are there. Organized, prolonged struggle for supremacy that includes lethal force. By this point in the year long conflict, no one outside the hermit kingdoms of this world, doubts that Russia has indeed invaded Ukraine and keeps supplying arms, heavy artillery, training and its own soldiers, towards the conflict zone in Ukraine's Donbas region.
Yet the world is still shy to name this for what it truly is. There are a few fundamental reasons why that is.
First — The Budapest Memorandum. December 5th, 1994 Ukraine gives up the 3rd largest Nuclear arsenal in the world, in exchange for USAID money and, most importantly, a guarantee of territorial integrity and political independence.
Primary motivation of having Nukes in 20th century is this concept of mutual assured destruction (MAD). The theory is based on deterrence, in which neither side, once armed, has any incentive to initiate a conflict or to disarm. Clearly this is not a sustainable or scalable way to go. If countries all arm themselves with nuclear weapons, eventually one of them will not hold back and Einstein's prediction about World War IV being fought with sticks and stones will become a self fulfilling prophecy.
The Budapest Memorandum should have protected Ukraine from Russia's invasion. But! If there is no formal invasion, no official label as such, then the agreement does not have to be fully enforced. Who wants to go to war with Russia? Certainly not Europe or US. They are already fighting a proxy war in Syria with Putin giving guns to Bashar Al-Assad and John McCain arming the Syrian Rebels, and the West is not winning. (Ahem, ISIS). The last thing Europe needs is a proxy war right in it's geographical centre.
There was also the problem with Iran. It's interesting now to look at this sudden success to an agreement about Iran's Nuclear Program. The lack of backbone behind the Budapest Memorandum, gives Iran and any other country worried about it's territorial integrity and political independence, the full permission to disregard any non-proliferation treaties and international agreements. They have a perfect example of their lack of worth, right in the Western world.
Thus no War in Ukraine, gives US and Europe a potential to salvage the strength of international agreements. No War = No Failure. The alternative would be to escalate to full scale War and beat Russia into submission. Going back to Mutually Assured Destruction this isn't an option that is available for the Western Powers that be.
Second — Ukraine has made it's own bed and given itself rope with which it's hanging itself. 23 Years of independence, and not a single meaningful culture unity program that united Krasnodon to Uzhhorod, and Sumy toYalta. Nothing. Disparity between language lessons, history, and education systems still exist from region to region, town to town, and village to village. Yes there is a conversation about Unity now, but growing up in Western Ukraine vs Eastern Ukraine, for a child was as stark of a difference as between West Germany and GDR. I know because I was one of those kids in Western Ukraine. Because there's no unity, the initial response to the Crimean invasion and subsequent encroachments in Donbas was fractured. People didn't know how to feel themselves within their own walls. Not to mention the lavish promises of better Russian life, bigger pensions, cheaper prices, and guns pointed at sham referendums, who wouldn't vote no to that!
Third — and this is perhaps the most important. Ukraine itself is handcuffed in its own ability to label this a war and institute martial law. The country is arguably in its worst financial position since independence in 1991, and desperately needs the financial and economic support from IMF and its Western Partners. GDP for 2014 is forecasted to have fallen 8%. Early 2014 Ukraine requested a $35B loan from its partners in order to avoid a state default. It received $17B for 2 years, and in 2015 is seeking another $15B because the original $17B was based on unrealistic economic growth projections (from IMF).
The most important nuance for Ukraine is to stay as far away from the War Label itself is due to foreign support, or rather lack thereof, if there is a "War". Instituting martial law in Ukraine has the potential to cut off foreign funding and the quiet foreign military supplies. It will also remove freedom of elections, press, and speech in a country that has just recently wrapped up a revolution fighting for those exact same rights. A true catch 22, damned if you don't, and certainly damned if you do. It removes any argument and conversation about fighting for western ideals, when the next step is to curtail and remove those rights to fight off a foreign invader. Ukraine, unfortunately, like the game of Risk — is in a weak position with all 6 sides biting at its heals.
The end game is of course to de-escalate this unstated war into a smaller conflict. Label it first as a civil war, then slowly downgrade, step by step until it becomes a nuisance and annoyance.
This would all work in theory if Minsk II is held to all of its agreed on principles. The winning factor for Ukraine is the clause to return control of its official border with Russia. Once that's closed, tanks and heavy artillery won't pass into the hands of Russian trained militias. But that's utopia, and it's not happening. Control of the border remains under Russian forces (from their side) and by pro-russian terrorists on Ukraine's side. A win-win for those teams, and a frozen conflict for Ukraine — even if Putin does "withdraw" his forces sometime in the future.