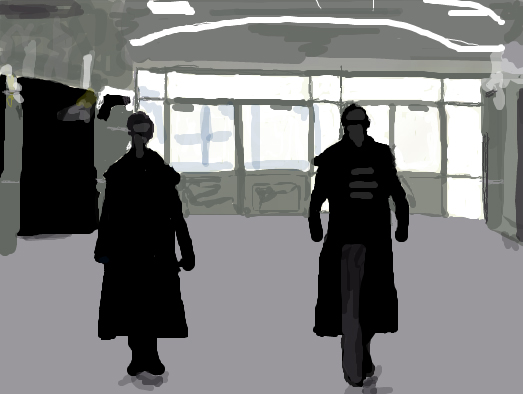 "I was cured allright" 
(Anthony Burgess, "A Clockwork Orange")
Butirsky regional court of Moscow has stated its final verdict on the case of a teenage school shooter Sergey Gordeyev, who last year shot and killed his geography teacher Andrey Kirillov and a police officer who has arrived at the scene answering a distress call from the school. According to court's decision, Gordeyev was deemed insane, and sentenced to obligatory psychiatric therapy none less than 6 month.
On February 3rd 2014 Gordeyev has entered his school around 11:40 a.m. armed with Tikka T3 rifle and Browning BAR M1918 carbine, both weapons belonging to his father, both weapons concealed under a long fur coat. The boy has threatened a security guard with one of the weapons, and ordered him to let him through. Several minutes later, Gordeyev entered his classroom and immediately shot the teacher in the stomach, seriously wounding him, but not killing. Seeing the adult was still alive, Gordeyev shot him second time in the head, execution style. He then pointed his weapon at the classmates saying he doesn't want to kill any of them (probably hinting at the fact that he, nevertheless, will if they provoke him). 5 minutes later two police officers arrived at the scene and tried entering the classroom to detain an armed teenager, but the perpetrator opened fire in response, hitting and wounding both of them. One of the officers, Sergey Bushuev would later die in the hospital. An hour later special forces and ambulances arrived at the school, also fire trucks and a helicopter of MChS. Gordeyev made 6 shots at the arriving help, but later surrendered, being talked down by his father.
Leter, Gordeyev would claim that he wanted to commit suicide, and that was his primary motive. He said he "didn't know" why he shot his teacher who, according to the killer, started approaching him and thus provoked him. "I didn't want to kill anyone, I wanted to die. I was curious what would happen after. What lies beneath death? I also wanted to see how people would react to what I'm doing. I came to kill myself. I had no conflicts with Andrey Nikolayevich [Kirillov], on the contrary – we were in good relations. He approached me, and I shot – I don't even know why, maybe because nobody would believe that I'm capable of this".
This story of his, however, does not explain neither why Gordeyev came to school so well armed, with much more than only one bullet, nor the second fatal shot in the teacher's head. Yet today the Moscow court concluded that the boy was psychotic, and ordered therapy instead of incarceration. In 6 month Gordeyev can be out and free, with no record of murder, "cured".
Tags: International, News, Russia