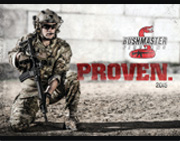 The Polish Rzeczpospolitica news publication is claiming that Czech companies, despite EU bans, in February sold Bushmaster automatic weapons manufactured in the US to Russia as well as German produced Sig Sauer pistols, considered the best in the world. Rzeczpospolitica  says the information is based on available documents in its possession, reports Ukrainska Pravda, March 2.
According to the Polish publication, the weapons were officially sold for hunting. However, these weapons are used by special forces in many countries, including the US
"So far no EU country has dared to sell lethal weapons to Ukraine. The weapons sold by Czech companies to Russia can be used not only to fight the Ukrainian army but also for provocation. If they are used in eastern Ukraine, the Kremlin will claim that Washington is secretly supplying weapons to Ukraine," Rzeczpospolitica writes.
The publication points out that such a scenario is quite likely since Russia, for example, does not need sniper weapons since it already uses the Dragunov sniper rifles.
A member of the EU Council responsible for overseeing the ban on weapons sales to Russia has stated that the Czech Republic is not necessarily violating the EU embargo since the ban does not include contracts concluded before August 1, 2014.
Update, 3 March 2015. The Czech republic has
responded
to the Polish criticism, claiming that the arms embargo is fully observed and the exported modern guns are designated for hunters.
Tags: Czech Republic, News, Russia, Weapons