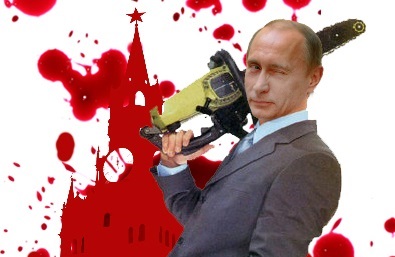 Putin 
You should use an aftershave lotion with little or no alcohol. Never use cologne on your face, since the high alcohol content dries your face out and makes you look older. (Bret Easton Ellis, "American Psycho")
What is a psychopath? There are numerous theories and definitions of that term, books are written on it, many contradicting each other, yet today the understanding of psychopathy has become much wider and deeper, so that some basics of what psychopathy is could be agreed on.
Briefly speaking, a psychopath is a person who has no regard for others. Psychopathic personalities tend to have issues with having emotions and expressing them, feeling remorse, empathy for others, grief, love – all these states of mind are mostly unknown to a psychopath. Psychopathic people are cold, calculus and methodic because of this. They might appear emotional when they think they can benefit from it – psychopathic people are good at observing and faking emotions as well as manipulating the emotions of others. They like to look neat and dress sharp for that same reason – so that the others would think good of them. This doesn't mean a psychopath necessarily cares that much for what others think at all, but if that means having privileges, influence and, most importantly, power, he will bite into it.
A desire for power is another common trait among psychopaths. They love to be in charge of something, anything coming their way, even if it's just a job in some menial government service or a manager's position in a small firm – if this means he or she can give orders to others, and others will have to obey, a psychopath will take the job. Most notorious examples of psychopaths in such positions are probably Dennis Rader aka the BTK killer who had been a compliance officer in Wichita for the last years of his freedom and John Wayne Gacy, a manager at the construction firm, who was in charge of hiring and managing young (read: small, easy to control and trustful) boys, several of whom he had raped, tortured and murdered after. Many psychopaths settle on security guard jobs, because they don't require as much discipline as real police or army service.
These gruesome examples, however, don't mean all psychopaths are serial killers or mass murderers. The main objective for psychopaths is being in control, and for some of them killing is just one way of achieving it. This, however, is much more common in those psychopaths, who have failed to achieve power through other means. Many of them never kill, at least directly, and stick to being pathological assholes to others through the course of their lives. Crocked politicians, unfair bankers, loan sharks, dirty cops have quite a number of psychopaths among them, because these jobs require a certain amount of disregard for others, and this is what psychopaths do best. Another aspect for why the psychopaths make such career choices and often succeed in them is their ability to manipulate people.
Psychopaths are often pathological liars and manipulators. They don't care if what they say is not what they're thinking – they will usually tell others what they want to hear. This skill is a politician's dream. Most politicians who want to influence the people by sucking up to them achieve it through years of practice, with the help of whole staffs of speech writers and image makers. To psychopaths it comes naturally – it's just what they do.
So, taking into account all that's been said, inevitably comes the million dollar question. Could a person, who has no remorse or regard for others, who has a natural talent for telling a lie with a straight face, has certain charisma and means of influencing people, doesn't hesitate when it comes to breaking the rules, doesn't show emotions and has a pathological need for power – could that person make a successful career in an organization such as KGB?
Of course, throughout the course of history almost any politician had been accused of being insane, mad or plain evil, not to mention psychopathic. Hitler is often deemed as a classic psychopath, and Stalin was diagnosed as being deeply paranoid by many researchers of his life. Yet Vladimir Putin today fits the profile of a sociopath quite too well for it to be ignored.
In his early life, Putin shows classic early signs of a biding psychopath. According to many sources, he was one of the few last kids in his class to become a member of the Pioneer youth organisation because of his misbehavior and distaste of complying to rules (something most psychopaths face in early childhood). Later, however, he seemed to have learned to work with his shortcomings. Putin's childhood heroes were intelligence officers in the Soviet war movies, especially those who were acting undercover according to the plot, and got to wear fabulous Nazi uniforms. These people not only were paid to lie – they had to do it for the greater cause. Later he does everything in his power to make this fantasy come true.
Yet even when Vladimir Putin became a KGB officer, some of his colleagues and those who just met him recall him being arrogant and not abiding to the rules when he could get away with it, drinking on the job, abusing women and even his own wife.
Whether these facts of his past are true or not, what Vladimir Putin is doing today can be deemed as psychopathic. The most obvious – lying; though deception has always been a crucial part of dictatorship states, Vladimir Putin it seems took it to a whole new level. Since the first disaster with Kursk submarine which, according to him, "sank" as then to-be dictator of Russia briefly stated at Larry King's show, struggling to hide a smug smile, to war with Georgia in 2008 which he claimed attacked Russia first, to the annexation of Crimea taken by Russian army which Putin denied for almost a year, to the war in Eastern Ukraine, involvement in which Russia still struggles to deny despite multiple evidence suggesting otherwise. Furthermore, Putin's desire for power has always been so maniacal most of those opposing him were imprisoned, chased out of the country or plainly killed. Such were Mikhail Khodorkovsky, Boris Berezovsky, Alexander Litvinenko, Anna Politkovskaya and many more who have been arrested, imprisoned or who died inexplicably – even the Pussy Riot punk band, who dared to sing a song where they were asking Virgin Mary to "take Putin away", became a victim of Vladimir's Putin inability to give up the power.
Right now Vladimir Putin seems at the peak of his popularity in Russia. Yet his lying, cheating and all in all anti-social behavior had reached its peak too. And if Vladimir Putin truly is a psychopath, this means he either is, as many psychopaths are, just too sure that he will get away with it, and became so arrogant he doesn't hide these traits of his character, or he feels he is cornered, and can lose his power, so he gradually drops the facade as he feels this holds him back from achieving what he wants – remaining in charge.
On the 20th of April 1999 in Littleton, Colorado, two high school kids, Eric Harris and Dylan Kleebold, entered their school, Columbine High School, carrying two big duffle bags. They have placed the bags in school cafeteria, went outside again and took positions on a steep hill in front of the main entrance, getting ready to shoot those running out from the explosions, as the bags they put under the round white cafeteria tables contained two powerful propane bombs with timers made out of alarm clocks, timed to explode when the cafeteria had the largest amount of people. The bombs, however, didn't go off, as their creator, Eric Harris, was just an amateur, and failed at constructing them. The boys then entered the school, and shot 13 people to death, wounding many others. As the police arrived, Eric and Dylan shot themselves in the school library. They couldn't handle much loss of freedom anymore – they have had enough after their probation as a result of previous felony.
The Columbine shooters wrote in their diaries that they wanted revenge on the world. And this is exactly how a psychopath sees the world around him – he is alone against it, and everyone who isn't useful to him is an enemy and must be eliminated.
Yet whilst Eric Harris had only homemade propane bombs, Vladimir Putin has real weapons of mass destruction, and what Eric and Dylan only dreamed of ("killing the whole damned human race") can be at least attempted by him. Yet the US and Europe seems, just like the police forces in Columbine, "locking the perimeter" instead of entering the building and neutralizing the threat.
One more thing must be understood when dealing with a psychopath. Psychopaths usually don't care for the consequences of their actions. They will not let others intimidate them, if this doesn't mean being immediately threatened. This makes psychopaths extremely dangerous, especially when their power and control become questioned. When they're armed with weapons of mass destruction – one might only imagine how extreme this danger can be.
Tags: Op-ed