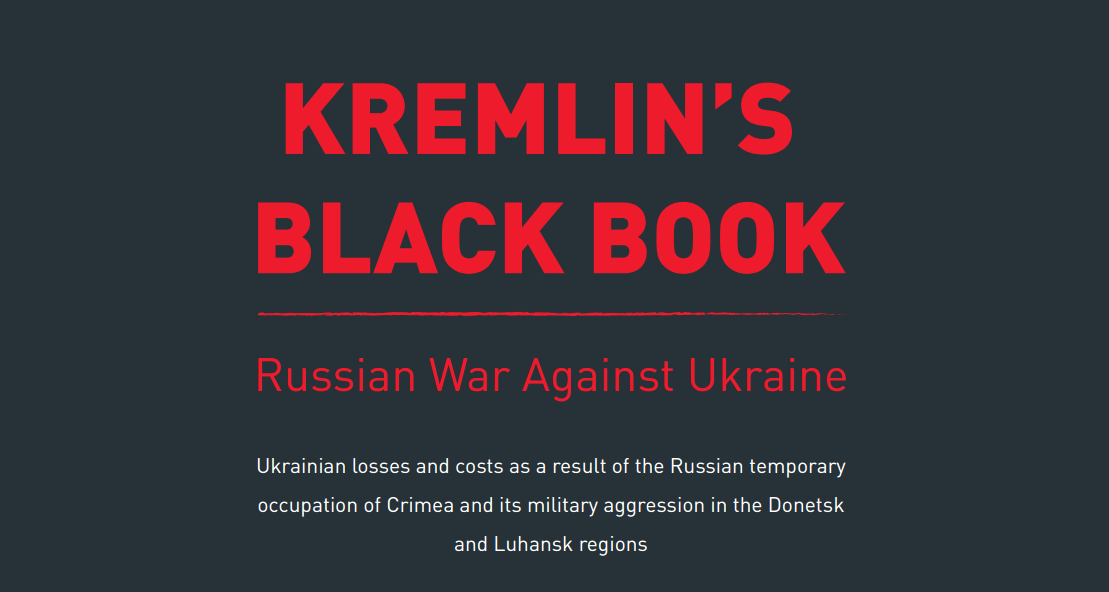 The Ukrainian government has gathered the mounting human and economic damages inflicted by the Russia's war against Ukraine in a publication entitled Kremlin's Black Book. It is available for downloading in
Ukrainian
,
Russian
,
English
,
German
, and
French
.
The information comes from government sources and is accurate up to February 2015, but the costs of the war mount with every day. "It is still impossible to find out the total value of victims and losses." mentioned Danylo Lubkivskyi, Advisor to the President of Ukraine, "but step by step the Ukrainian government will inevitably reveal the accurate numbers, just as the international condemnation of Putin's regime."
Key figures:
By early February 2015, 5 086 people have been killed and 10 948 wounded as a result of Russian aggression;
978,482 Ukrainians were registered as internally displaced persons as of February 2, 2015;
1,306 soldiers of the Ukrainian Army died in military actions before January 1, 2015;
The war waged by Russia destroyed 20% of Ukraine's economic potential;
Ukraine spends $3,8 mn daily to defend itself from Russian aggression;
The estimated value of financial losses due to illegal confiscation of property of more than 4,000 enterprises by the Russian criminals on the Crimean peninsula is about
$44,7 mn;
More than 9,215 apartment buildings (12% of all residential structures) were destroyed or severely damaged by February 3, 2015 in Donetsk Oblast;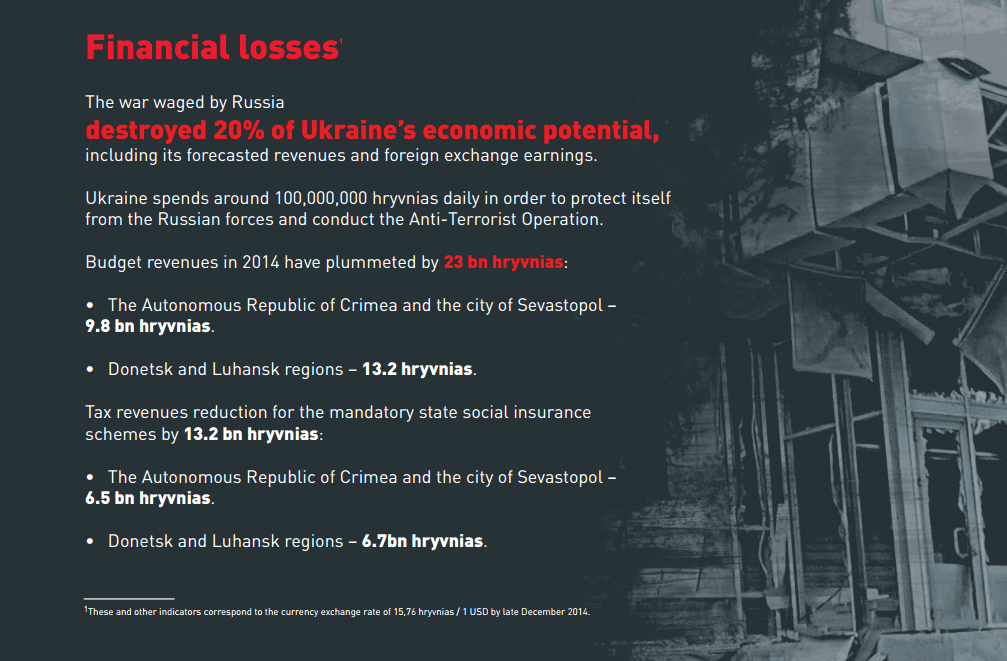 In 2014, industrial output throughout Ukraine declined 10.7% (4.3% in 2013), including a decline of 31.5% in the Donetsk Oblast and 42% decrease in the Luhansk Oblast;
The losses of Ukrainian iron and steel enterprises in 2014 are estimated at about $1,5bn and of machine building enterprises – at about $380mn.
"In general, the war waged by the Russian Federation against Ukraine has destroyed nearly 20% of our current economic potential," Danylo Lubkivskyi stressed, noting that these data do not include the recent tragedies, so accurate numbers, which are subject to assessment, "could be much higher."
"Each victim will not be forgotten, Danylo Lubkivskyi underlined, Putin's regime must be stopped."
The documents are available for downloading on the Ukrainian Cabinet of Ministers' website.
Tags: Economy, International, Putin, Russian invasion