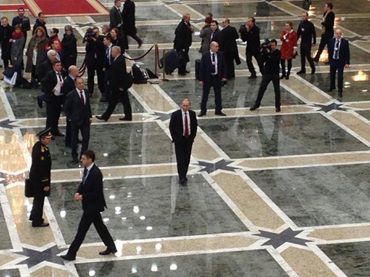 Ceasefire in 2 days, artillery withdrawal in 2 weeks, 'DNR' and 'LNR' to formally reintegrate into Ukraine (under 'special status'), constitutional reform in Ukraine until the end of 2015. And only after that could the state border in Donbas be possibly controlled by Ukraine.
Today, 12 February 2015, the contact group (representatives of Ukraine, Russia, EU, and Russian terrorist organizations 'DNR' and 'LNR') have signed the documents prepared by the 'Normandy 4' (Poroshenko, Putin, Merkel, Hollande). An unofficial translation in English is available on Ukraine Today.
Ukrainian President Petro Poroshenko also announced about agreements aimed at freeing Nadiya Savchenko as soon as possible, Reuters reports. Poroshenko also said there are no agreements about possible autonomy (of 'DNR' and 'LNR') within Ukraine, or about federalization of Ukraine. Mark Feygin, lawyer of Nadiya Savchenko, tweeted that Nadiya is allegedly on the list for exchange (of prisoners – FD). Nadiya Savchenko is on hunger strike against her illegal imprisonment by Russia for 62 days now. Later Mark Feygin said that the Savchenko case will be formally carried on, it will resolve in a precessual way. "Innocence of Savchenko is obvious."
According to the agreement made after 17 hours of negotiations, a ceasefire would begin on 15 February 2015. The deal also involves the withdrawal of heavy weapons from the front line and establishment of security zones of 50, 70 and 140 km wide for different calibers of artillery. Withdrawal is to be begin in two days after ceasefire and to be carried out over the next 14 days. However the deal was not a "comprehensive solution" nor a "breakthrough," Germany's foreign minister said.
Other key points of agreement:
OSCE to monitor and verify ceasefire regime and heavy arms withdrawal, using all technical means, including satellites, drones, radiolocation systems, etc.
Ukrainian authorities are to "begin the dialogue on modality of conducting local elections in accordance with Ukrainian legislation and the Law of Ukraine 'On the temporary self-government procedures in certain districts of the Donetsk and Luhansk oblasts' (so called 'Special status law', adopted by Ukrainian parliament after the September 2014 Minsk agreements – FD), and about the future regime of these areas".
Within 30 days from now, Ukraine's Parliament has to adopt a resolution outlining the territory where the "special status law" will be enacted, "based on the line, defined in the Minsk Memorandum of 19 September 2014."
Provide for pardon and amnesty by the special law, "forbidding the persecution and punishment of persons in connection with events taking place in some areas of Donetsk and Luhansk oblasts of Ukraine."
Release and exchange all hostages/prisoners based on 'all for all' principle. This process should be finalized on the fifth day after [heavy arms] withdrawal.
Provide for safe delivery and distribution of humanitarian aid, based on the international mechanism.
"Defining of the modalities" of the full reestablishment of social and economic links in conflict areas (including payments of pension and social benefits), reestablishment of Ukrainian taxation in the region. Ukraine to gain control of the segment of its banking system, possibly with international assistance.
At the same time, full control over the state border of Ukraine in Donetsk and Luhansk regions will be possibly restored only at the end of 2015, after the projected local elections in the region and constitutional reform in Ukraine take place.
Withdrawal of "all foreign armed forces, military vehicles, and also mercenaries from the territory of Ukraine, under OSCE observation," disarmament of all illegal groups.
Conducting constitutional reform in Ukraine, providing for decentralization (taking into account "peculiarities of certain areas of Donetsk and Luhansk oblasts"), and passing permanent legislation on specific status of these areas until the end of 2015. Additional provisions for that prospected law include:

exemption from punishment, prosecution, and discrimination of persons in connection with events taking place in some areas of Donetsk and Luhansk oblasts;
participation of 'local self-government' of these areas (i.e. territories currently occupied by Russia via DNR and LNR) in appointment of heads of state
prosecution (Prokuratura) and chief judges;
Ukrainian government to support social and economic development of these areas;
Ukrainian central government to facilitate "trans-border cooperation" of these areas with the regions in Russian Federation;
"Units of peoples' militia" to be established by the decisions of "local self government" to provide for "public order" in these areas;
"powers of the deputies of local councils and officials elected in early elections, appointed by Verkhovna Rada by this law can not be terminated prematurely."
The document was signed by the participants of the Tripartite Contact Group:
Ambassador Heidi Tagliavini (OSCE)
The second President of Ukraine Leonid Kuchma
Ambassador of the Russian Federation to Ukraine Mikhail Zurabov
Alexandr Zakharchenko
Igor Plotnitskiy
Tags: DNR ("Donetsk People's Republic"), Donbas, LNR ("Luhansk People's Republic"), Minsk, Politics, Putin