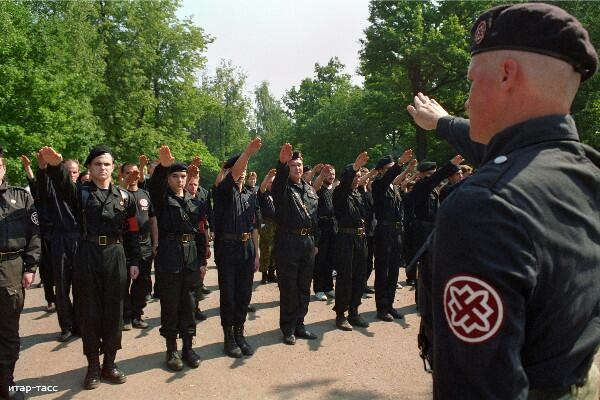 Meeting of a Russian ultra-right organization 
Photo: Meeting of the Russian National Unity neo-Nazi movement
Nowadays nationalist and neo-Nazi movements are on the rise in Russia. According to Russian experts, the number of such organizations has reached 53 and most of them are functioning in Russia legally. This list can be divided into moderate (23 organizations), radical (22 organizations) and forbidden (8 organizations).
One of these organizations, ethnopolitical union "Russkie" (Russians), claims that Russian people are special because they are carry phenotype and genotype of the White Race. Members of this organization demand to specify in the Russian Constitution that the Russian Federation is a successor of  Kyivan Rus and the Russian Empire.
On April 17, the statement "Russian nationalists for the reunification of the Russian people!" devoted to the situation in Ukraine appeared on the web site of the union. According to it, "Causes of the events in Kyiv, Lviv, Donetsk, Sevastopol, Sloviansk and other cities come from both inside and outside the territory known as "Ukraine" during the past 23 years. Taking into consideration economic, social, scientific, degradation of the territory… it is possible to suggest that the main driving force of the events is external."
Pavel Gubarev as a member of Russian National Unity
Moreover, "Russian nationalists certainly welcome unification of all the Russian people and all the Russian lands into unified whole. The result of this should be the formation of the Russian political nation."
Sharing such a view concerning Ukraine's independence, each of 53 nationalist and neo-Nazi organizations can serve as a potential supplier of mercenaries to eastern Ukraine. There is clear evidence proving that Russian radicals participate at warfare in the eastern part of Ukraine supporting Russia-backed terrorists.
Alexey Milchakov, a Russian mercenary fighting for "Donetsk People's Republic," is well known for promoting extreme right ideology and torturing homeless animals. One of Milchakov's messages on the social network was: "Knife the homeless, puppies and children! Run away from the whippersnappers and give up your friends …".
For instance, the leader of the so-called Donetsk People's Republic Pavel Gubarev participated in the Russian neo-Nazi movement Russian National Unity. At the end of May 2014, Russian blogger Dmitry Semenov published photos of Gubarev wearing a neo-Nazi uniform. As a result, Semenov was arrested and charged for propaganda and public demonstration of Nazi symbols. Meanwhile, neo-nazi rallies were organized in Moscow and St. Petersburg on May 1 with no interference.
Slavianie member, photo from http://dpsu.gov.ua/ua/about/news/news_3967.htm
Another citizen of the Russian Federation, neo-Nazi with typical tattoos, the member of the skinheads-group "Slavianie" was arrested at the Ukrainian-Russian border on May 1.  He was carrying pro-Russian propagandistic flyers. Apprehended person explained that the purpose of his visit to Ukraine was "recruiting people for fighting for separatists".
Anton Raevski is a spectacular example of Russian fascism in Eastern Ukraine. After being deported from Ukraine in March 2014 he came back illegally to kill Ukrainians on their own land. And as you can see on his profile in Russian social network "VK", he is proud about that.
RNE neo-Nazi terrorists in eastern Ukraine