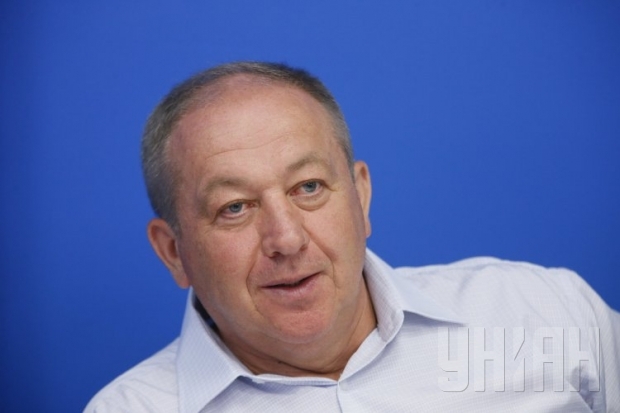 Measures are  being taken to destroy rocket launch installations used for the attack on Kramatorsk on February 10. However, any city located within 120 km from the frontline may be subject to attack, the governor of the Donetsk Oblast State Administration, Oleksandr Kikhtenko, warned, as reported in Ukrainska Pravda, February 10.
"Today measures are being taken to neutralize these launchers. We know that the launchers were firing from Horlivka, where, according to intelligence, 4 of these installations have been placed. But no one thought that attacks against civilian neighborhoods of Kramatorsk would be carried out during the Minsk negotiations," he said."Specialists have confirmed that these were Smerch multiple rocket launchers and that the direction was set exactly," Kikhtenko said.
According to Kikhtenko, some 18 rockets hit the city itself and some 14 hit the area near  the ATO military headquarters.
"But this does not mean the ATO headquarters itself was hit. These are cluster munitions. They are designed to project power and are wide-ranging but not very accurate. If these rockets had hit the residential areas, there would have been many more wounded and dead. Fortunately, many rockets struck fields and the ground," he said.
Kikhtenko added that as a result of the attacks 4 residential building had been damaged, which will be restored.
He also urged people to be vigilant."Today it is dangerous to be out in open areas unnecessarily. I would recommend that people refrain from visits, hospitals and kindergartens. At least for tomorrow it is necessary to keep away if possible," he said.
Kikhtenko noted that there is danger for any populated center located within 120 km from the positions of the Russian-supported militants.
"120 km is the shooting range of these installations. We have to understand that today almost all the population centers within 120 km from the boundary line are in danger," he said.
"I would like to ask the residents of these cities to be very vigilant, to pay attention to suspicious persons, suspicious vehicles, to report this information to the police," he said.
Kikhtenko reported that as a result of the attack on Kramatorsk, 8 people were killed and 63 people were wounded, including 32 military and police, and 5 children.
Additionally, he explained the characteristic traits of artillery shelling.
"If you suddenly hear the sound of a turbine type aircraft this means that a rocket is in the air — you urgently need to go to a bomb shelter, to hide, or even to fall on the ground," he said.
"Cluster munitions are dangerous because they explode at a height from above and cause wounds. This is important to know. After a typical explosion, you can be wounded by these fragment within 10 seconds," he added.
Tags: Donbas war (2014-present), Kramatorsk, News