Nadiya Savchenko, the Ukrainian POW illegally imprisoned in Russia, has been on a hunger strike from 13 December 2014, protesting against unfair charges and Putin-style justice. Her unbreakable spirit, as evidenced in the letters she wrote from prison, has made her a symbol of Ukraine's resistance to the Russian invasion. Alex King, aka @GlasnostGone on twitter, has made a video with some of her most inspiring phrases. "Before she dies, read her words," he asks. We provide some of them here, in English and Ukrainian.
1- Life is given to a person by God, and God can take it when it is his will.
Життя людині дається Богом, і Господь забере його, коли буде на те Його воля.
2 – I make my choice to fight in the only way available to me, as a prisoner of war and a jailed person, — by hunger.
Я роблю свій вибір боротися єдиним доступним мені методом, як військовополоненому і ув'язненій людині, –голодом. 
3 – I am grateful to God that he gives me strength, and I also get strength from every person who thinks of me at least once a day.
 Дякувати Богу, Він дає мені сили, а ще мені дає сили кожна людина, яка хоч раз в день подумає про мене.
4 – Thanks to all of you! And, if God needs me to end my life in Russia under torture, then such is his will.
 Дякую Вам усім! І, якщо Богу буде потрібно, щоб моє життя закінчилося в Росії під тортурами, значить на то Його Воля.
5 – Please know that no hunger can scare me now thanks to this strength that comes from you!
Я хочу, щоб Ви знали, ніякий голод мені не страшний, дякуючи цій силі, що йде від Вас!
6 -Together we are invincible! Ukraine will win! A free Ukraine will prevail!
Разом ми – непереможні! Україна переможе! Вільній Україні – бути!
7 – During her Interrogation in Ukraine: "I swore of defend the Ukrainian people, to defend the territorial integrity of Ukraine from outside aggression."
 Під час допиту в Україні:"Я давала клятву захищати українських людей, захищати територіальну цілісність України від зовнішньої агресії."
8 -Thank you to all those who have written to me or simply remembered me with a kind word, that has filled me with strength.
Дякую усім, хто писав мені, чи просто згадав добрим словом, мені це дуже додає сил.
9 – I know that very many people at all levels in Ukraine and throughout the world are doing a lot to secure my release and I am very grateful to them.
 Я знаю, що дуже багато людей на всіх рівнях державності України та й у світі, багато роблять для мого визволення і я дуже вдячна їм за це.
10 – I never anticipated such support because both in Ukraine and in the whole world right now there are plenty of problems besides mine.
Я не розраховувала на таку підтримку, бо в Україні, та й у світі зараз і крім мене проблем не мало.
11 – I am very aware of your concern and feel ashamed that from prison I myself can do almost nothing.  I have therefore decided to fight in the only way available to me – through hunger strike.
Я дуже ціную Вашу участь і мені соромно, що сама я майже нічого із в'язниці зробити не можу. Тому я вирішила боротися єдиним доступним мені методом – голодовкою.
12 – Every person who even once a day just thinks good things about me will give me faith and strength, while each who thinks badly will add to my determination and anger!
Кожна людина, яка хоч раз в день подумає про мене добре – додасть мені віри і сили, а кожна, яка подумає лихе – додасть упертості і злості! 
13 – I have never been weak and never will be! They cannot break my spirit.
Я ніколи не була слабкою і ніколи не буду. Силу духу мою не зламати.
14 – The main thing is to hold out in spirit, and my physical strength will recover. 
Головне духом вистояти, а фізична сила відновиться.
15 – To President Poroshenko: "I will get through this; I ask you sincerely to please help Ukraine."
 Президенту Порошенко: "Я витримаю; щиро прошу Вас, допоможіть Україні."
16 – I have taken the decision to go on hunger strike myself and nobody pushed me into it. 
Голодувати я прийняла рішення самостійно, ніхто мене до цього не спонукав і не змушував.
17 – I have given my word that "Until the day I return to Ukraine, or until the last day of my life in Russia!" and I will not back down, otherwise what value would my words have?!
Дала слово: "до дня повернення мене в Україну чи до останнього дня життя в Росії!" і назад його не візьму, інакше чого тоді будуть варті мої слова!  
18 – To those Russians who demonstrated for her in Moscow: "You are the true heroes of Russia."
 Росіянам, які демонстрували за неї в Москві: "Ви – справжні герої Росії."
19 – Russia and Ukraine will prevail over the powers of evil and malevolent.
Росія і Україна разом переможуть зло і безчесну владу!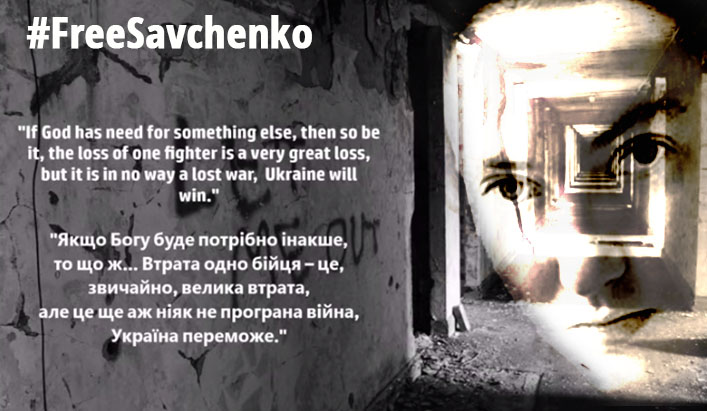 20 – 48 Days on Hunger Strike: "I am on my feet and I'm feeling very lively."
48 днів голодного протесту: "Я на ногах і почуваюсь бадьоро."
21 – 48 Days on Hunger Strike: "I am still looking forward to my future battles."
 48 днів голодного протесту: "Я іще повоюю!
22 – 48 Days on Hunger Strike: "Till the next time, till victory."
 48 днів голодного протесту: "
До зустрічі! До перемоги!"
23 – To Russians Imprisoned for demonstrating for her: "I am truly sorry that you now have to share the same experience as I do."
Росіянам, що були ув'язнені через демонстрацію за неї: "Мне очень жаль, что Вас постигла такая же участь, как и меня!"
24 – To President Poroshenko: "Nothing is forgotten, no one is forgotten."
Президенту Порошенко: "Ніщо не забуте, ніхто не забутий."
25 – To President Poroshenko: "I believe in Maidan and in our victory."
 Президенту Порошенко: "Я вірю в Майдан і у нашу перемогу."
26 – Yuliya Tymoshenko wrote "the enemy needs us to be weak".  These are very wise words.
 Юлія Тимошенко написала: "Ворогу ми потрібні слабкими," – дуже мудрі слова!
27 – If she was to die because of her hunger strike: "If God has need for something else, then so be it … the loss of one fighter is a very great loss, but it is in no way a lost war!  Ukraine will win!"
 Якщо вона помре через голодний протест: "Якщо Богу буде потрібно інакше, то що ж… Втрата одно бійця – це, звичайно, велика втрата, але це ще аж ніяк не програна війна! Україна переможе!!!"
28 – Glory to Ukraine! Glory to the Heroes!
 Слава Україні! Героям слава!
Tags: #FreeSavchenko, Featured, Op-ed, Savchenko