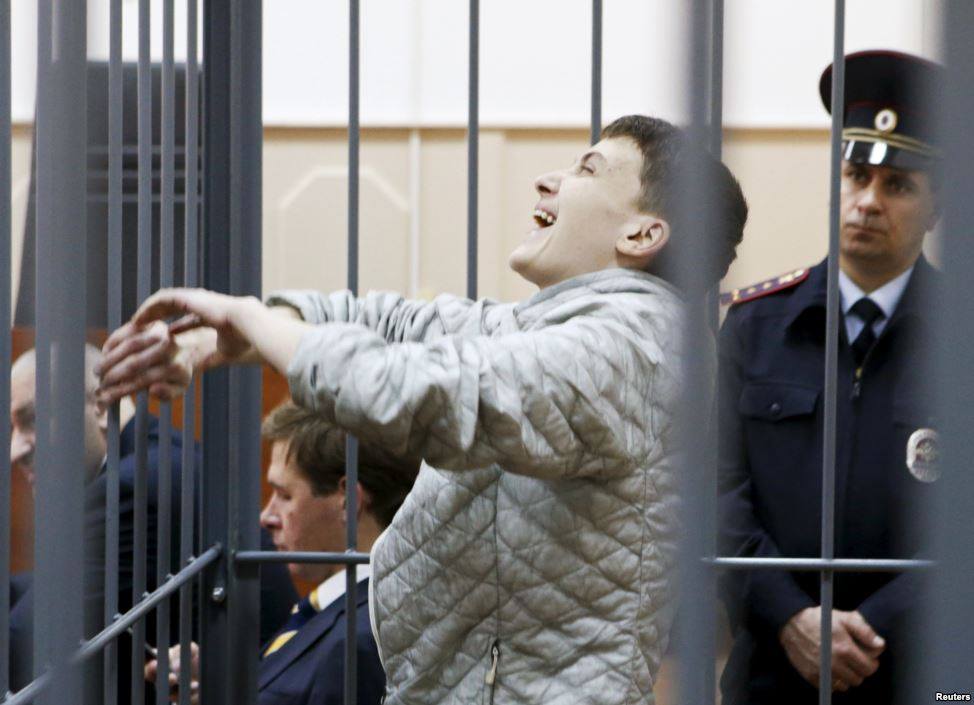 Nadiya Savchenko in Basmanny court on 6 May 2015 
This letter to Nadia Savchenko, Ukrainian pilot, parliamentarian and popular hero, was written by Zara Murtazaliyeva. The woman, a Chechen from a fatherless family, came to Moscow aged 20 to seek work. She was later framed for alleged possession of explosives and spent eight years in a prison camp.
My dear Nadiya,
I would probably say a thousand words to you if we would meet, I would say how beautiful, strong, courageous and proud you are. I would admire you. Probably I would chatter incessantly; I do this when I meet people I like.
Nadiya, nobody knows your tormentors, but everyone knows you. Your face is on the Facebook profiles of many Ukrainians, and you yourself have become a symbol of the struggle for Ukraine. The most varied of people from all corners pray for you, and wish you strength and stoicism.
It is not difficult to serve your sentence if you know what you are guilty of, but it is unbearable to endure injustice just because you are of the nationality selected for the role of "terrorists," "fascists," or enemies of the "spiritual strings" of the current regime in this country.
I once asked the Soviet dissident Sergei Khodorovich, currently living in Paris, what it meant for him to be free. He answered that "nobody can take away my freedom, I was even free even behind bars, because to be free is an internal feeling, a state of mind that cannot be taken away from you by the barking of dogs, convoys or the sight of sky behind bars."

Dear Nadiya, Happy Birthday to you! May the feeling of freedom not leave you even in the dungeons of prison, and fear not overcome your mind or body, may your face not twitch once when facing those who impose sentence and punishment upon you. Everything has an ending; everything will undoubtedly come to an end. Everything has a beginning and an ending.

Please accept my sincerest and best wishes on your birthday, accept my admiration of your feminine power, for the dignity endured on your woman's shoulders cannot leave anyone indifferent to your fate.

p.s. Having read this morning that today is your birthday, I have been thinking all day about you, remembering my first birthday [behind bars – translator] and the following eight. Thank you and apologies that Facebook is not private and comes without flowers, but they say that thoughts bear fruit. Wishing you the soonest freedom Nadiya!
Tags: #FreeSavchenko, Op-ed, Russia, Savchenko