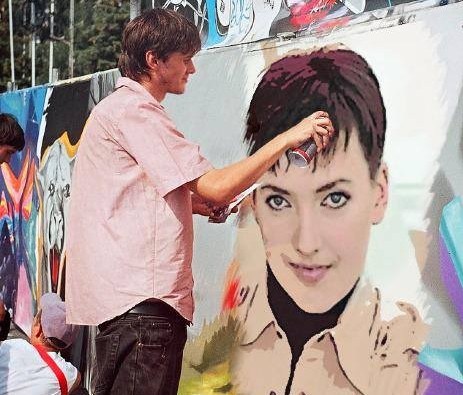 Recently support for Ukraine's Nadiya Savchenko has grown significantly, particularly on the social media front. Advocacy for Savchenko's liberation from her Russian captors has expanded in pro-Ukrainian activist circles and international support for for Savchenko grows daily. The European parliament, US Government, and an ever increasing number of politicians and ambassadors have added their voices to the Free Savchenko movement
As you probably already know, Nadiya Savchenko, a former Ukrainian fighter pilot and a current elected member of the Ukrainian parliament, was kidnapped by Russian intelligence services in June of 2014 and has since been illegally detained in Russia.
On December 13th, after the Moscow City Court extended her arrest, Savchenko began a hunger strike, vowing not to break the strike until she is free and back in Ukraine. Now on her 40th day of hunger strike, Savchenko has lost over 14 kilos (30 pounds) in body weight, and shows no intent on breaking the strike.
World citizens in support for the protection of human rights and international law rallied for Savchenko and spoke out of concern for her gradually deteriorating health. To such output Savchenko responded, "This is not suicide but the only method of fighting available to me." Expanding on this idea in a public letter from January 12th, she wrote, "To all of those concerned about my fate… I am very aware of your concern and feel ashamed that from prison I myself can do almost nothing. I have therefore decided to fight in the only way available to me- though hunger strike… the loss of one fighter is a very great loss, but it is in no way a lost war! Ukraine will win!" Savchenko herself has even used the "#FreeSavchenko" hashtag associated with her freedom movement.
While Russia's actions in kidnapping Savchenko were a blatant violation of international law and the detainment of Savchenko explicitly violates Russia's agreements as set forth in clause 5 of the Minsk Protocol, it was Savchenko's unbreakable spirit and powerful narrative that elevated her to a national symbol status for Ukraine and the Ukrainian struggle for independence.
The plight of Savchenko should not be viewed simply an isolated example of one POW imprisoned through Russia's many international law infractions, but rather as a highlight component in the geopolitical predicament that is the relationship between Russia and Ukraine.
Supporters of Ukraine and the rule of law have rallied behind Savchenko, as she as an individual has gone toe to toe with her captors and has not once flinched. Savchenko's ironclad morale, punctuated by her defiant spirit and willingness to fight to the death against all odds epitomizes the new Ukrainian spirit of the Maidan and the Ukrainian desire for westernization and independence. Her bravery in the face of death and the great adversary of Russian aggression has emboldened the Ukrainian people to continue their fight for their freedom. Furthermore as a symbol of Ukrainian resistance, Savchenko has united the global Ukrainian community under one coherent voice against Russia's ridiculous and absolutely unjustifiable belligerence.
The plight of Nadiya Savchenko has evoked such a strong international reaction because of her unique courage and strength, and it is because of her leadership qualities that the international public pressure on Russia to free Savchenko has grown.
We also need to bear in mind that Savchenko is only one of many Ukrainian POWs currently imprisoned by Vladimir Putin. If she is freed, the case (under clause 5 of the Minsk Protocol) for the release of all other Ukrainian POWs in Russia would be strengthened, effectively turning Savchenko into a key trigger who could help bring home many who have been illegally held captive by Russia even longer.
Savchenko has made it clear that she will either live free, or die in captivity; there are no other options available to her. Without unified international support Nadiya will almost certainly die, and with her another of Ukraine's great heroes. January 26th, 2015 has been selected as the date for protests in front of Russian embassies all across the world to rally to urge Russia to free Savchenko.
January the 26th also marks a major highlight day of an ongoing Twitter storm. The Twitter storm uses the hashtag "#FreeSavchenko," and was organized to increase public awareness of Nadiya Savchenko's illegal imprisonment, with the goal of making the issue go "viral." The storm's goal is to acquire 1 million tweets for Nadiya so that the world openly knows about her plight and makes the convenient ignorance of her struggle impossible. Simply put, we want Nadiya and her country of Ukraine to not just be on the news, but be the news.
Now it is time for us to act together in unison in support for the human rights, the rule of international law, and to speak out against unwarranted Russian aggression. If you are currently not involved with assisting the Free Savchenko movement, please inquire how you may get involved. It is critical that you participate because on January 26th we have a chance to be Nadiya's voice beyond her Moscow prison cell. Please also remember that inaction is tacit complicity with Russia's violation of international law.
Here are the ways you can help:
Write tweets discussing the necessity to Free Nadiya that include the hashtag #FreeSavchenko.
Publicly post those tweets on Twitter.
If room, add #FreeSavchenko to all your tweets on January 26th.
It's really that simple!
Tweets may be in English, Ukrainian, or any other language- the only requirement is that the hashtag #FreeSavchenko is used.
Also tweet frequently and be sure to spread the word and share this with as many friends, family, and organizations as possible. Try to recruit more tweeters, as this is how we get #FreeSavchenko to trend and go viral. Posting and sharing on Facebook, VK, Tumblr, and other social media outlets helps too. This is an ongoing global effort and every contribution helps. You can also sign up for the thunderclap in her name.
A particularly great tool to spread the word about this effort is to invite friends to join the campaign via Facebook. Here's the link to the public event that you may invite and share with your friends: https://www.facebook.com/events/737415666354237/. You can find the press release for the event here.
The Facebook event also has additional information regarding the campaign, as well as publicized material that you may use in your tweets.
If you have any questions please feel free to contact @GlasnostGone on Twitter or via email at [email protected]
Tags: #FreeSavchenko, Op-ed, Savchenko