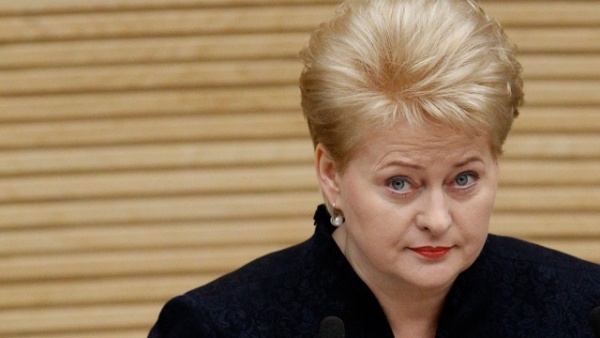 Kyiv-based Institute of World Policy has released an annual rating of key figures promoting Ukraine's cause worldwide. The rating is based on a survey of experts and hails those lobbying for Ukraine and Eurointegration in international bodies, at conferences and in foreign press. In the 2014 list, only Lithuania's president Dalya Gribauskaite and Swedish ex-FM Carl Bildt remained from 2013, with people like the German chancellor Merkel and two US senators making the list for the first time. The list is, of course, not limited to the top 10 persons: 93 people were named by the experts, forming Ukraine's "International Hundred."
The full report in Ukrainian and English can be found here.
Dalia Grybauskaite has become a symbol of advocating their dignity on the international level. Despite her country being dependent on Russian gas and trade, she has been advocating a stronger European approach towards sanctions and military aid for Ukraine.

Carl Bildt, the most popular minister on Twitter, has been using digital media and his considerable influence to support official Kyiv. Largely due to his efforts and frank statements, Sweden is considered a traditional ally of Ukraine alongside Lithuania and Poland.
The Euromaidan revolution has prompted McCain's return to advocating democracy in the region after disillusionment with Yuschenko's policies and Saakashvili's removal from power in Georgia. His statements, lobbying in the US Congress and witty remarks on Russian policy decisions have made him a role model of the US's attitude towards Ukraine.
Professor Snyder's historical works have helped the West to discover the "new Ukraine", a distinctly European nation with a tragic history. He has been at the source of the Western pro-Ukrainian campaign, publishing many articles debunking Putin's propaganda and urging the world to unite, and also organizing a broad conference of intellectuals in Kyiv amid fears of a full-scale Russian invasion. He does not let the West forget about Ukraine and argues that the war is about the survival of not only Ukraine, but the EU itself.
Due to Ukraine being in the international spotlight in 2014, the President has been receiving a lot of attention. His calm and rational demeanor, English skills and previous experience as head of the Foreign Ministry have yielded much more positive opinionf from foreign experts than those inside Ukraine. While he has managed to build relationships with foreign leaders, he still has a lot to do to reach out to his own people, especially those in Eastern Ukraine.
While previously regarded as Putin's representative in Europe and wrongfully suspected of striking a deal with Russia behind Ukraine's back, Angela Merkel has certainly shifted her attituted upon Russia's aggression. She has been the strongest advocate for sanctions against Russia and reforms in Ukraine. During he visit to Australia, Merkel urged to prepare for a protracted conflict, making it clear that any Molotov-Ribbentrop style geopolitical bargain is impossible.

George Soros, the founder of the International Rennaissance Foundation, was one of the strongest supporters of Ukraine in the turbulent 90's. He has visited Ukraine 4 times during last year, advocating for a thriving and free Ukraine to counter Russian imperialism. His article "Wake up, Europe", published in prominent internationa media, may have marked a turning point in Ukraine-EU relations.

In 2014 Joe Biden served as a messenger and "crisis manager" in Washington-Kyiv relations. His first visit occured in April, when many still questioned the legitimacy of the post-revolution government. He has been able to reconcile the differences between Ukrainian and US goverments amid dissatisfaction with Washington's perhaps too careful policy. This international factor could play in his favor in his possible Democratic candidacy bid for 2016.

While Robet Menendez, the chairman of the US Senate's committee on foreign affairs, has had no previous experience of working with Ukraine, he managed to rapidly understand the situation, probably in part due to his meetings with the New Jersey Ukrainian community. His considerably stronger rhethorics than the White House's and spearheading the Ukraine Freedom Support Act both won him respect in the GOP and broke the Republican monopoly on "punishing" Russia and building a strategic partnership with Ukraine.

Due to Canada having the largest Ukrainian community in the world, supporting Ukraine is as much a matter of internal affairs as foreign policy. Nevertheless, Canada is at the vanguard of the international pro-Ukraine effort, having the strongest stance on sanctions and rendering extensive aid to Ukraine. Harper has spoken to Putin in the most plain terms, telling him to "get out of Ukraine". It is perhaps notable that Canada was among the first states to recognize Ukraine's independence in 1991, with some Canadians claiming that Poland had outrun them only because of the time lag.
Tags: Bildt, George Soros, Grybauskaite, International, John McCain, Menendez, Merkel, Petro Poroshenko, Timothy Snyder