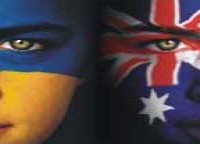 Australia Ukraine 
In George Orwell's Animal Farm, he wrote "All animals are equal, but some are more equal than others." It is an absurd statement ~ it is a paradox, however, the point of this paradox is to point out a truth. Thus even if the statements contradict each other in their integral structure they represent the truthful intent – in other words they represent the real interpretation.
Let's apply George Orwell's postulate to ex-soviet Ukraine.
For many years the government claimed that everyone is equal when that is clearly false. The structure of this reality began to disintegrate because the premise was being questioned and ultimately there was proof to the contrary. However even in today's Ukraine there are those who cling to this old perception and have distorted it to the point that the opposite is now the reality, That is, everyone is equal except those in the government.
However since the fall of communism stronger minded individuals have had different perceptions of what it means to be equal and they still believe and follow the above paradox.
This paradox manifests itself everywhere throughout society and pending the individual's paradigm it takes on various forms. Namely, Ukraine is for Ukrainians who speak Ukrainian. Apart from the nationalistic approach to this question one has to realise another issue, that people have been either voluntarily or involuntarily moved from all corners of the former USSR for decades and centuries. Thus Ukraine (and many other countries from the ex-USSR) are somewhat like we have in Australia. That is, a melting pot of people from many cultures.
And George Orwell's paradox "All animals are equal, but some are more equal than others" continues to reinvent itself and manifest itself in all areas where Ukrainians dwell today.
The alternative paradox is also fascinating, "All animals are not equal, and most are less equal to the others". Strangely, this juxtaposition of the paradox could be the absurdity that we are living in today. Stated simply, we know we are not equal and we choose to believe that the other is less equal, because of linguistic, religious, political, socio-economic and maybe other reasons that I have forgotten to mention.
The premise that "all animals are equal" was tolerable and some do not want to go away from this role model today. Along with this role model came the premise that "some are more equal than others" which was to some extent tolerable. However recently in Ukraine, where despots like Yanukovych have taken it to the Nth degree the people have no tolerance.
Many of the immigrants of the last 10-20 years from Ukraine do not or cannot perceive the cultural differences between them and the immigrants from the 1950's.
Many issues face the eastern and western Ukrainians, including religion, culture and language. Many of the latter year migrants do not belong to any confession (or choose not to) and many from the east speak a vastly different language and culture. Many who belonged to the Russian Orthodox Church in Ukraine seeked out the Russian Orthodox Church in Australia and have been totally integrated with the Russian community.  Many do not seek out Ukrainian associations or churches or do not of their existence.
Many, those that do know of them choose to stay away simply because they do not feel the need to integrate within the Ukrainian Association or Church. Why should they, if they were not part of such a community back home in Ukraine. It is those who were born here to perceive the association of Ukrainians was the community (this model in today's youth has almost vanished).
Today's immigrating Ukrainians do not have the need that our fathers had, many come to Australia with advanced education, with reasonable knowledge of the English language and most importantly they are immigrating of their own free will. Compare this to many with little education, no English and war refugees.
The immigrants (refugees) of the 50's wanted to preserve something they were ripped apart from and commenced building associations, which when formed built churches and halls. Although not as common, some even returned to Ukraine once they paid of the debt to the Australian Government.
Today the needs and desires are different; we live in a vastly different technophobic world.
We contact loved ones whenever we need, wherever they are on this planet and use internet to communicate to them.
We do not feel as isolated and hence have little reason to build communities outside of our own family units.
We do not like it when we are compelled to join this or that, this is our own choice and that is that!
We have become masters of our own destiny, "hetmans in our own homes", "kings in our own castles"
What is our future in Australia? The decision is up to each individual.  Most importantly we should respect all decisions.
Personally, I hope that we could rewrite George Orwell's paradigm and make it a working model, namely
WE ARE ALL EQUAL!
WE WILL BE TOLERANT OF EACH OTHERS LINGUISTIC DIFFERENCES, CULTURES AND RELIGOINS.
WE DESERVE ONE ANOTHER!
WE ARE UKRAINIANS
WE ARE PROUD OF OUR HERITAGE
WE DO WANT TO BE ACCOUNTABLE AS ONE GROUP AND THIS CAN BE ONLY BE ACHIEVED IF WE WORK UNDER ONE UMBRELLA
Mykola Mowczan,  International Diplomatic Mission of People's Diplomacy 'European Ukraine',  Head of Mission (Australia)
Tags: Australia, Australian Federation of Ukrainian Organisations, Ukraine