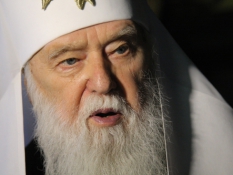 In an official statement posted on the website of the Ukrainian Orthodox Church-Kyiv Patriarchate (UOC-KP) on January 13, the head of the church, Patriarch Filaret (Denysenko),  called on the international community to recognize the so-called DNR and LNR and the armed groups that support them as terrorist organizations.
On January 13, 2015, from territory controlled by pro-Kremlin terrorists  of the so-called Donetsk People's Republic, the checkpoint held by Ukrainian armed forces was shelled near the town of Volnovakha in the Donetsk Oblast. As a result of the shelling, more than 10 civilians in a passenger bus were killed and about twenty were wounded.
According to Ukrainian officials, the shelling of the checkpoint was carried out from the city of Dokuchaievsk with the goal of provoking fire by Ukrainian forces. Earlier, Russian journalists and those under the control of the terrorists had arrived in Dokuchaievsk to record the "shelling of civilians by Ukrainian armed forces" in order to use these images in anti-Ukrainian propaganda.
This shameful, bloody act by the terrorists is one out of hundreds, even thousands, of terrorist acts that have been committed continuously by pro-Kremlin forces in the Donetsk and Luhansk oblasts since the spring of last year. The killing of civilians by terrorists is a terrible and shameful thing, but even more shameful is the purpose of this act — to put the lives of civilians in the territory controlled by the terrorists at risk in order to create "television images" for Kremlin's propaganda.
Terrorism has no justification in any form and under any slogans. This is an evil that must not only be condemned morally  but must also be punished according to Ukrainian and international laws.
Various pro-Kremlin illegal armed groups in the so-called Donetsk and Luhansk People's Republics are already recognized as terrorists in Ukraine. The shelling by terrorists of the bus with civilians near Volnovakha is an evil act that also cries out for recognition by the international community that the so-called DNR and LNR and the armed groups that support them are terrorist organizations.
On behalf of the Kyiv Patriarchate, I appeal to the United Nations, the OSCE, the European Union, the USA, Canada, and the entire international community to recognize that the so-called DNR and LNR and the armed groups that are on their side are terrorist organizations, and that any countries, organizations, or individuals who support these terrorists are sponsors of terrorism, with all the legal consequences.
I call on the faithful to pray for the souls of the dead, for the healing of the wounded, for victory in the fight against terrorism, and for the establishment of a just peace in Ukraine.
May God help all those who are fighting for the truth and against the terrorist evil.
Filaret, Patriarch of Kyiv and all of Rus-Ukraine, January 13, 2015
Tags: News, Patriarch Filaret, Russian state terrorism, Volnovakha